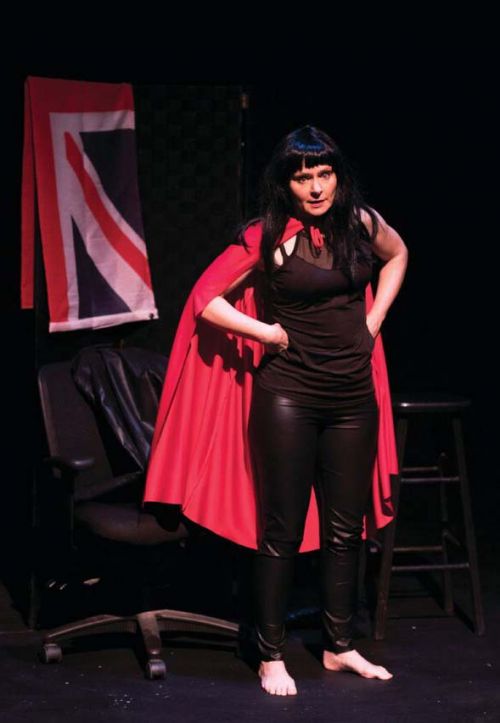 Smoke starts to seep from the sides of the stage and a rocker's voice echoes over the crowd: "Are you ready to rock?!"
You might think that you're at a rock concert, if you weren't seated in a black box theatre.
For the second show in their 15th season, Theatre B is producing "I Will Not Go Gently," a riotous but reflective one-woman show centered around fictional 80s rock star Sierra Mist.
Moving forward from Sierra Mist's comeback tour, "I Will Not Go Gently" moves through the life changes and questions of Abby, a middle-aged mother who struggles connecting with her daughter; Tabitha, Abby's teenage daughter; 80s TV star Daphne trying to make a new name for herself; Abby's 90-year-old grandmother Frida; and many more characters who are each growing and changing as time passes.
Carrie Wintersteen, executive director of Theatre B, is the sole cast member and is no stranger to taking on multiple characters per play. Wintersteen performed in "Equivocation" and "The Belle of Amherst," another one-woman show.
However, "I Will Not Go Gently" provided a unique challenge for the seasoned actress.
"It was pretty intense," Wintersteen said. "Until you have the words, it's really hard to imagine what you're doing in a scene and what your intentions are and where the jokes are going to land. In some ways, comedy is a little like music, in that we do have to think about things like where do you breathe, where do you pause. You can't break it up, you have to get through to your punchline.
"My friend Mary Cochran, she performed the one-woman play "The Year of Magical Thinking," based on the Joan Didion book. She at that point had said, 'It's like eating an elephant. You've eaten a leg and you're completely full and you can't imagine eating the whole thing. But you have to eat the whole elephant.'"
Each character provided a unique challenge. Wintersteen would focus on one character for a period of time, rather than moving through the script as it was written. While she's been working on it for the past six to eight weeks, Wintersteen continues to read through the script before a performance.
"Memorization is the lay-up to the basketball player, the chords to a guitar player. That's basic," she explained. "And then you have to learn the piece. I've been getting the question of, 'How do you memorize?' Well, these are my scales, it's a part of keeping my instrument healthy and just practicing. It's hard, but it's good."
Theatre B came upon "I Will Not Go Gently" when a patron recommended another play to them from 1812 Productions, a comedy theatre company in Philadelphia.
When David Wintersteen, co-founder of Theatre B, read the script for I Will Not Go Gently, he immediately thought Theatre B should produce the play and that Carrie Wintersteen should star in the production.
Not only was "I Will Not Go Gently" perfect for the local theatre company, it was also an opportunity for Theatre B to partner with another local company, Chamber 6 Media.
C6M is run by Kevin Ackley and Oscar De Leon, graduates of MSUM. Theatre B has worked with MSUM before, in partnership with Raymond Rea's advanced film class. Right before Theatre B asked for submissions, Chamber 6 Media asked if there were any nonprofits looking for video assistance. It was the perfect match.
C6M created music videos for "I Will Not Go Gently," working with director Pam Strait and researching 90s music videos to create media for the production.
While the theatricality, hilarity and overall entertainment of "I Will Not Go Gently" is reason enough to see it, the overarching message is something that appeals to all stages of life.
"A line that speaks to me is Frida saying, 'All these people doing one thing and wishing they were doing something else. Just do it, for crying out tears,'" Wintersteen said. "Do the things you wish you could do, be the best who you are. I think in many ways that's a great message for the holiday season."
IF YOU GO
"I Will Not Go Gently," by Jennifer Childs
At 7pm on Dec 21, 22, 23, 28, 29, 30; Sunday, Dec 24, 2pm Theatre B's new home, 215 Tenth Street North, Moorhead Tickets: app.arts-people.com/index.php?ticketing=theab