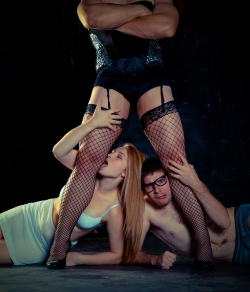 Cult classic film sees MTFM stage adaptation
Music Theatre Fargo-Moorhead has seen you shiver with antici … pation for the troupe's new season opener of "The Rocky Horror Show." The cult classic film's stage version comes to life at The Stage at Island Park for MTFM's 10th season debut and just in time for Halloween.
As the ultimate cult classic, "Rocky Horror" has been enjoyed by fans for 40 years, and in bringing such a show to the stage, director Christopher Damlo knew it wouldn't be easy.
"It's really interesting because it's always tough when you have something that's so incredibly iconic to so many people of so many generations who identify 'Rocky Horror,' who recognize 'Rocky Horror,'" he said.
In sliding its own version across the stage, MTFM opted against a straight stage rendition of the film. For Damlo, it would be a problem of artistic integrity, and this production had some artistic opportunities not to be missed.
All the "Rocky Horror" jokes and call-outs are here, same as the film, but the musical takes the shape of a rock and roll floor show with some new additions by MTFM. This makes for a great combo of old and new, a theme prominent throughout the production, including the show's costuming.
"What we're doing with the costumes is we're making it kind of an homage to rock and roll artists from 1970 to now," Damlo said. "We're not copying their style, necessarily, but it's like the aliens had found this warehouse, looked at these posters on the walls and went, 'That's what human people look like!'"
Twenty performers comprise the cast for this production, with one local celebrity cast as the narrator, whose identity Damlo won't reveal. The role of Rocky will be portrayed by the winner of a contest held this summer in a kind of post-audition audition, so keep your eyes peeled for that performer.
Meanwhile, area actor Taylor Schatz steps in to play the sweet transvestite himself, Dr. Frank-N-Furter.
"He brings a really quite intense, beautiful masculinity to the role, which is something a lot of people expect Frank-N-Furter to have a little more feminine side," Damlo said. "To me, what the role should be is to walk the line between femininity and masculinity, and so it's got a little bit more mystery about him."
With a lot of the same characters comes a lot of the same dance sequences, including the famed "Time Warp," which Damlo encourages audiences to join in on. Make a note that audience props will be provided for this production, so leave the water guns at home.
For a show that has stood the test of time for 40 years for so many people, Damlo believes the core of "Rocky Horror" comes down to a couple things that prove its survival.
"I think this show has always been about this exploitation of sexuality at any age. What I love about our cast, we have so many different people … everyone is so beautiful and so willing to play and be a part," he said, "and I think this show really is about that 'You're hot, I'm hot, let's be hot together, it doesn't matter who we are or what we look like or what we're doing.'"
IF YOU GO
"The Rocky Horror Show"
The Stage at Island Park, 333 Fourth Street S.
7:30 p.m. Oct. 23-25, midnight Oct. 30-Nov. 1
701-235-6778