Season of 'merry'-making
by Jack Dura | .(JavaScript must be enabled to view this email address) | Theatre | October 30th, 2014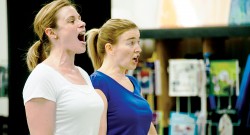 After spring world premiere, F-M Opera still has something new up its sleeve
Ending its last season on a high note with its first world premiere co-production, the Fargo-Moorhead Opera is back once more for another season of premieres, so to speak.
For 2014-2015, the F-M Opera is moving away from the tried-and-true titles it has performed over the past 40-plus years, and it is doing different productions this year. These are shows never-before-seen in Fargo-Moorhead, and the first of this season's three gets the ball rolling this weekend.
"The Merry Wives of Windsor," an operatic adaptation of the Shakespeare comedy, plants itself at North Dakota State's Festival Concert Hall, offering something new in something old.
"You can't beat Shakespeare," executive director David Hamilton said. "It's a hilarious story … After last year's premiere which was, shall we say, not comedy, we decided we wanted to do a couple comedies this year. Then also, we happened to have two artists in town who could sing the merry wives."
Anne Jennifer Nash and Holly Janz, two F-M Opera veterans, fill these roles for a production that is strangely similar in title to last fall's "The Merry Widow." Merriment is indeed found all around in this fall's production, and Nash and Janz have been adding to the fun that comes with their roles.
"They're quite hilarious," Hamilton said. "I'm really pleased to see all of the little details that they're bringing to their characters. This is officially an operetta, so it's sort of like a musical."
Other characters of the cast see a few familiar faces too. Kyle Tomlin, a tenor who was part of the Opera's Young Artist Program last spring, steps into the role of Fenton, a young gentleman caught in a subplot with a Windsor wife's daughter.
Among the nine main players and 30-person chorus, many of these are students from around the area. Two students take on secondary roles — Andrew Alness and Tyler Raad, both familiar faces with the F-M Opera, are present here.
Like many productions before this one, performers and guests from across the country have been tapped to participate. "The Merry Wives" sees a few guest artists from New York flying in to contribute their talents.
"We always have some guest artists, partly because people like to hear new singers, new faces," Hamilton said.
In a production never performed in Fargo-Moorhead before, "The Merry Wives" promises a great outing, like the other operettas and productions that came before it from the F-M Opera.
Hamilton knows the fun that awaits audiences, and encourages anyone to come out and see it.
"I guess my question for everybody is, 'Why would you not come?'" he said. "It's just loads of fun, and you'll go out of there whistling the tunes, and you probably won't have a chance to see it again here for 50 years."
If you go:
"Merry Wives of Windsor"
NDSU's Festival Concert Hall
7:30 p.m. Saturday, 2 p.m. Sunday
$40-$80, $5 for students
fmopera.org, 701-239-4558