Straw Hat Players celebrate their 50th season
Theatre | June 6th, 2013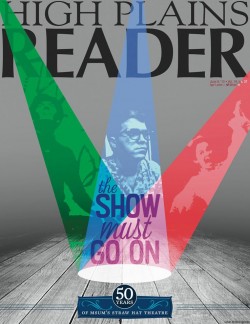 Straw Hat Players are wrapping up their morning rehearsal on Friday, May 31 and are about to break for lunch.
Young adults dressed in loose t-shirts, baggy shorts and tennis shoes sit on the wooden floor and listen to a man dressed in similar clothing, sitting in a chair above them next to a music stand full of notebooks and office papers.
Full-length mirrors line the wall behind the man while ballet bars line the wall opposite. Posters of past Minnesota State University Moorhead shows decorate the otherwise empty wall space above the mirrors and bars. A rolling whiteboard that details the SHP's rehearsal schedule -- 10-hour-days broken up into morning, afternoon and night sessions -- is positioned directly in front of stairs that lead to a stage.
This is MSUM's green room (the lounge for performers before and after a performance, as well as during when they are not required to be on stage) and one of the main rooms in the campus' Center for the Arts. It's where the players will rehearse for the six shows that comprise the university's "summer stock."
The Straw Hat Company, MSUM's professional summer theater program, celebrates its 50th season this summer.
"This summer it's focused on comedy," said Craig Ellingson, MSUM's theater department director and director of this summer's productions of "The World Goes Round," "Same Time, Next Year" and "A Funny Thing Happened on the Way to the Forum."
The company consists of 28 "young emerging artists," including current MSUM students, recent MSUM graduates, high school apprentices and other actors from the region. All of these artists are required to work on some aspect of each of the six shows, either as a performer or technician.
Four directors, two choreographers and two vocal directors train the performers while three costume designers, three scene designers and three lighting designers contribute to the aesthetics of the show.
The company has drastically decreased its numbers from past years. Due to economic constraints, Ellingson said, the company is no longer able to hire 60 members, a common number in past years.
Alum return to perform
"My Way" opens the SHP's 2013 season and includes MSUM alum such as Sean Palmer, a 2010 graduate with a degree in theater (acting, directing, and musical theater emphases).
"It's a great program; it's like an extended family almost," Palmer said. "(And) why not come back and make some connections?"
Palmer participated in SHP for four years during his time at MSUM as an undergraduate. This year, his fifth year with the company but the first time returning as an alum, Palmer has been able to observe the remaining shows' rehearsals (alum only perform in the first show), as well as help fellow players with choreography. (Palmer minored in dance.)
Being a member of SHP takes serious dedication, Palmer said, and he has learned that if you can survive and enjoy participating in this company, you can do professional theater for the rest of your life.
"It's fast and quick, and you need to adapt to all the punches thrown at you," Palmer said. "It can build you up and it can break you down."
Despite these challenges, one of the reasons Palmer has continued to return is because of the sense of community he feels with the players, local theater programs and the FM community.
One example, Palmer said, was when he received a card from a patron who expressed how moving his performances were.
And he still keeps in touch with fellow players that now live in various locations throughout the country, including Minneapolis, New York City and Los Angeles.
"At the end ... I (keep) coming back," Palmer said.
The evolution of SHP
The SHP originated from Del Hansen when he came to build a first-rate theater program at MSUM, according to Clarence Glasrud in "The Straw Hat Players: A Brief History."
Hansen came up with the name for the program from a New England summer theater circuit which, since the 1920s, has often been referred to as "the straw hat circuit," after the standard apparel worn by vacationing gentlemen. At the time, Hansen's troupe was not entirely supportive of the title, but the name stuck.
A summer theater season was introduced in 1963 and consisted of three one-act shows. Single plays had been done during summer sessions in 1961 and 1962. The SHP performed in various locations, including Fergus Falls, Minn. and Detroit Lakes, Minn. and on-campus in Weld Hall. Straw Hat's first season was in 1967 and it was described by Glasrud as ambitious but generally unsuccessful with audiences. The second season, however, proved to be much more successful, partially due to some phenomenal performers.
One of the largest changes within the program has been the types of plays that are selected, said Ellingson, who has spent 16 years directing plays at MSUM.
"Times and tastes have changed," Ellingson said.
Particularly within the last 15 to 20 years, musical theater has become very popular among audiences, Ellingson said. Consequently, SHP now predominantly features musicals.
Palmer said the way auditions are held and the way members are contracted are among the few significant changes he's noticed since only a few years ago when he participated as an undergraduate.
As far as rehearsal sessions go, Palmer feels not much has changed.
Making an impact
Palmer explained that sometimes SHP selects shows that are mainly for entertainment, but often the company selects shows that audiences can learn from or at least spark discussion.
"There are some shows that can really speak to an audience," Palmer said. "We hope to be conversation starters."
Some shows commentate on local or global issues, past, present or future. Others allow various generations to reminisce on how certain aspects of life have or have not changed over time.
"You never know what the audience is going to love," Palmer said.
For the 2013 season, audiences can look forward to both classic and modern shows, a variety of themes and fun lyrics, all of which, according to Palmer, will constitute a "romping good time."