​Summer Theatre Group Celebrates 55th Season
Theatre | May 30th, 2018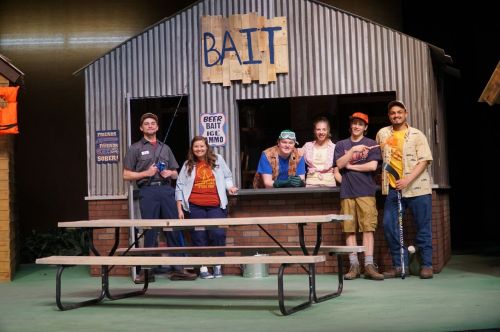 By Tayler Klimek
tklimek@cord.edu
If you're a lover of musicals and looking for something to do this summer, the Straw Hat Players have got you covered. This professional summer stock theatre company is dedicating six weeks of their summer to bring you four musicals – a slight difference from the typical straight play and three musicals they've done in the past years. The box office is now open, so be sure to get your tickets for this exciting 55th anniversary of Straw Hat Players theatre shows.
For just six weeks, a group of young emerging theatre artists will dedicate their time to a rigorous schedule of rehearsing and building sets for four productions. Every single show is being touched upon every single day, and the artists involved will rotate between acting, tech and set construction. "Everyone who's involved from the performance side is in rehearsals, but they all serve on technical support crews, they build the sets, they do everything," said Craig Ellingson, professor and director of theatre at MSUM and director of the Straw Hat Players. "We work three sessions a day and will be touching a different show each session."
For those who don't know, the 'Straw Hat' in the group's title is simply meant to distinguish it as a summer theatre company. "A straw hat is a typical summer hat for gentlemen and there are many straw hat programs or straw hat theaters around the nation, so straw hat just implies 'summer,'" said Ellingson. "You know, men in the early 1900s typically wore hats, so their summer hats wouldn't be something made out of flannel or wool; they were typically straw." Delmar J. Hansen, for whom the theater is named after, started Straw Hat 55 years ago. "If my history is correct," said Ellingson, "it was in Fergus Falls that they performed that first summer and then they came to the [MSUM] campus here and performed over in Weld Hall. Then after [the Hansen] building was built, they moved over here and we've been in the Center for the Arts ever since."
Both the Hansen Theatre stage and Gaede stage will be used for the productions this summer. Starting the season off will be a comedic and relatable production to many, How to Talk Minnesotan. "This musical takes place at a lake resort, and many of the jokes and humor are aimed at this area of the country, which I think people will find pretty entertaining," said Ellingson. The second show, All Hands on Deck!, will showcase some great music from the '30s and '40s, and will have several opportunities to see some dancing. The Last Five Years will be the third production this summer, a very engaging, more contemporary show. "This story depicts a failing relationship over the course of five years, but you see it from two different perspectives – the he-said/she-said," said Ellingson. The story is told in reverse order – one person starting at the beginning of the relationship, and one starting at the end, which provides a very unique look into what a relationship is and how different people view the same thing. "There's a lot of beautiful, captivating music too, so I think that will be a very interesting departure from the past several years of what we've offered during the summer," said Ellingson. "I hope that a lot of younger people will come out and see that show as well."
The Straw Hat Players will close out their celebratory season this year with Guys and Dolls, which some people consider to be one of the finest examples of musical comedy. "The score should be familiar to most, so people will be able to sing along with the tunes and then there's wonderful opportunities for some very broad and over-the-top comedy, as far as characters are concerned," said Ellingson. Attendees of the show should expect to see some great dancing in this final production of the summer.
For season tickets and tickets for individual shows, you may go to mnstate.edu/tickets, purchase by phone at (218) 477-2271, or stop by the MSUM Box Office in the Roland Dille Center for the Arts, Monday through Friday from noon to 4:00 p.m. Hansen Theatre and the Gaede stage are located in the Roland Dille Center for the Arts on the MSUM campus.
IF YOU GO
All shows start at 7:30 p.m.
"How to Talk Minnesotan" | May 29 – June 1 | Hansen Theatre Stage
"All Hands on Deck!" | June 5 – 8 | Gaede Stage
"The Last Five Years" | June 12 – 15 | Gaede Stage
"Guys and Dolls" | June 19 – 22 | Hansen Theatre Stage