​The Politics of Dancing: FMCT's 'Billy Elliot: The Musical'
by Brittney Goodman | .(JavaScript must be enabled to view this email address) | Theatre | May 4th, 2017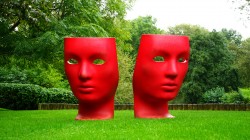 FMCT, under the direction of Anna Carol, is bringing the Tony Award-winning Broadway hit, 'Billy Elliot: The Musical' to The Stage at Island Park May 5-7 and 11-14. The musical is adapted from the hit movie 'Billy Elliot,' and features music by Elton John and screenplay and lyrics by Lee Hall.
This "coming-of-age dance musical extravaganza" follows young Billy, who recently lost his mother, as he decides to move from boxing to ballet. He studies and practices in secret.
The musical is set during the 1985 mining strikes that took place in England under the controversial politics of Margaret Thatcher. It also highlights the community's struggle against oppressive police and privatizing government.
Themes of poverty, political turmoil, family strife, and solidarity in friendship shine through in the poignant and funny musical. Will Billy be able to follow his passion and make it to the Royal Ballet School?
Directed and co-choreographed by Anna Carol, the musical highlights the talents of a cast of almost 32 players from the community, from age seven on up. Carol elaborates: "We have eight little girls under the age of nine, middle and high school boys, college students, young professionals and long-standing theatrical pillar-actors from the community."
Drake Aasen is in the title role of Billy Elliot and Yukon Maughan plays his best friend, Michael. Additional choreography is provided by Matt Gasper, music direction is by Nick Albrecht and Eric Saari, and the stage managers are Michelle Soto and Anthony Albright.
Carol is a graduate of MSUM's theatre program who also holds an MFA in Acting from the University of Central Florida. Her performing arts career has led her all over the United States and also internationally, including Germany and Austria. She is rounding out an interim contract as Artistic Director for FMCT soon and will return to her home in New York City. She has directed and choreographed over 30 productions in her career, along with being a teaching artist and a solo artist performer.
Carol expresses her excitement for bringing "Billy Elliot" to our local stage: "Everything about this story resonates with me on a personal and professional level. I saw this show when it was on Broadway ten years ago and was so profoundly touched by it. At that time, I was primarily a performer and educator, so I held tight to Billy's story about following your dreams and what it takes to get there. To discover it and see it through new eyes at this point in my life, the story continues to challenge and reach me."
Carol sees particular relevance in the show: "With the show based on real-life happenings in Northern England in 1984-85, I can't help but take the political parallels and themes quite seriously and pointedly. This show continues to challenge me to think about how we as a nation and human race have to continue to consider each other and how we can stand together in solidarity and build each other up versus break each other apart."
Audiences should "be prepared to see a phenomenal cast," Carol asserts. She also highlights the music: "We have a terrific 9-piece band that plays live with us during performance," which brings to life the music by Elton John and "all of our dancers moving."
She also mentions Nick Albrecht and Eric Saari's talent as the musical leaders: "They are equally terrific and have been a necessary element of leadership for this piece."
Carol talks about Drake Aasen's title performance: "He's basically my hero. The role of Billy takes a phenomenal young man who not only has to act and sing, but needs to be a trained dancer."
In order to build up the local talent pool, FMCT offered, through Matt Gasper at Gasper's School of Dance, five free weeks of dance class: "We called it Billy Camp." And Carol says that "Drake stood out right away. He had never put on a pair of ballet or tap shoes in his life, but I saw in him so much potential."
Both Carol and Matt Gasper co-choreographed the dance pieces. And she asserts: "Watch out for the 'Angry Dance.' Drake will tap you over."
Someone I have seen on a regular basis in the local musical theatre scene, Tanya Weets, plays the role of Billy's dead mother, or "Mum." Weets describes her role: "I play Billy's mum who has passed away. I appear to him, and talk with him like any mom would. I remind him of everyday things, and of lessons I've taught him."Weets says that audiences should expect to embark on a "journey of emotions. There will be moments of beauty and grace, moments bursting with laughter and most likely a few tears. You may want to stuff your pockets with some tissues."
She continues: "There aren't many musicals that dole out the realities of life, as many are a direct escape from it. Here we see and feel the very brunt of what Billy, his family, and his community are dealing with. It's riveting, and politically charged, and lovely. And you simply shouldn't miss the chance to be a part of it."
Weets continues: "These are not people who have had an easy life. They have worked very hard for everything, many times for very little reward. There's a solid sense of grit and community throughout this show. Giving up is not an option. It's in the togetherness where they are able to accept what life has handed them, and to strive for what they dream of."Director, Carol, sums it up: "It may not be a musical everyone knows, but it's a musical you will remember."
IF YOU GO
Billy Elliot: The Musical, presented by FMCT
May 5-7 and 11-14
The Stage at Island Park, 333 4th St S, Fargo
Tickets: Adults, $18.00; Seniors/Students, $12.00 Box office, 701-235-6778 or www.fmct.org