The power of yes: Carrie Wintersteen
by HPR Contributor | .(JavaScript must be enabled to view this email address) | Theatre | October 2nd, 2019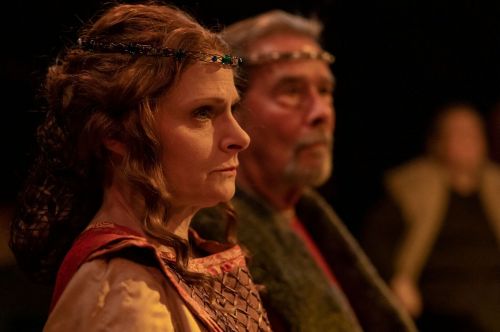 By Michael Str!ke
michaelstrike.solo@gmail.com
"No one moves to Fargo to become a professional actor," she said, but after starting Theatre B with her husband and a core ensemble of performers almost 18 years ago; Carrie Wintersteen has found a home, a calling, and her own vocation here in the Fargo/Moorehead area.
Carrie's interest in performance started at the very young age of five or six; when her parents would ask her to sing and entertain family and friends during their bridge club nights. Then, in middle school, her counselor signed her up for the summer program in the local Governor's school; titled 'Acting, Music, and Junk' long before that program's funding had been cut. From then on she was hooked. Her love for the theater grew along with her involvement in choir programs and school productions. Much to her parent's confusion and chagrin she began her college career in theater, and focused on her bachelor's degree in the arts.
After getting her degree she then moved home to the twin cities, and accepted an assistant position at Theater in the Round. Following her own bit of advice, she said yes to getting out of her comfort zone; stating "Whenever someone asks you to do a job… always say yes. The fact that you are willing will always propel you forward". In doing so, she happened to meet her future husband David during Theater in the Round's production of 'Design for Living' by Noel Coward.
From there they toured the country, networking and gaining recognition in the academic circles of theater. She then attended the University of Pittsburgh, where she completed her MFA in acting, and finally gained the recognition from her parents that she was in a legitimate career path through theater and acting. After the national rounds and working summers in professional Shakespeare productions to pay for her Master's program, they landed back in the Fargo/Moorehead area to start David's tenure working with undergrads at Concordia.
That's when defeat almost settled into her mind, but the realization that her community was desperate for a modern and porgressive theater company gave birth to what would be Theatre B. They started featuring productions originally in what was then The Moose Lodge downtown in their first season in 2003; now where The Toasted Frog and Starion bank is located. After hopping Theatre B from one location to the next, including the American Legion and other found spaces, they finally found their current and hopefully permanent home at the former Lincoln School building in Moorhead at 215 10th Street North.
Carrie also runs the administrative side of Theatre B, and she again gives credit to her upbringing for her success in running a business all while being a creative artist. Working her parent's dry cleaning company honed her perfectionist nature, and taught her how to interact with customers; teaching her how to build customer relations and what customers expect from the face of a business. Now she jokes that she runs a company where the owner greets you with a hug and a smile, while her husband works hard at the behind the scenes aspect of the company; ensuring their building is up to code, and trouble shooting many of the technical aspects of the stage. His prowess gained him the nickname of being 'their local MacGyver'.
The weekend prior to this article was Theatre B's opening weekend of their production of the Shakespeare classic; Hamlet. Carrie graces the stage in her first time playing the role of Queen Gertrude; Hamlet's mother. When asked how aging has affected her as an actor and the roles available to be in; she says that it has both opened up and narrowed opportunities. While younger roles may be off the table, she now has access to more mature and powerful roles; including her portrayal five years ago of Dr. Vivian Bearing in Margaret Edson's play, 'Wit'.
Carrie recognizes that in this smaller and more tight knit community she certainly doesn't want for work, but as she leans gracefully into her later years she recognizes that the intensity of her work has increased immensely. She practices a daily regimen of exercise and mental focus, because it takes that much more of an effort to stay in top physical and mental form to perform at the capacity that she knows she is capable of. And while she recognizes the years of support and mentorship from countless women all over, she and David have really grown something special here in the Fargo/Moorehead area.
To anyone wanting to succeed in their art, their career, in their own life; Carrie offers one simple but powerful piece of advice that shines from her own life.
"Just do it. Find a way."