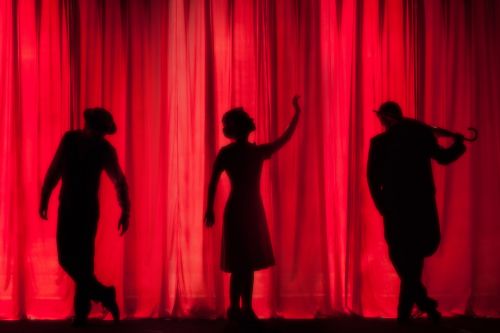 The Fargo Moorhead Community Theatre (FMCT) is continuing to move forward as they wait to see what the future holds for the building located at 333 4th Street S. in Fargo. FMCT made two moves over the past several weeks, including moving their administrative building and launching a capital campaign.
The building was deemed structurally unsound in December after staff noticed cracks in beams by the ceiling.
"Back on Dec. 13, we noticed that there were some unusual cracks in some beams up by the ceiling," said FMCT Executive Director Eloise Breikjern. "We called in a structural engineer and a construction worker. The structural engineer said, 'no. You shouldn't have anymore performances here. We'll come back and we'll look at this and make a determination, but no public should be entering and being in the theatre.'"
A couple days later, the structural engineers returned to find the cracks had become larger. The City of Fargo inspected the building and red-flagged it, forcing FMCT staff to leave the building altogether.
"Two days later, we had a company from Minneapolis come in and...they call it, 'shoring up,' the roof." Breikjern said. "A structure was put in place that is actually just holding those beams in place that are cracked, so that there would not be any further damage, or so that the roof would not cave in."
FMCT staff moved into FMCT's Studio 6 on Broadway, but soon found the space was not a good fit for several departments within the organization.
"Our staff immediately moved over there, but that's not a usable office space for us because we have education classes there on Saturdays and rehearsals there in the evenings and there really isn't a place to set up an office," Breikjern said. "So, we began looking for additional office space."
The space also turned out to be limiting for technical staff.
"We also had to look for a location where our technical crew could build a set, create costumes, that type of thing because we have never stopped doing the shows," Breikjern said.
FMCT recently finished their production of "Little Women" which was performed at Moorhead High School. Starting February 29th, Breikjern said they will perform "Click, Clack, Moo: Cows That Type" at Askanase Hall on the NDSU campus.
As for now, Breikjern said they are continuing to pursue options to eventually move operations back into the building on 4th Street.
"We are working with architects to see how we can make a few improvements, but yet repair the roof or whatever we end up doing," Breikjern said. "We don't know what that is yet. We're researching those possibilities. We're working with the insurance company to see what their suggestion is - how much money do we get from the insurance company?"
Working with insurance isn't the only struggle FMCT is facing.
"It's really in process because, as I've discovered, we are having to go out of the Fargo Moorhead area to really find people who specialize in theatre spaces because there isn't anybody in town," Breikjern said. "So, it's taking a bit longer than it would for any other type of traditional building."
Obviously, the problems with the building and the fact that FMCT is forging ahead with productions is a financial hardship for the organization.
"We started a soft launch for a capital campaign over Giving Hearts Day," Breikjern said. "We're keeping up several different locations now. We're still trying to do our shows. We're working with other contractors. So, it is expensive. It's a difficult time, financially."
But, as they say,"the show must go on."
"We want to get that theatre back up and running as quickly as possible," Breikjern said. "I would say, if people want to donate, no amount is too small. They can certainly go to our site - www.fmct.org. There's a donation button at the top, and they can just make a donation. They can send in a donation to us. However they can help is very much appreciated."
The Fargo Moorhead Community Theatre holds a special place for many people and now, it is leaning on the community to help it through a difficult time.
"FMCT itself is 73 years old and this building has been standing there for 52 years," Breikjern said. "It's a part of the community and it's right in its name. It says, 'community theatre.' So, it's not just about us. It's about the community. The people that are on the stage are community members. People sitting in those seats are community members. And so, it's going to take the community to help bring it back."
HOW TO HELP:
Online - visit www.fmct.org and click 'donate'
Mail -
Fargo Moorhead Community Theatre
333 4th Street S.
Fargo, ND 58103