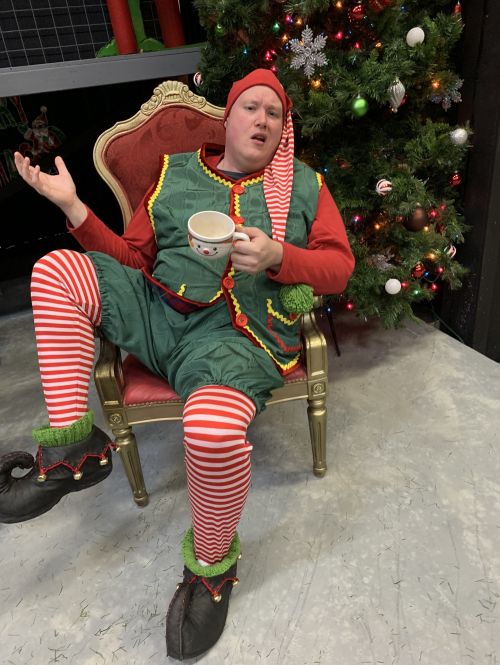 by Nataly Routledge
natalyroutledge@googlemail.com
MOORHEAD—Do you like theater? Do you have about 85 minutes of spare time? If your answers to these questions were yes, then it would be advantageous for you to know about Theater B's ongoing production "The Santaland Diaries." Based on the essay written by David Sedaris, this one-man show runs from now until December 15th.
David Sedaris' essay centers around an account of his time as a Christmas elf at Macy's. Traditionally the essay is read on public radio during the holiday season, but it has been adapted for theatrical production. Theater B put on the production several years ago and it was such a hit that it resurfaced this year as a potential production.
Ultimately, the production was chosen after radio personality JJ Gordon agreed to star in the show. JJ Gordon works for KFGO and has participated in four Theater B shows. "He's brilliant," said director Tucker Lucas when discussing the choice of Gordon as lead. Tucker has been a part of Theater B for 11 years.
"I wasn't going to say yes originally," Gordon said about the proposal of the role. He was married just a few weeks before rehearsals for the show were in full swing, making for a packed schedule. Between the humor of the show and his pleasant past experiences with Theater B, he decided to go ahead and give it a shot.
Because it is structured as a one-man show, it presented challenges in terms of finding ways to keep an audience engaged. For this reason, the audience plays an important role in the show. "The audience is as big of a character as I am on stage…We break the fourth wall immediately," Gordon said when talking about the uniqueness implicated in being part of a show like this.
This aspect of the production also means that every night of the show will be a little different. "It's just like if you're a frequent flyer. You might have flown from Fargo to Minneapolis one hundred times, but depending on who your flight was with, depending on the person you're seated next to, depending on what the weather looks like, even though that flight is the exact same flight, every single time it's different," Gordon said as he went on to describe the anticipated experience.
"The Santaland Diaries" is full of humanity, humor, and holiday honesty. "If you've ever worked a job that you've hated, this show is for you," said Lucas when discussing the comedic aspect of the show.
"It's also about the magic that can affect us amongst the midst of chaos," stated Monika Browne-Ecker, the Operations Manager for Theater B.
Now, how does one go about getting tickets? Tickets can either be reserved online at theaterB.org, or by calling the box office at 701-729-8880. This Theater B production can also be booked for private events (for instance, an office party or a family get-together). The Theater B crew describes the show as PG-13 as a reference for families. Viewing a local theater production is also an easy way to get out and experience more of what the Fargo-Moorhead community has to offer.
IF YOU GO:
The Santaland Diaries
November 23 - December 15Theatre B, 215 10th St N, Moorhead