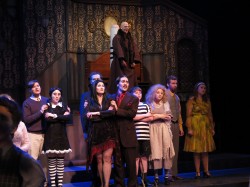 by Alex Huntsberger
In an age when producers in theatre, television and film are all searching their couches for viable IP (Intellectual Property) to convert into new content, I suppose an Addams Family musical was inevitable—even if it wasn't that advisable. The show was panned when it opened on Broadway in a production starring Nathan Lane and Bebe Neuwirth, and it underwent subsequent revisions before its first national tour, many of which were actually quite well received.
While the resulting show is minus one giant squid puppet (seriously, there was a giant squid that got cut post-New York), it isn't lacking in charm. And the cast of FMCT's new production, directed by Lori Bartlett Koenig, brings a charm all their own. It's more kooky than it is creepy, and it's not all that mysterious or spooky, but it is definitely a fun kind of ooky. It's "The Addams Family."
The show's plot revolves around Wednesday Addams (Abbey Imer) coming of age and falling in love with a sweet Ohio boy named Lucas (Billy Schnase). As is proper, Wednesday invites Lucas' parents, Alice (Shelby Cochran) and Mal (Tony Peterson) over to the Addams' brooding Central Park homestead so that the families can get to know each other. Wednesday's parents, Gomez (Cody Gerzewski) and Morticia (Kellie Piper) are none-too-thrilled over the prospect, but she is able to blackmail Gomez into going along with her plan, all the while keeping Morticia in the dark.
It's an old plot, and it goes hand in hand with the show's old-fashioned, Catskills-bread sense of humor. Luckily, Koenig and the cast bring the kind of yuck-it-up energy that the show requires. Gerzewski especially is just a delight as Gomez, with Taylor Schatz's Fester coming in a close second. Heck, even the Ohioans are all joys to watch, with Cochran and Peterson both proving that sometimes repression is far more enjoyable to watch than sheer lunacy.
The Addams Family and musical theatre make an odd marriage—far odder, in fact, than the proposed nuptials at the play's center. There's a broadness and an eager-to-please aspect of musical theatre that clashes with the family's macabre sensibilities.
With the exception of a few moments, the show is fairly tame. The films from the early 90's look like Tarantino in comparison. And the music, while ably rendered by music director Jo Marie Fike, is mostly forgettable. Still, a few swear words aside—plus one very bawdy joke—it's a fun, family-friendly evening.
The same couldn't exactly be said for Lucas Hnath's "The Christians" playing through this weekend at NDSU. And that's not a bad thing. Hnath's play wrestles with questions of faith—how it plays out in our relationships with each other, with our communities and with our ourselves—that do not come with comforting answers. It's an evening as uncomfortable as it is vital.
The play takes place on the stage of a conservative megachurch, which director Jess Jung and set designer John Goering faithfully recreate right down to the upholstering. Backed by a full church choir, there are 4 chairs, in which are seated the church's pastor, Paul (Austin Koenig), his wife, Elizabeth, (Emma Woods), his associate pastor Joshua (Daniel Ajak) and a church elder, Jay (Christopher Taylor). There are handheld microphones everywhere, which the Hnath has the actors use to blur the line between sermon, debate and scene.
Paul begins his own sermon by celebrating the fact that the church has just recently paid off the last of its debt. Then he launches into a long story that ends in a shocking revelation. Not only has Paul decided that faith in Jesus Christ is not the sole way into Heaven, but God has told Paul that there is no hell. Soon Paul and the more conservative Joshua are locked into a mid-service debate as to whether the bible actually supports a belief in hell. Joshua leaves, taking a small number of parishioners of with him. In other words: it's a schism.
The play rests on Koenig's shoulders, as Paul is in literally every scene, and it's a burden that he wears comfortably. As the play begins to call some of Paul's motives (or at least his timing) into question, Koenig is able to give flashes of the man's not-insubstantial ego. His Paul is a good man, and a genuine believer, but he is not a saint. Woods and Ajak also give fine supporting performances, playing many different registers of hurt, bewilderment and unwavering belief.
What makes "The Christians" so noteworthy is its refusal to actually side with any of its characters. It does not lionize Paul, nor does it condemn Joshua. It's a play about dialogue, about the urge to communicate across an insurmountable distance. The Christians does exactly what it's characters cannot—it allows to opposing beliefs to live side-by-side.
IF YOU GO:
The Addams Family
April 22-May 1, 7:30 p.m.
FMCT, 333 4th St. S, Fargo
The Christians
April 21-30, 7:30 p.m.
Theatre NDSU, 12th Ave. N and Albrecht Blvd. Fargo
tickets.ndsu.nodak.edu