Trollwood production examines life in someone else's shoes
by Ryan Janke | .(JavaScript must be enabled to view this email address) | Theatre | July 10th, 2019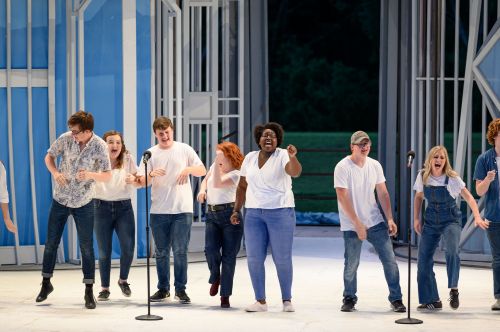 The annual mainstage summer musical, produced by Trollwood Performing Arts School and sponsored by Bell Bank, opens Thursday, July 11. This year's performance is Disney's "Freaky Friday." Trollwood Performing Arts School's website describes the musical as a, "classic story of a mother and daughter magically swapping bodies and, as a result, learning what life is like by spending a day in each other's shoes."
"'Freaky Friday' is a new musical and Trollwood Performing Arts School is performing the regional premiere," said Eliza Snortland, vocal director for the musical. "That's pretty exciting for us. It's a musical that has the same storyline as the movie that people have seen, but has all new music and there's some modern twists to the story."
Each year, Trollwood Performing Arts School invites students ages 14 through recently graduated high school seniors to participate in a full production of their summer musical under the guidance of the school's staff. Those staff who work the mainstage musical – including Snortland, who teaches all of the singing in "Freaky Friday" – each take a student under their wing as an apprentice.
Nicole Niteka is one of those students. She has been performing in the summer musical since 2016. Niteka spent her first two summers with the orchestra. This is her second year as a member of the cast. She is also serving as Snortland's student leader.
"I started at Trollwood three summers ago when they were doing 'The Little Mermaid'," Niteka said. "I was in the kid orchestra. I played violin. I had never been in the cast of anything before, but I had played in the kid orchestra at my high school and thought I should do it in the summer."
When she started, Niteka didn't know she would eventually transition from the orchestra to the cast. Nor did she know that it would be her orchestra director who would make the suggestion.
"It's really funny," Niteka said. "The pit orchestra director told me, 'why don't you just go for it?' I did and it's been pretty fun. It really showed me I had an interest I didn't know I had in acting. I've always loved music ever since I was a kid. I think just being attracted to music in general is something very natural for me, but acting specifically was something I never considered until I went to Trollwood and saw how passionate people my age were about art like this."
Niteka plays the gym teacher in "Freaky Friday," a role she said she is having a lot of fun with.
"The mother and daughter switch places," Snortland said. "So, the mom is in the daughter's body and she goes to school and, of course, has to go to gym class. She finds out the gym teacher is pretty intense."
"In addition to playing her role, she's also the vocal student leader," Snortland said. "She's working overtime, doing double duty."
For Niteka, that includes helping with vocal rehearsals, leading warmups, and serving as a point of connection between the cast and Snortland.
"She's had many opportunities to teach the cast," Snortland said. "In fact, there is a song in the show that Nicole taught, instead of myself. That's among her many responsibilities. We have a large cast of 46 students, so she's teaching a full ensemble to sing."
The song Niteka is teaching the cast is "Not Myself Today" which is the opening number of the second act and, according to Snortland, tells a lot about the story of "Freaky Friday."
"I've known her all four years that she's been here," Snortland said of Niteka. "Nicole has been so awesome to work with this summer. She is a really bright young woman and she is a very talented musician, but beyond that, she is an exceptional leader. She has the respect of her peers because she is authentically warm and charismatic. I think she's learned a lot this summer and really showed off her skills."
The skills Niteka has learned over the past four years will help shape her future as she moves on to the next phase of her journey this Fall.
"I am pursuing a Bachelor of Fine Arts in musical theatre at Pace University," Niteka said. "It's a university in New York. They have a very strong performing arts program. In addition to musical theatre, they have acting, acting for film and TV, and a commercial dance major."
Niteka, who is a first-generation American and whose family immigrated to America from the central African country of Burundi, said her family is supportive of her decision to pursue a career in musical theatre, but credits Trollwood Performing Arts School with helping to groom that support.
"My mom is an author and my grandpa was a painter," Niteka said. "So, they've always been into the arts and liberal arts, but I think when it came to speaking to my parents about pursuing this, it was a little harder sell until they realized how passionate I was. I think spending my time at Trollwood helped them see that because the quality of art we're able to produce here is something that shows them that this is something I could do on a larger scale at a different stage of my life."
Niteka said she has goals after college, but what her future holds remains to be seen.
"I've still been exploring and wondering that. I think performance is obviously a goal, but it's not end-all for me. I'd love to teach in all different sorts of media. I think majoring in musical theatre is something that has more opportunities than people believe. I'm just going to go where life's success goes with everything I've learned so far and within the next four years."
For now, though, the focus is Trollwood Performing Arts School and "Freaky Friday."
"'Freaky Friday' is a fast-paced, funny, fun-loving musical that is a great show to go to at any age," Snortland said. "This show caters to the kid in all of us and the adult in all of us. I think the folks who go and see the show will find it to be a really heart-warming story about the American family and how we deal with our business and our stress and yet, we still love each other. It's a really fun show."
For more information on "Freaky Friday," or the programs offered at Trollwood Performing Arts School, visit www.trollwood.org.
"I'd really encourage people to look into the program Trollwood has to offer," Niteka said. "I've really learned so much in my summers here and it's the reason I'm doing so many of the things I've chosen to do in the future. I couldn't recommend it anymore."
IF YOU GO:
"Freaky Friday"
July 11-13, 17-20, & 24-27
Bluestem Center for the Arts, 801 50th Avenue S., Moorhead