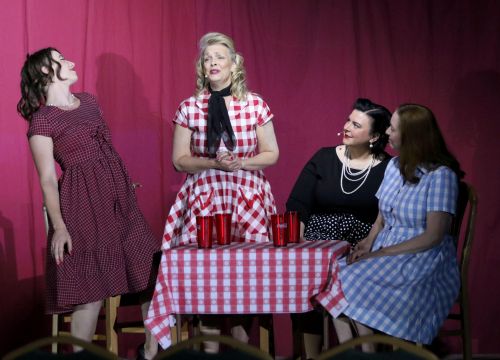 The Cass Act Players will take the stage this weekend to bring "Weather the Storm" to Bonanzaville's Dawson Hall in West Fargo.
"Weather the Storm" is a musical based on the infamous tornado that hit Fargo's Golden Ridge neighborhood, killing 12 and destroying over 300 homes, in 1957. Local residents Tracy Frank and Topher Williams collaborated on the project.
"'Weather the Storm' is a story of community and, ultimately, it's a story of a fractured community – learning to work together after disaster," said Frank, who lives in West Fargo. "We have a bunch of different families and sort of tensions in between a family group and a friend group. It's this tornado, this storm that hits at the end of Act 1 that teaches or reminds people what's important in life and that they should be focusing on their relations, connections, and similarities instead of their differences."
Frank, who worked mainly on lyrics and the book, said she was inspired to write the story after work on a project more than a decade ago.
"In 2007, I was a reporter for the Forum newspaper, and we did a 50th anniversary series of stories on the storm," Frank said. "Through that, I got to interview some people who had lived through it, including John Davenport – the infant who had been torn from his mother's arms by the storm and then was later found alive and survived. Hearing people telling the stories of what the storm looked like, what it sounded like, and what it felt like to live through it, the stories kind of gripped me. I just started picturing a play in my head as they were talking to me about it."
Soon after, Frank became involved in the local theatre community and realized how powerful songs can be in conveying emotion. The play she had pictured in her head changed to a musical, but she wasn't sure how to grow her idea into a reality. That was when she had a chance encounter with someone who could help her.
"In about the fall of 2014, I heard one of Topher Williams' songs he had posted on Facebook," Frank said. "I was just blown away by how beautiful and moving it was. I reached out to him only to tell him, 'great job. I loved your song.' He started telling me he also scored music for plays. So, we met for lunch and talked about my idea. He got really excited about it and we both decided it should be a musical and we wanted to work together on it. We just kind of started and five years later it's a staged production."
Since they first met to talk about Weather the Storm, Frank and Williams have worked on the project off and on. Frank said she would write and send what she had to Williams and vice versa.
"We both worked on the lyrics," Frank said. "I worked on the story and he worked on music, but sometimes he would have suggestions for something that happened in the story and sometimes I would have suggestions for melodies. So, we would just email things back and forth, or sometimes we would work together in person."
As time went on, Frank said she and Williams recruited friends who would speak the lines and sing the songs for them so they could see what it looked like onstage. She said that process was a great help in developing the story.
"We did a staged reading of our first draft in August of 2016 at Fargo Moorhead Community Theatre," Frank said. "That did not involve set or costumes. It was just actors standing onstage reading the script and singing the songs. This is the first time it's being shown as a full musical. The show itself has changed quite a bit since that time."
While "Weather the Storm" is based on the actual 1957 Fargo tornado, the characters are all fictional. There is some fact mixed in, however.
"The research I did was really reading accounts online, through newspapers, and some people who work at NDSU put out a book on the 1957 tornado," Frank said. "So, all of the characters are fictional. Some of the details they talk about, especially in the second act – after the storm hit, are based on true events. We have one character who's a radio reporter. A lot of what he said is based on stuff that actually happened. We have a group of church ladies and they are kind of gossipy in the beginning and at the end, it's more talking out of care for their community. Some of the things they talked about, the number of churches, schools, and homes that were destroyed are based on actual events."
"Weather the Storm" is produced by the Cass Act Players, which is a nonprofit that formed in 2015. It is made up of friends who perform mainly at nursing homes around the area. Frank said they began performing for nursing homes after one of their founding members, who is a pastor, reached out to the nursing home in Casselton to see what her church could do for them. She found that what they needed was entertainment for the residents.
"It's really rewarding because, when we do it, we can see how much it means to them, Frank said. "It gives us a chance to do something we love and to help others along the way. Also, it gives people a chance to perform without the daunting schedule of a full-scale production."
"Weather the Storm" runs around 2.5 hours, including intermission. Frank suggests parental guidance due to the potential scary nature of the tornado and storm and some peril. She also suggests buying tickets early, if possible, due to the popularity and high attendance.
Frank said community support has been wonderful and seeing how the cast has made it their own has been rewarding as well.
"I've been really happy with the audience reaction and the way the cast has embraced it too," Frank said. "It's sort of an unintended, but happy consequence of all of this is they've really looked into the event and done some research on the area and become more interested in their own community history because of this, so that's been nice to see as well."
IF YOU GO:
Weather the Storm
Thursday and Friday, June 20-21, 7 p.m., Saturday, June 22, 2 p.m.
Bonanzaville, 1351 Main Avenue W., West Fargo