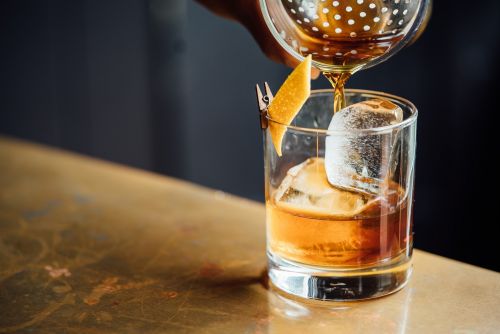 by Jill Finkelson
jsfinkelson99@gmail.com
Far North Spirits, located up in Hallock, MN, is the northernmost distillery in the lower 48. They may be young in the distillery world but the farm and the spirit reach far into the past. Cheri Reese and Michael Swanson left the city seven years ago and started making spirits on a 100+ year old farm. Since then, they have been making a splash locally and globally. You can find them at the local liquor store in Grand Forks or Fargo and also across the world in Finland. They are handcrafted, field to glass spirits made for sipping and serious cocktails. They open up the barroom and serve craft cocktails on Saturday nights in Hallock. If you're in Grand Forks this weekend, you don't have to go so far.
It's the third year that Grand Forks' best bartenders gather at the North Dakota Museum of Art to compete using their signature Rye Whiskey, Roknar. There have been several notable judges throughout the years. This year, I asked Cheri what she will be looking for on the panel. She says it's all about balance and nuance. You want it to have something special and distinctive but not overpowering. And, of course, it must look great. A good cocktail should look stunning-- as well as taste great. There are five bartenders shooting for the prize (bragging rights). At least two-including last year's champion are returning and there are new bartenders coming into the fold. It promises to be a great competition with fantastic drinks and appetizers for all. This year features the limited release 100% rye Roknar whiskey.
Roknar is named for Rognar Lothbrook, of Nordic infamy. Nordic tradition and legends are a source of inspiration for Far North. It shows in the names and branding of the company. They produce whiskey, rum, gin, and vodka with names like Gustaf and Solveig. The distillery is one of a small handful of distilleries that make their spirits with their own grains. Cheri talks about the importance of the type of grains that go into the spirit. They tested many types of rye to eke out the difference in taste that comes in the finished product. There's a lot of nuance that comes out in the glass. People talk a lot about it in day wine but there's less talk about the grains going into a glass of whiskey. Small batches and fields of grain offer a lot of room to experiment. They now have a few different types of whiskey and more cooking. They are aging casks as we speak for seven and twelve year batches.
The event has sold out every year and they're expecting to again, so scoop up some tickets fast. Proceeds benefit the museum and turn out and reception has been great. It's a great opportunity to run out some great cocktails and support a cause. For $40 you get to sample and put in your bid for the best one. The event is Friday night at 5:15 and tickets are $40. Side note- if you're in Fargo, you can try a Far North cocktail in your PJs at Twist Saturday and Sunday morning with a five course paired brunch.
IF YOU GO:
Rye on the rocks at NDMOA
Friday, March 6, 5:30- 8pm
North Dakota Museum of Art, 251 Centennial Dr, Grand Forks