Turkuaz
Fri, May 29, 10 p.m.
The Aquarium, 226 Broadway, FargoGet your groove on with Turkuaz, a 9-piece funk/pop/rock band from Brooklyn. Complete with horns, backup singers, keys, guitars and more, the band performs original tunes along with familiar covers such as "Feelin' Alright" in the style of Joe Cocker. The opening act, Funk Buddies 'n' the Groove Cream, features local musicians Pat Lenertz, Matt Johnson, Dan Olson, Andrew Overby and Kari Marie. Tickets are $10 in advance at ticketweb.com or Orange Records.
Sway Day: World's largest hammock gathering attempt
Sat, May 30, 4 p.m.Island Park, 302 7th St S, Fargo
The Fargo-based Hammock Initiative is inviting as many people as possible to "hang" out at Island Park on Saturday. That's right, the initiative will attempt to set the world record for most people lying in hammocks, in one location, at one time. If you have a hammock, bring it. If you don't, come hang in someone else's hammock. It's an event for chilling out and relaxing. For more info, email hammockinitiative@gmail.com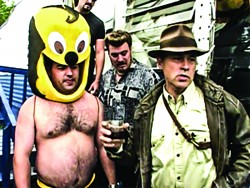 Randy and Mr. Lahey of Trailer Park Boys
Sat, May 30, 9 p.m.
The Aquarium, 226 BroadwayTrailer park supervisor Jim Lahey and assistant trailer park supervisor Randy are teaming up for some greasy, goofy and outlandish stage comedy. The two antagonistic characters from the popular Canadian TV show "Trailer Park Boys" have been selling out most of their shows across the country. Tickets are still available for their Fargo show for $25 at ticketweb.com and Orange Records.
Downtown Dash: Goldsprint Stationary Bike Race Tourney
Sun, May 31, 7 p.m.
HoDo Lounge, 101 Broadway, Fargo
Ever bike raced in one place? Now's your chance. Ride inside the HoDo Lounge for the Downtown Dash to celebrate the final day of National Bike Month. This stationary bike competition cost $10 to enter. Proceeds go toward rehabbing bikes for kids. Sign up starts at 6 p.m.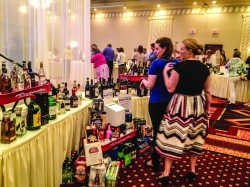 Wine and Beer on the Red
Wed, June 3, 5:30 to 9 p.m.
Ramada, 1635 42nd St S, FargoThe Fargo-Moorhead Symphony will host its most significant fundraiser event of the year on Wednesday. Wine and Beer on the Red will have gourmet food, live music, a silent auction and, of course, wine and beer. Tickets start at just $35. Attendees must be at least 21 years old. More info can be found at fmsymphony.org.
Bloomtown Music Festival
Thursday to Saturday, June 4 to 7Pure Bliss Ranch, Waubun, Minn.
Some of the biggest names in dubstep will be headlining the BloomTown Music and Arts Festival, including Shpongle, EOTO, Papadosio, Mt Eden Official and Liquid Stranger. The festival also include lots of local acts including Sovereign Sect, O'fosho, D Mills and Jon Wayne & The Pain. Early-bird tickets are still available but are going fast. Visit bloomtownfestival.com for more info.