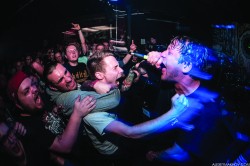 Saturday, April 30, 5 p.m.
The New Direction, 14 Roberts St. N.
For the first time in over four years, Canadian hardcore band Comeback Kid will return to Fargo. The band formed in 2000 and released their debut LP three years later. Since then, they've released four more albums and one live release. This early show also features opening acts Exalt, Baltic to Boardwalk, Swing Low and Crab Legs.