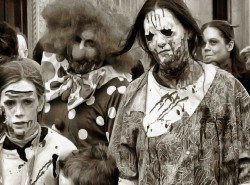 Saturday, May 7, 4 p.m.
Duffy's Tavern, 16 12th St. S.
Zombies will once again walk the streets of downtown Fargo but it won't be human flesh they're craving. Participants are encouraged to dress as the undead with fake blood and costume makeup as they stumble from bar to bar. The crawl begins at Duffy's Tavern with the location changing every hour. More information can be found on the event's Facebook page, including a list of lessons learned from past years.