​21 wonderful people who want to meet you
by Marie Monson | .(JavaScript must be enabled to view this email address) | Culture | July 1st, 2015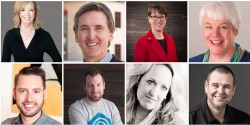 By Marie Monson
Twenty speakers and one music performer will share the Civic Center's stage this month for the biggest TEDxFargo event yet. Men and women from around the country are coming to share their experiences, their art and their visions for the future with a city they know has much to offer.
How it works
TEDxFargo is scaling up in every way this year, said lead organizer Annika Nynas. Instead of having a TEDx youth event as in years past, the planning team decided to focus on one major event, which organizers are hopeful will draw up to 2,000 attendees.
In choosing the speakers, Nynas said, the group used its connections with other TEDx organizations around the globe.
Nynas added when it comes to finding the right speakers, her team's mindset has made all the difference.
"If you look at your life instead of networking with people and exchanging business cards, it's really more about building relationships and friendships," Nynas said. "So whenever we're anywhere, that's the way we go about meeting people. We're not just meeting someone to shake his or her hand and say, 'Hi, here's my business card.' Instead of asking 'What do you do,' it's, 'What are you passionate about?'"
This outlook reflects positively on the city of Fargo. Historically, when speakers have come to Fargo and shared in the excitement of innovation with the people here, they leave with a high regard for this bustling North Dakota city, helping it to expand in the best possible ways.
The ardent orchestrators of TEDxFargo want as many individuals as possible to join in the event, with the hopes that they will not only see the wonder on the stage, but that they will also recognize it in themselves.
So without further ado, this year's speakers:
The Natives:
Megan Orcholski­ Communication Studiesand Theater Arts Department faculty at Concordia, specializing public speaking, performance and gender.
Rebecca Meyer-­Larson­ Educator/theater director at Moorhead High School and artistic director/founder of ACT UP Theatre, a social justice theatre company.
Shawn Muehler­ U.S. Air Force officer and COO of Botlink, a software drone company.
Kayla Delzer ­Project Lead the Way lead teacher in West Fargo andwinner of the first-ever TEDxFargo Open Mic Event.
Jeff Volk ­Moore Engineering's president and CEO who has been a leader in pivotal F-M water-related projects, including the Red River Diversion.
Tim Brookins Distinguished engineer and software developer at Microsoft. Among many significant projects, he created the popular local app Bison Tracker for NDSU sports fans.
Anne Blackhurst­ 11th president of Minnesota State University Moorhead and experienced academic leader, educator and strategic thinker.
Traveling Inbound:
Gary Greff­ Artist, sculptor and creator of the Enchanted Highway, a nationally recognized collection of massive scrap-metal sculptures along a 32-mile stretch of highway in North Dakota.
Leoncarlo Canlas­ Renowned freelance violinist and violist who crafts complex effects-drive compositions through the use of a loop pedal. He will be TEDxFargo's sole performer.
Dean Phillips­ Chairman and co-­owner of Talenti Gelato, co­-chair of We Day Minnesota,chair of the Worldwide Orphans Foundation Leadership Council, chair of United States Distilled Products Company and a director of Youth Frontiers.
Dr. Rajiv Shah Nephrologist and CEO of MyMeds, an smartphone app-based medication manager and pill reminder.
Dr. Charles Miller­ Associate Professor of Learning Technologies at the University of Minnesota, cofounder and chief design officer of Vidku and executive director of theInstitute for Design Innovation.
Greg Hartle Co-founder of Sitecast, a tech company that helps clients build a better online presence and monetize their digital content.
AJ Leon­ Writer, designer, entrepreneur, adventurer, photographer and humanitarian who founded Misfit Incorporated and Twitgift.
Carol Gunn­ Internist and occupational medicine physician who has championed patient and worker safety in the field of health.
Chandra Krintz­ Computer science professor at UC Santa Barbaraand co­founder/chief scientist of AppScale, which helps people maximize use of the Google App Engine.
Nathan Clark ­Chief marshmallow agent at Wondermade, a small company that obsesses over every ingredient and cooking step to bring people the "best marshmallows around."
Tristan Pollock Co-founder of Storefront, a pop-up retail-space renter, and ­Entrepreneur-in-residence at 500 Startups, the "world's most active micro-VP."
Paul Shoemaker­ Founding president of Social Venture Partners Seattle, a nonprofit that strengthens philanthropic endeavors and collaborative solutions.
Starla Fitch ­Ophthalmologist, certified life coach and author of No. 1 international best­seller "Remedy for Burnout."
Tom Byers­ Stanford University professor and award-winning engineering and entrepreneurship educator.