25 years…where do I begin?
by HPR Staff | .(JavaScript must be enabled to view this email address) | Culture | September 4th, 2019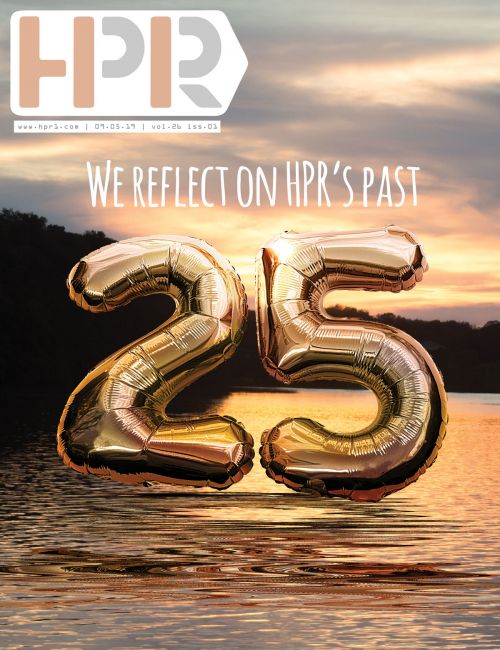 By Raul Gomez, Publisher
raul@hpr1.com
I have come to think of the High Plains Reader, not as an extension of John Strand or myself, but as its own living breathing entity that wants and feeds and strives for its own personal fulfillment. And sometimes when I look back at where it started, I feel a closeness to it. We share a bond, like a parent or gay uncle, and I'm proud of what it's become.
When I first saw the Reader I was in Grafton, North Dakota, fresh on my second week of work, I arrived bright-eyed and eager every day with a pressed shirt. On a large Mac monitor, I watched as my co-worker Len Schmid worked furiously all day. The next morning, I came back to a coffee-soaked Len still working. He'd been there through the night and all I could think of was what could be important enough to pull an all-nighter?
Len had a box of Pop-Tarts that was sitting on his desk, I assumed for breakfast or dinner. And indeed he sat nibbling away, but now the box was crammed in the flatbed scanner (remember, these are the olden days) and he had an image of the box on his screen that now read Pop-Arts. It was the first time I'd seen a cover of the High Plains Reader, and I knew I wanted to make one. I think that was the moment I was hooked.
I'd never seen or even heard of a paper like HPR back then. It opened my eyes to a stream of possibilities. Here, now, people could do more than just complain about what media had become. We could be a part of it, but we didn't need to line dance in sync with the rest of them. We could write our own music.
The HPR became a place where the "other" had a voice. Over the years, we collected a pack of artists and musicians and like-minded weirdos, friends that helped the paper grow. We spent years grinding away at our computers.
We grew up together. I spent many nights like Len, pulling all-nighters, soaked in coffee and sometimes the power went out and I lost the last 8 hours of work. I was terrible at saving back then, would pick myself up and start over.
Oh HPR, you rebel, you instigator, you rough-cut gem. You were never what everyone wanted you to be, you held fast and true to your own drumbeat. Happy Birthday, Babe!
HPR the community mouthpiece
By Sabrina Hornung, Editor-in-Chief
sabrina@hpr1.com
I met John and Raul in the early 2000s when I was slinging coffee and sarsaparillas downtown working as a soda jerk at Dakota Soda in the back of Zandbroz--either that or from some variation of downtown deviance. In fact, I still have the matchbook Raul first wrote down his phone number on from Monte's. Who knew that this would lead to a beautiful friendship along with countless collaborations and Unity dances--Unity dances were events that combined drag, burlesque and a wicked awesome dance party. Collaborations with the troupe I ran led to other events such as HPR parade float entries, covers, and even fundraisers.
I never realized that the work I did through Bad Weather Burlesque would contribute to such a fulfilling and rewarding career path. I blogged and set up PR with the troupe and then eventually started my own blog for my art. I then realized that there wasn't enough representation of the visual arts in HPR and set up a meeting with Raul to remedy that--plus I wanted something else on my resume other than hoofin' and slingin' coffee. I wrote for a year and then found myself licking my wounds and heartbroken back in my hometown trying to figure out my next step.
It's funny how a life event that seems like the end of the world can open doors to a much happier and healthier world of opportunity. I quickly learned that sometimes you just need to leave mediocrity behind and blaze your own trail.
During that period I came back to town and ran into John Strand at the Nestor a little over four years ago when he told me Diane Miller was leaving HPR. He asked me if I was interested in the position and I thought it was the beginning of another late night bar conversation. I laughed it off and told him to send me the job description. I never did get the job description but I did get the job and I learned a very important lesson: Never underestimate John Strand, Raul or the power of HPR for that matter.
Since then we've explored the arts and cultural landscapes of Fargo-Moorhead, greater North Dakota, Winnipeg Folk Festival, SXSW in Austin, Texas, and even found ourselves in Oslo Norway with IEI Media. Through these ventures, particularly in Austin--mainly because we were the sole North Dakota news outlet down there and the first North Dakotans that a handful of people had met. Many were surprised to hear that there was an active art and music scene here. Here I came to realize that the HPR is a rare and special beast of nearly mythical proportions. We are the voice of the creatives and the weirdos looking for their outlet. When I try to describe the High Plains Reader to new writers, I often refer to it as our "community mouthpiece." Fueled by dedicated volunteers--we are the voice of the community. It's no secret that the pages of HPR amplify and reflect that voice, and I am deeply honored to be a part of it.
25 years of community
By J Earl Miller, Sales and marketing
jearl@hpr1.com
In 25 years we have seen many things come and go, things change and people grow up. For the last 15 years I have been a part of the High Plains Reader, and before that I worked closely with the High Plains Reader with the marketing for Ralph's Corner Bar, running weekly ads for concerts we were hosting. It truly feels like I have been at the Reader since the beginning.
If we think about area businesses, how many have lasted this long? For 15 years I have worked with local and national businesses handling their marketing and I have made many close relationships through my time here.
Taking a small sample size just out of the Fargo Downtown we can see what businesses have been around for 25+ years. Most are staples, Financial Institutions, Jewelry Stores, The Radisson, but what about the small business owners or smaller organizations. Rooters & Empire have been a staple of the downtown since before my time, The Fargo Theatre a cornerstone of the FM community with probably the most photographed store front in the entire area. The Red River Women's Clinic helping area women through difficult times, and Zandbroz. We all understand that most bars are recession proof. The Fargo Theatre--being a landmark will most likely last the test of time--but Zandbroz, a gift shop, a bookstore, a variety store. The Danz family are outside of the box thinkers, with an eclectic and always interesting window display that invites you into a store that is always growing. Zandbroz has always been a community business that is not singular--it is really meant for everyone.
Much of my time with the Reader has given me the opportunity to meet new business owners, but that does mean that I have had to say goodbye to a number of friends and business owners. One of my favorite restaurants and business partners was Monte's, great food and unbelievable staff. Jim Lauermen's was hard to see go, it was an afternoon spot where lunch was always great and the schooners were always heavy. Downtown Straus, where I purchased my first suit for graduation. The Beefsteak Club, where honestly I had the best steak I have ever had in the FM area. The 200, every Saturday a crew of 8-10 of us would meet for breakfast, chain smoking and coffee. But one of my favorite places to see go was D'Vine. Maybe it opened a little too early with the new development of Roberts Street alley, but the concept of small bites, great wine and conversation really stuck with me. No TVs, cell phone use was frowned upon and you were forced to have an actual conversation. Does that even still happen? What made this place so special for me was the group of people that worked together to build this vision--warm inviting and community driven.
The future is bright for the downtown with all the new businesses on their way and the ones that will soon hit that 25 year mark, HoDo, Nicholes, Dempseys, Scan Design. Our coffee shop scene is flourishing, the boutiques we have are a perfect fit... with the new construction I am excited to see what enters the market place. I do hope that the opportunity for locals are there before national chains are invited into the downtown. The only way for the success of our community businesses is that our Readers are still willing to come out and visit our locally owned businesses.
The High Plains Reader is community, it is where you find what is happening throughout the entire FM area. It is the place that tells the stories of you the community, our artists, our restaurant and bar owners, the stories of what is happening around us and how to make our community better. Without community what are we?
Speaking truth to power
By C.S. Hagen, News editor
cshagen@hpr1.com
My proudest moment during my years of journalism was in 2018 when President Donald Trump pointed at the media stage during a Fargo rally and called us all "enemies of the state." When he yelled "fake news," I smiled, and I could swear he was looking straight at me.
Speaking truth to power is the media's most important role in a functioning democracy. Damning such investigators only adds validity to their work. History teaches us all one lesson and that is the more a section of people are truly persecuted, the stronger they become.
I've worked and written for newspapers from China to North Carolina, with some amount of pursuing my own stories. Assignments were always a weekly responsibility, from the colorful features to the obligatory feel-good stories, but during my three plus years with the High Plains Reader I've always been encouraged to dig deep, uncover truths other media outlets rarely investigate.
We're not a big organization. Heck, we're barely small, but we cover a lot of ground. From weekly movie and music critiques to Gadflies to artists in the countryside to in-depth news reports, we at HPR always strive to fill in the gaps, represent both sides to any story, but also report the truth about critical issues in this Peace Garden State.
I look forward to the changes that HPR will be implementing in the near future, and on its 25th anniversary hope the "little engine that could" will have 25 more.
PQ: "I think it was Roger Ebert who said that a person doesn't get inspired prior to the act of writing -- the inspiration comes during the act itself." Greg Carlson, Film editor
HPR at 25
By Greg Carlson, Film editor
gregcarlson1@gmail.com
The High Plains Reader was only a few years old when then-editor John Lamb asked me to write something about the December 1997 Prince concert at the Fargodome. I can't remember how quickly I agreed, but it was likely measurable in fractions of a second. I am pretty sure I was asked because JL knew I was a devoted Prince fan. Outwardly, I wanted to project confidence in my abilities to Lamb and Raul Gomez and John Strand. Inside, I shook with fear.
That submission led to film reviews, with the occasional feature, semi-regular interview, and rare cover story joining short essays on recently released movies. By my estimation, I am closing on a thousand pieces for HPR (a milestone of my own). More than twenty years later, I still look forward to being part of every issue.
Some weeks are easier than others. I think it was Roger Ebert who said that a person doesn't get inspired prior to the act of writing -- the inspiration comes during the act itself. Over my time at HPR, I have met many amazing artists thanks to the generosity of Raul and John and the chain of wonderful and supportive editors that for me started with Lamb and links all the way to Sabrina Hornung.
Raul's close friendship with my wife Katie's sister Christina was another early connection I made to the HPR family. Raul may not remember this, but one of the best nights of my life took place at a magical Janeen Kobrinsky house party that included some exhilarating art talk, live music, and an unforgettable screening of Spike Lee's "Bamboozled."
And I love John Strand just as much as I love Raul. I always look for John's bow tie or his signature gait when I walk on Broadway, because I know that if I bump into him, he will greet me -- like he does so many others -- with a warm hug and words of positivity and encouragement. One of those chance encounters happened to fall on his birthday. John said, "I have fewer birthdays in front of me than I do behind me, so I focus on the ways I can make each day count."
HPR's "Signal" Breaks Through the "Noise" of Mainstream Journalism
By Charlie Barber, Last Word columnist
cmcbarb@msn.com
"The degree of freedom of the press existing in this country is often overrated. Technically there is great freedom, but the fact that most of the press is owned by a few people operates in much the same way as a state censorship. On the other hand, freedom of speech is real…in Hyde Park…in pubs, and so forth…The point is that the relative freedom which we enjoy depends on public opinion. The law is no protection. Governments make laws, but whether they are carried out, and how the police behave, depends on the general temper of the country. If large numbers of people are interested in freedom of speech, there will be freedom of speech, even if the law forbids it; if public opinion is sluggish, inconvenient minorities will be persecuted, even if laws exist to protect them." – George Orwell, "Freedom of the Park," December 7, 1945
When I bought my copy of Nate Silver's "The Signal and the Noise" a few years ago, I had difficulty in deciphering his graphs and charts about why so many predictions fail, but some don't. I had no trouble, however, in seeing what an apt metaphor he had for the independent journalism of the High Plains Reader in the past 25 years. I am continually counting my blessings and still consider it an honor to be included by John Strand, Raul Gomez, and their marvelous editors, as one of their writers; bearing in mind the words of British Diplomatic Historian, A.J.P. Taylor: "I have strong opinions, which are subject to change."
Although I am obligated as a writer, as I was as a college teacher, to let my audience know exactly "what" I think about a given issue, my only real concern has been "how" they thought about it. Or…whether they had been thinking "at all" about some of the issues that the New York Times, or the Fargo Forum did not deem "fit to print" until well after writers like Ed Raymond, C.S. Hagen, and so many others on the staff of HPR sank their teeth into them.
Fearless journalists, like Baltimore's H.L. Mencken, England's George Orwell, Chicago's Mike Royko, and Texas's Molly Ivins regularly pissed off people in power, and establishment newspapers who depended on them for their patronage and patronizing. Somehow, these iconoclasts got financial support they needed, but much of their staying power came out of their own hides. God bless the citizens and merchants of Fargo/Moorhead who have supported fearless reporting in their midst! The spirit of "Hyde Park corner" in London that Orwell celebrated in his essay on free speech in 1945, still lives on, in a small building in downtown Fargo, North Dakota.