​A Centennial Celebration of Rights: Suffrage March and Social
by HPR Contributor | .(JavaScript must be enabled to view this email address) | Culture | September 4th, 2019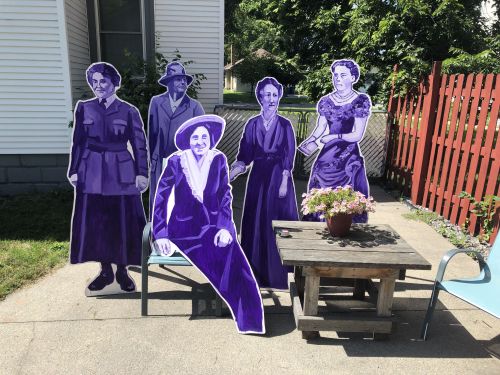 By Kris Gruber
perriex1@gmail.com
The High Plains Reader spoke to Markus Krueger, Programming Director for the Historical and Cultural Society of Clay County, about the upcoming march and social honoring the 100th anniversary of our nation's ratification of the 19th amendment.
HIGH PLAINS READER: Can you discuss your involvement in the planning and development of the Suffrage March and social?
Marcus Krueger: The Historical and Cultural Society of Clay County has teamed up with the League of Women Voters of the Red River Valley and Bonanzaville to mark a series of milestones on the way to American women winning the right to vote. The 19th Amendment, which made it illegal to deny American citizens from voting because of their sex, was made law in August of 1920, but we wanted to celebrate the milestones in the legislative process that made it law.
Our first celebration was this past June 4, marking the centennial of U.S. Congress approving the proposed new amendment to go out to the states for a vote. If 36 states approved it, it would be law. On September 8 we will celebrate the centennial of Minnesota becoming the 15th state to approve the amendment. On December 1, we will celebrate North Dakota becoming the 19th state to approve the amendment. Next August we will celebrate the full passage of the 19th Amendment.
Centennials are great times for reflection. Today, the idea that women shouldn't be allowed to vote is absolutely preposterous, but that right was only realized not that long ago. Our communities on both sides of the river really had some heroines who worked and organized and fought for the rights that we take for granted. We want to call attention to them, to recognize them by name and tell people what they did. We can't take our democracy for granted, and marking milestones along the legislative process will make us learn a bit of civics, too.
HPR: The Social will be at the Comstock House in Moorhead, with a program of speakers, outdoor activities, and refreshments. Can you tell us a little about the speakers scheduled, and the activities offered?
MK: Former Moorhead City Councilmember and member of the Minnesota House of Representatives Diane Wray Williams is our speaker. She's a brilliant and fascinating person to talk to, and she has some thoughts about marking the achievements of our local Suffragists and about how we have to continue their work. After she is finished speaking, she will ask each woman elected official in the audience, past or present, to come up and answer briefly "why did you run?"
We will have a local brass band, the Hartford Street Brass, playing from 1 to 2. Every woman elected official, past or present, will be given a name tag or corsage so people can recognize them. We will have a few lawn games out for people to play as they chat and have fun. Kids can also decorate their own "Suffrage Cats." Opponents of women voting at one time mocked Suffragists by comparing them to cats, but Suffragists ended up embracing them instead and cats became symbols of the Women's Suffrage Movement. You can learn all about Suffrage Cats at the event and also at story time at the Moorhead Public Library on September 10 at 6:30pm and September 11 at 10:30am.
We also made life-sized portraits of five local Fargo and Moorhead Suffragists. People can read about who they were and take pictures with them.
HPR: The Sons of Norway is bringing 150 slices of pie! How did that get arranged?
MK: We bought it because Sons of Norway has amazing pie! Thanks to an anonymous donor, we are able to offer free pie, coffee, cocoa, champagne, and local beer. Additional thanks to our friends at Usher's House for working through the legalities of setting up the bar. We are getting the coffee and cocoa from Third Drop Coffee, which is the newly-independent local coffee shop that used to be Moorhead's Moxie Java. By fun coincidence, 100 years ago the site of Third Drop Coffee in downtown Moorhead was the home of May Burnham, who was one of the four local leaders of the Minnesota Woman's Suffrage Association.
IF YOU GO:
Suffrage Centennial: The March
MSCTC Moorhead Campus
Friday, Sept.6, 5 p.m.-8 p.m.
A Suffrage Centennial and Pie Social
Comstock House, Moorhead
Sunday, Sept.8, 1 p.m.-4 p.m.