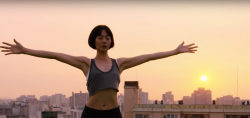 Lana Wachowski is a hero of mine, and, if you feel like crying, then go watch the speech she gave for her 2012 Visibility Award.
There is so much I could say about this speech, but no words are going to convey the power of her telling her own story.
What I can say is that this speech is a big reason for why I got into activism. It's what encouraged me to be true to myself, to be visible in my passion as well as my sorrow, and that, ultimately, I was a person deserving of love.
During her speech she talked about her suicide attempt, when she went to a subway station to throw herself in front of a train. When I heard this I realized that she wasn't just filming a fight between Neo and Agent Smith in the first Matrix Movie, she was filming an allegory of her own struggles with gender dysphoria.
That final fight between the two, in that subway station, is visual representation of Lana's fight for her own life, a fight that ended with her declaring her chosen name and jumping away from that train.
I don't know if any of that is important context for what I'm going to say about "Sense8," but it is personally important for me to talk about, given the chance. I've wanted to write about "Sense8" for a while now, ever since I finished the second season and found out it it wasn't getting a third.
It was hard to think about, or to process, because it felt like a betrayal. I know Netflix doesn't owe me anything, but it was still emotionally confusing and devastating. How could this groundbreaking show be canceled? 9 million dollars an episode? Oh…
However, despite it being canceled because of insufficient viewership to support the production costs, the fans of the show so passionately demanded more that Netflix agreed to a two-hour season finale.
This show had such an impact on so many people, that their collective voice was heard and acknowledged. Nobody really saw that coming and while Lana wanted to hold out for a third season, she acknowledge a duty to give closure to her fans.
What makes 'Sense8' so powerful? What about it calls so many people to action?
Each person has their own reason, but I suspect it has to do with the show being about the celebration of life and what it means to be human. It does this by inviting viewers to see stories, cultures, and lived experiences beyond their own.
Remarkably, it bears witness to the live births of eight people of different backgrounds and cultures.
While it does have an overarching plot about an evil corporation that drives the story's main conflict, most of the scenes are constructed around the families and lives of each character. We follow their hopes and struggles as they reach for their dreams.
Each character feels complex. While their backgrounds and culture play into their stories, as they do for each of us in our own lives, the characters define themselves.
Nomi Marks, played by Jamie Clayton, is the best-written trans character that I have ever seen. She's one of the eight point-of-view characters of the show. She's also a lesbian in a mixed-race relationship and I'm not sure I've personally seen that narrative depicted in mainstream media for a leading character, nor have I seen it look so beautiful and adorable on screen.
The conflict for Nomi is never that she is trans, it is about other people not accepting her identity. It's also clear that her identity as a trans woman isn't her most important one and that most of the time on screen she's simply a hacker, spending time with the love of her life.
There may be others, but 'Sense8' is also the first time I've seen a polyamorous relationship in a television show that is given the space to breathe and the room to be uncertain, to be exploratory, and to slowly develop.
Every person's life and sexuality within this show is portrayed as natural and worthy of respect. They are all explored as individuals without assumptions, enriched by the diversity of experiences they represent. This show honestly feels like it's decades ahead of its time.
There is nothing out there that is even close to this for LGBTQ+ people that I know about. There is nothing that has gone so far beyond "trans 101" or that so thoroughly escapes the common trap of being a gay story thinly disguised as a hetero-romance, than this.
There is nothing I know about that is so effortlessly able to celebrate and intertwine so many cultures and stories at once; that is able to tie them together, show us what it means to be human, and what the world can look like when we embrace the diversity of life and celebrate it.
Personally, I don't think we'll see a show nearly as compelling for very long time. I don't think we'll see a trans narrative done this well for another ten years.
And no, I'm not saying everyone has to love this show. There are a lot of reasons to not get into it and even this show has its rough edges, but for the people who can appreciate it, it might mean everything to them.
[Faye Seidler is North Dakota Safe Zone Project Spokeswoman]