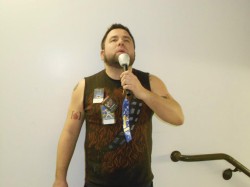 On Saturday, Nov. 22, The Beefsteak Club in downtown Fargo will host its inaugural adult spelling bee competition. Thirty competitors will duke it out, whilst swilling adult beverages, in a battle royal for spelling supremacy. Watch brave contestants attempt to outlast one another as they slur the spellings to difficult words such as "logorrhea," "onomatopoeia" and "lagniappe."
To the victor go the spoils: the winner will be awarded a first place trophy as well as a $200 gift certificate to The Beefsteak Club. Second and third place winners will also receive trophies, but – of course – everyone will be after the gold. (Contestants are encouraged to have fun, however.)
Three local logophiles will preside as judges for the competition: Blue Belle's Burlesque's Anytime Jones, HPR's Chris Hennen and Drunk Letters to Famous People's Dustin Elliott.
Scott Motschenbacher, the owner and head chef of The Beefsteak Club, and Erik Block, the restaurant's resident trivia host, are behind the event. However, while this is the first bee Erik has organized, it is not the first one in which he has participated.
"The VFW held one years ago, and it went really well. It was a lot of fun," Erik says. "And we wanted to bring it back."
Erik made it through only four or five rounds in that competition ("eczema" was his downfall), but the itch to put on another bee has stayed with him. Along with organizing this event, he will perform the duties of time-keeper and general arbiter in the event of disputes.
"Drinking is encouraged; the judges will be drinking too," he says. "I'll be around to keep things moving along."
The competition will follow typical spelling bee guidelines. Contestants will be called in turn to correctly spell increasingly difficult words. Misspellings will remove you from the game; correct spellings will give you a pass to the next round.
"The contestants who have signed up so far are all supposedly good spellers," Erik says. "The competition setup may be subject to change as we go; but it will start off pretty easy, with words that are somewhat difficult to spell, and get progressively harder."
Participants will pay a fee of $10 to enter the contest, with all of the proceeds going to the Rape and Abuse Crisis Center. There will be no cover cost for attendees, but free-will donations are encouraged. Cash donations will be accepted, along with items from the RACC's wish list, which can be found at https://www.raccfm.com/files/Wish%20List.pdf.
The first 20 spots have been filled already, with five backups on deck in the event of dropouts. The remaining 10 spots will go to the first people to sign up at the Beefsteak Club on the day of the event, between 7 and 8:45 p.m. All persons planning on attending would do well to arrive early, as the space could get crowded quickly. The competition begins at 9 p.m. Drink specials will be provided at the event.
Note: The article's author will not be entering this daunting competition, but instead will opt to remain in the crowd as a spectator. This article was written with a heavy reliance on spell-check.
IF YOU GO:
Adult Spelling Bee
Sat, Nov. 22, 9 p.m.
The Beefsteak Club, 612 1st Ave N, Fargo
21+, $10 for contestants