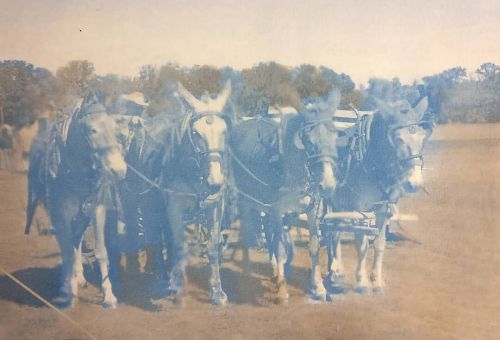 One of my favorite things to do is to drift along the roads less travelled in search of finding local lore--especially ghost stories. In the spirit of Halloween we thought we'd share a few. What kind of stories circulated around your hometown? We'd love to hear from you. Afterall, a man much wiser than myself once said, "If you can't add to the story, there's no use in telling it."
Crazy Loon and Colonel Sullers
If the peaks and buttes of Western North Dakota could talk many unknown histories would be told. Black Butte was also known as H.T. Butte at one time. It was once part of the H.T. Ranch--the largest horse ranch in North Dakota in the 1880s and 90s. The majority of the land in that area at the time was dedicated to ranging livestock until the homesteaders or "honyocks" started to move in. "Honyock" was a derogatory term used to describe a certain breed of homesteaders who often hailed from eastern Europe and stubbornly farmed the former range land that was considered less than desirable for raising crops.
One of the tales H.T. Butte could tell was that of a fearless young cowhand named Bob Pierce who would ride around the butte--and everywhere else at breakneck speed. He was known by plenty of unsavory names but the one that seemed to stick the best among his compadres was "Crazy Loon." It was said that it was "hard to keep him in horses."
It just so happened that "Crazy Loon" was paired up with old Colonel Sullers. Pierce was known for his riding--whereas the colonel was known for his talking. Ever mischievous and possibly overconfident--thinking that he could lose the Colonel, Pierce spurred his horse to get ahead so he could agitate his partner and spare himself from listening to his banter, but Sullers was a force to be reckoned with and kept up with the "Crazy Loon" maintaining both sides of the political conversation ignoring the increasing speed. Unfortunately the Colonel's horse hit a hole, stumbled, and wound up chucking his rider head first into the famous western North Dakota white gumbo soil and sagebrush.
The Colonel stopped at a nearby creek to wash away the fine dirt and blood bitterly cursing his counterpart. "When you're dead your ghost will ride around the tops of these buttes howling like an old gray wolf!"
No one is sure when Pierce died or if it was even due to his daredevil antics on horseback, but it is said that on dark nights a horseman can be seen riding like lightning on the steep nearly inaccessible sides of H.T. Butte and the lonely howls of a gray wolf are heard to echo across the sprawling prairie.
Grandma Norton
Within the beautiful lush tree filled valleys of rural Ransom county located on an unnamed hillside are five or six graves in Springer Township. Here lay the Stone family and "Grandma Norton." At one time the county provided a certain amount of care to the poor who could not afford private healthcare. According to "Fort Ransom Community History 1878-2003" It was around the dawn of statehood when the ailing Grandma Norton was considered a "county case" and was in the care of the Stone family.
Using oneply wood, the Stones built a small room onto their existing farmhouse for Grandma Norton who was dying of cancer. Unfortunately for her, her caregivers knew little of her illness and the separate room was built because they feared the cancer was "catchy" and would spread throughout the household.
One cold morning, the family noticed that Grandma's room was unusually quiet and upon checking on her--it was realized that she had frozen to death.
Since then the Stone farm has had a number of families living within it. Not only was poor Grandma Norton a victim of poor insulation--it was rumored that she haunted the main house and was held responsible for misplaced items and any other kind of general mischief.
The Spook Light
Tales of the "Spook Light" are told by locals throughout the sandhills of the rolling Sheyenne grasslands. The Spooklight is said to exist northwest of Mcleod on "Spook Light Road." The backstory of the Spook Light is said to be the spirit of a woman searching for her husband. He was a railroader, and unbeknownst to her, he wound up getting killed in a wreck on his way home one blustery snowy night. When he never came home, she started to worry. She was so worried that she grabbed his railroad lantern and decided to face the elements and set out during the blizzard to find him.
As she braved the storm on the land she knew so well--she soon became disoriented--and fell through the ice of a nearby slough. Fortunately, she was able to pull herself out of the ice cold murky water… determined to continue the search for her husband dripping wet. Sadly, she never found him and she eventually succumbed to the elements and froze to death. According to local lore the spooklight is her spirit guided by the light of his railroad lantern. The locals say that if you drive on Spooklight Road, your vehicle would die, and passengers would see the light outside their window.
A few miles from the spook light road is the ghost town of Venlo. According to the locals there was a documented railroad accident there years ago and they'll tell a tale of a ghostly green light, that can be seen on foggy nights on a certain stretch of railroad track. The say that the green light is a lantern wielded by the ghost of the dead railroader, signalling a warning from the heavy fog from beyond the grave. Are the green lantern and the spook light connected? We'll never know but what we do know is that is makes for a good story.