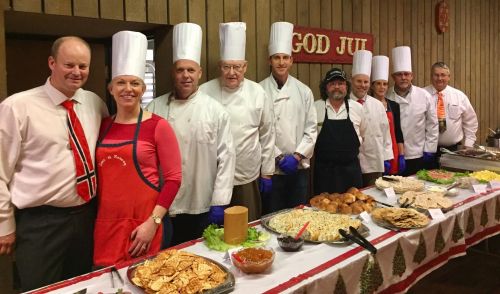 By Kris Gruber
perriex1@gmail.com
The Kringen Lodge, also known as the Sons of Norway, is no longer Fargo's best-kept secret. Known for its warm, welcoming atmosphere along with delicious, home-cooked food, the numerous events hosted there are becoming more and more popular.
The upcoming, 15th annual "Traditional Norsk Christmas," hosted by Frode Tilden, is no exception. Predicted to sell out (very few tickets left as I speak), it guarantees to continue the celebration of lively music and fabulous fare surrounded by gorgeous lodge decor.
An ideal location for a holiday party, the Kringen Lodge is a great place to learn about Scandinavian history, and especially the plethora of rich, satisfying food and sinfully sweet treats.
Many different types of cakes and biscuits are eaten throughout Christmas -- "Jul" -- in Norway. 'Julekake' is a bread with raisins, candied peel and cardamom. Pepperkake, a crispy gingerbread usually in the shapes of stars or people, is common in stores and made in the home.
Rice porridge is eaten on Christmas Eve either as a meal at lunchtime (served with butter, sugar and cinnamon) or as a dessert to the main evening meal (mixed with whipped cream). If you find an almond in your portion you're traditionally given a pink or white marzipan pig.
The main meal is often pork or mutton ribs served with surkal (white or red cabbage, finely chopped and cooked with caraway seeds and vinegar) and potatoes.
The Norsk event promises its own special lineup of hearty main dishes and decadent desserts.
A salmon dinner will be served along with a variety of Norwegian foods. This year offers new additions: Rømmegrøt bars, deep-fried lefse, Norwegian heart-shaped waffles, and salmon balls, along with traditional favorites: Krausekakke, Glögg, meatballs, lefse, flat brud, and rømmegrøt.
During romjul, the period between Christmas and New Year, costumed julebukkers go from door to door, singing carols for their neighbors in exchange for candy or mandarins (or schnapps for the adults). The julebukk (or Christmas goat) itself is also a common Christmas tree decoration, made from straw and tied with ribbon.
You can be serenaded and stay warm listening to
Charley Johnson and the Moving Parts, an acoustic folk group, who will play first for an hour or so followed by fiddlers and folk dancing. A local favorite, The Front Fenders, come on at 9pm.
This is a 21+ event, with a portion of the proceeds going to Concordia Language Villages Norwegian summer camp Skogfjorden and the SONS Youth Club.
Tickets for the dinner and dance are $30, tickets for the dance only (beginning at 9pm) are $10. They can be purchased at Fargo Underground or Stabo Scandinavian Imports.
IF YOU GO:
Traditional Norsk Christmas
Saturday, December 7, 6 p.m.
Kringen Lodge 25
722 2nd Ave. N, Fargo