​All in a Day's Work
by Troy Jackson | .(JavaScript must be enabled to view this email address) | Culture | December 12th, 2014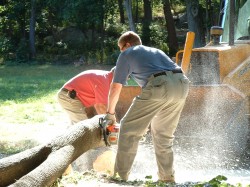 It is 4:45 a.m. as Nancy Kelly reaches her destination, Labor Masters Employment Services. In about 45 minutes Nancy's business will be bustling with anxious folks waiting by the ear for phone calls from employers' ephemeral interest for help on the job.
Back in 2011, I too was one of the many millennials who marched towards a career in my desired field, armed with a college degree and debilitating tuition debt. After six months of my near hopeless search, I found Heartland Labor, a place where Nancy once worked as an employee. These workers are actually not far off from our toiling predecessors of the Industrial Revolution and hunter-gatherer era, where people invested the time to search for that day's food and means of shelter for the night.
It's a Friday before Thanksgiving and Labor Master's flat screen hangs on the wall, showing a replay of President Obama's Immigration Reform speech, driving his belief that immigrants working under the means of family prosperity mirror the catalyst of the American Dream. A few prospecting temp workers waiting for work that day watch on with a glaring sneer as others eat what may have been their only sort of Thanksgiving cuisine, which Nancy had provided for their Fall EmployeeAppreciation Day. I was able to interview Nancy, Labor Masters' president and CEO, along with several of her much appreciated laborers:
High Plains Reader: How many temporary employees enter your doors on a daily basis?
Nancy Kelly: We send out about 100 men and women, on average, but during the warmer months we may send work order tickets for up to around 200 people.
HPR: Do employers voice to you their expectations of the sort of temporary laborers that come through these services?
NK: I ask very detailed and strenuous questions to the employer before I sign an account with any business or corporation. It's very important these companies give feedback to me if we have reached their expectations.
HPR: What setbacks do you face from being the "middleman" of employment services?
NK: If anything goes wrong, guess who is the sounding board between the two sides? But there have never been any serious issues such as being threatened or theft … even from the employees who I know live in shelters or cars and have nowhere to call home.
HPR: Do any of your temporary employees get hired onto a company?
NK: Since opening in January, a lot of folks who started with Labor Masters have signed onto companies as a "temp-to-hire" employee.
HPR: Finally, do you ever notice any stigmas that surround temporary employees?
NK: Not as much as it was in the past. The whole key is shoe-fitting the correct skills a person possesses with what the employer has to offer. It's all about the environment; if folks are loitering and drinking around the parking lot of a temp agency, then that's how stigmas are born, when agencies don't know anything about their customers or employers.
One Fargo temp agency, containing five to ten employers, reported an annual revenue of 5 to 10 million dollars, which is not bad at all for an enterprise that was once considered illegal a handful of decades ago. But what about the men and women who are seeking such a gig for the day? I was able to gather great feedback from one man who recently moved from the labor-strapped state of Michigan:
"After I lost my job out there, I Wikipedia (searched) the unemployment rates of the US and found North Dakota on the top of the list … After a week of stepping out here, surveying the surroundings, I noticed a great way to work while you wait for that job you want, or needing that instant source of income for emergencies."
Switching from job to job four or five times in a lifespan these days can seem complex to North Dakota's middle-class, especially for those with steady employment. Even for me, back in 2011, I noticed my steady employment co-workers had some sort of different perception of me as a worker.
I asked one female who had just returned to Labor Masters with her work order ticket if she had experienced the same: "I know my communication skills are important so I'm treated like a worker … But it's funny to me because I too was once a supervisor and what gets me is that some employees who are full-time at a company can be a pain in the ass and they feel it's cool to boss the temps around."
Is contingency work considered a long-term career path? "No, not at all," says the father from Michigan. "I see working here under Nancy as a means to get my foot in the door. It's all about seeing what's appealing to me once that door is open."
The four states with the lowest unemployment rates (North Dakota, South Dakota, Minnesota and Nebraska) are also some of the least populated states in the country. Conversely, the highest populated states have the largest unemployment rates (see California or Michigan). Whether populated with 900,000 residents or 10 million, Father Time reveals natural resources reign supreme during these days of labor and population. As society becomes more and more proficient in all areas of the workforce, people are gravitating toward labor outside the business of utilizing natural resources ... but it seems North Dakota, as of right now, is wringing in every able-bodied worker it can find.