​Backpacks for the homeless
by Ryan Janke | .(JavaScript must be enabled to view this email address) | Culture | February 6th, 2019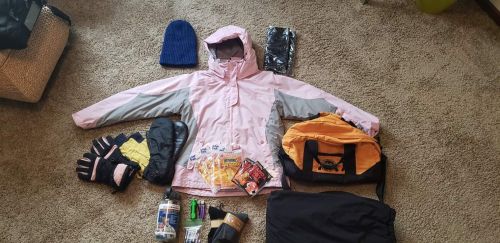 Winters in Fargo-Moorhead can get downright dangerous. Last week, temperatures dipped below - 30 degree air temperature, and with winds gusting in the 20-30 mph range, the "feels like" temp reached a negative 56 degrees. For people stranded out in those temperatures, frostbite can set in within minutes and hypothermia, or even death are very real possibilities.
The population most at risk are the homeless. According to the City of Fargo's website, the number of homeless in the F/M area is approximately 760 on any given night. There are shelters available, but due to different circumstances, they may not be taken advantage of. That means there are people facing the elements head on. There is no substitute for getting out of the elements all together, but for those who are outside in the dangerous cold, warm clothes can literally be the difference between life and death.
One man's mission
Blye Dalluge has been living in the F/M area since 2011 and is a graduate of Minnesota State University Moorhead. Several years ago, Dalluge took notice of people in the area who were outside in the cold without the proper clothing. After seeing the same people over and over, he decided he needed to do something about it. That is when he started, Winter Essential Backpacks for the Homeless.
"A couple years ago, I would see the same homeless people every day on my way to work during a particularly cold week," Dalluge said. "I had spare winter coats and bibs in my closet and some nice backpacks, wool gloves, and socks. So, one day I decided to pack some essential cold weather things into a backpack and hand them to those people I kept seeing. It just continued and expanded from there."
Dalluge started assembling backpacks in August of 2015, so this is his fourth winter distributing them. He has distributed backpacks in F-M since he started, but last year he also distributed them in Minneapolis while he lived there.
Dalluge said he starts assembling backpacks in early fall to get ready for the freezing weather that can set up as early as October in North Dakota and Minnesota. To prepare for the cold, Dalluge fills the backpacks with a winter jacket, winter bibs, wool mittens, gloves, glove liners, hats, wool socks, multiple hand and toe warmers, survival and safety kits, a lighter, and a flashlight. Sometimes, Dalluge said he will also put a book in the back pack from time to time.
Until this year, Dalluge said he has not taken donations to fund Winter Essential Backpacks for the Homeless.
"August of 2018 is when I first started accepting donations from a Facebook fundraiser page set up on my birthday," Dalluge said. "The donations came in this year through friends and family on Facebook," he said. "Thanks to a lot of wonderful people in my life, word of the Winter Essential Backpacks for the Homeless spread quickly. My goal of $300 dollars was met and tripled."
Dalluge said he also received donations of supplies this year.
"[Since] I received my monetary goal and much more, many friends gathered winter gear from around the house and donated it for the packs," he said. "I asked that any gear be in new to very good shape."
Even though Dalluge saw his donation goal triple, and collected supplies from his friends, he still wants to be a good steward with the money those who donated were so generous to give. So, he shops around when looking for supplies to fill the backpacks with.
"There is not one specific place where I have purchased every item in the packs," Dalluge said. "For clothing, I search for good deals and sales to make sure the donations go as far as possible without giving up any quality. The hand warmers and other non-wearable supplies came from different outdoor stores or Amazon.com."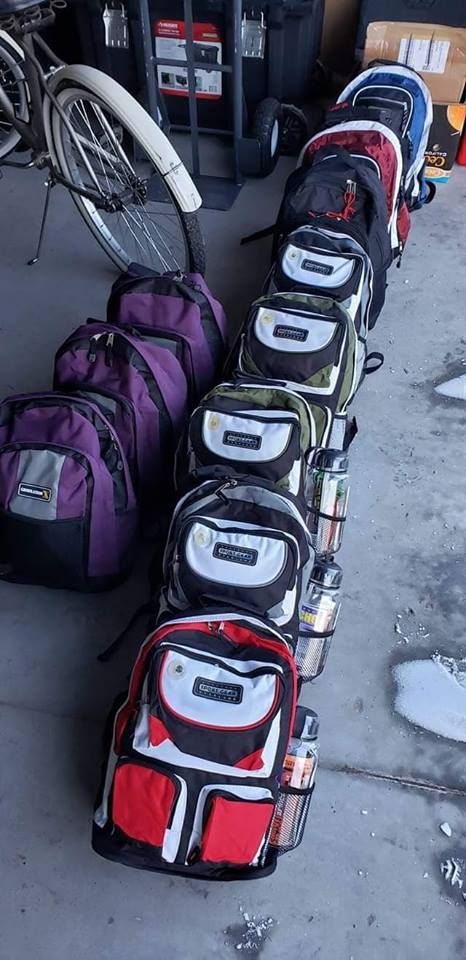 Backpacks ready to give
Since Dalluge distributes the backpacks himself, and no one knows when or where they will be needed, he keeps them with him just in case.
"I always have the packs in my vehicle," Dalluge said. "When I am driving around for work, or anything else, I just keep my eyes open for anyone looking for help. Most of the packs have been distributed at intersections around the FM area. There are also some ministries that open their doors to people who need to escape the cold. I am working on distributing any remaining packs to shelters or places that open their doors during the coldest days of the winter."
Since Dalluge started collecting donations for Winter Essential Backpacks for the Homeless this year, he has been able to help more people this winter.
"I do not know the exact amount of packs I've distributed over the years, but this year – with the donations – I've been able to create about 30 packs, all distributed around the F/M area," Dalluge said.
Unfortunately, homelessness and winter will be sad reality for the foreseeable future. Thankfully, there are people like Dalluge and programs like Winter Essential Backpacks for the Homeless. Dalluge said he will continue the program and sees the potential for it to grow to help even more people.
"I never imagined how positive the response would be when I created the fundraiser, and it shows me how cool this idea is," Dalluge said. "The potential for growth is always going to be there as long as people need help. I see this effort only getting bigger, which is exciting."
Dalluge said the donation window is closed for this winter, but those wishing to support Winter Essential Backpacks for the Homeless, or get more information, can visit the Facebook page.
"The page is still active," he said. "Anyone can view it and see the updates. You can also contact me through the fundraiser, or on Facebook Messenger."
Winter still has its grip on the F-M area, so remain mindful of those who are in need of winter gear.
"If donating isn't possible for everyone," Dalluge said. "I ask that – if you have spare winter clothes – please consider packing it into a backpack and giving it to someone in need."