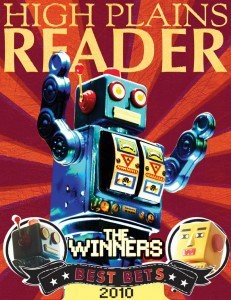 Johnson Family Band- Best original band
This mix of area musicians who share a love of folk music have become a top choice in the area. Their feet are firmly planted in traditional bluegrass, but they also draw on sources outside that realm. Their music is described by band members as "neo old timey," but what they do is very modern because of their many musical influences, which include everything from Tom Waits and Miles Davis to the Alkaline Trio. It's music you would hear in the early 1900s but done with a rock-n-roll attitude. Tom Johnson, co-director of the band, said "We make it the most energetic show we can and we have a lot of fun doing it." If you have not seen them in action, come out to see them headlining in our Best Bets Award show at the Empire or search them out on www.youtube.com or www.myspace.com/johnsonfamilyband.
Blind Joe- Best established solo musician
Becoming a successful musician in three years is hard to imagine for most. For Blind Joe it has become reality. One would never guess from listening to his "contemporary country music meets Sublime" sound that he is an avid fan of heavy metal like Pantera. His unique way of playing the guitar, laid out in front of him Jeff Healey style, along with his amazing vocals are also a draw at live performances. Playing to thousands in numerous venues, he has obviously become a fan favorite with his amazing talent. For those who have missed out on his performances check him out at www.myspace.com/blindjoe to listen to a few of his songs. Joe says "I'd like to thank everyone who voted for me. My fans have always been so loyal and I can't thank ya'll enough for supporting me in my attempt to preserve country music." And, don't forget that Blind Joe will be kicking off the Best Bets Award show.
Eden Parker- Best emerging solo musician
If new music is your thing, then a best bet is Eden Parker. This singer/songwriter has been playing the piano since the age of six and writing songs since eleven and can be commonly seen playing out on Broadway. With golden vocals and talent to spare, Eden is a powerhouse that will only get better in years to come. Eden says, "I remember reading HPR last year when I moved to Fargo, seeing the Best Bets Winners thinking 'Next year, I want that to be me.' Thank you to everyone who made that happen." He also works for charity, recently he was in the parking lot between the Dairy Queen and Walgreen's, singing his heart out to help find a cure for cancer. Find him at www.myspace.com/edenparker and our Best Bet Award show this Thursday. Congratulations.
Mackenzie Kouba- Best emerging visual artist
After earning her Bachelor of Fine Arts degree from NDSU, Mackenzie Kouba is "happy to keep producing art after college since statistically only three percent of fine arts degree holders keep producing once they leave school." Mackenzie was featured on the cover of HPR after capturing the imagination of local art lovers and emerging in the F-M art scene. She brings a fresh face to the next generation of local artist. To see her work, visit DK Custom Framing at Gallery 14 where she has some pieces on display. She is also tentatively planning a showcase for March 2011. Congrats Mackenzie and many happy returns of the day for being the best emerging visual artist.
Jon Offutt- Best established visual artist
This year's best established visual artist, Jon Offutt, states "I think what makes me a favorite is giving them a sense of being from here." Not only does Jon create beautiful blown glass, he is also an educator and active arts advocate. Watching Jon whipping molten glass inches from his face as he casually describes the chemical reactions of the interacting elements in glass is a form of performance art of the most unique kind. Offutt is also responsible for training many new emerging glass artists in the area. His love of glass has led him to create a mobile glassblowing trailer to share his love of the art of glassblowing with children and adults alike. Be on the lookout. The glassblowing trailer will eventually stop in every neighborhood in North Dakota, including yours. John also has a studio.
DJ Joyride- Best performance DJ
Joyride has been a staple of the local DJ music scene with an established reputation as a great DJ and a music promoter. As a promoter DJ Joyride and his Icedbreaks crew have brought an array of productions including raves, dances, and parties to the F-M area in the last decade and a half. Host of the FM Experiment on KNDS and a specialist in house party music DJ Joyride is a man of many talents. And the way he performs is only the beginning. When he was unemployed and had to stay with friends do you know what he did? He mixed tapes for them to show his appreciation. Is that not awesome?! His greatest talent, and one he keeps improving, is being master of ceremonies. He is a great host that keeps the energy going and makes everyone feel welcome. In fact, he is hosting the great big heemungous party we are throwing in the Empire's parking lot this Thursday. All 6.5 billion human beings are invited. This means you.
Addictions- Best tattoo parlor and tattoo artist
A repeat winner, Addictions continues to impress in the Fargo-Moorhead area. Once people have gone to addictions, they find themselves...well you know...addicted. HPR's own Jay Miller sports many of their works of art all over his body. You'll have to ask him where. The shop is home to a group of talented tatto artists and piercers, who have won awards at conventions and have had their work published in tattoo magazines. Among them, owner and winner of this year's best tattoo artist is Trent. Humble former graphic designer turned inker extraordinaire has earned the respect and business of lovers of body art. When asked what he liked best about working at Addictions, Steve, a piercer, said he enjoys "talking to new people and helping them decorate their bodies." Keep up the great work guys and congrats on winning again.
HoDo Lounge: Best place to take a date; Best fine dining; Best chef; Best established restaurant; Best female bartender, Amber Severson
The HoDo swept this year's awards winning five individual categories! Now in its seventh season, the HoDo Lounge is, according to Executive Chef and best chef winner Tim Fischer, "a fun, upscale, happening place in Fargo." With a lunch menu that changes weekly, as well as a full menu; and live music on Thursdays, the HoDo is a place worth discovering, and returning to. The HoDo Lounge also is home to a full bar and behind that bar is Amber Severson, this year's Female Bartender Best Bet. Amber was not working when we visited, but Executive Chef Tim Fischer used one word to describe her: "Awesome." Congratulations to the HoDo staff, chef Tim, and to Amber. You can tell when a place is good because it's also a good place to work and keeps good people.
Dempsey's: Best bar; Best happy hour; Best local hangout; Best male bartender, Jeff Fonder
A perennial winner, Dempsey's is a favorite for many reasons. With drink specials every day, you can chat with Jeff Fonder, winner for best male bartender for the second year in a row. Dempsy's, a relatively young bar came up in what seemed to be an impenetrable downtown bar scene. If you have never been there then you are missing out on what many people already know: Dempsey's is the place to be. Dempsey's swept various Best Bet categories including best happy hour and best local hangout. Why? Because it's a complete experience. Don't forget that Dempsy's also has trivia, poker, Karaoke, and great bar foods (try the pizza).
Aquarium- Best live music venue
Upstairs from Dempsey's is The Aquarium. The Aquarium has taken over what Ralph's Corner once was but goes a step further by brining shows that would usually only be seen in venues like Minneapolis and Chicago. This venue has really captured the live music scene. Every week they book not just music but something interesting. Promoter Chris Hennen says "I appreciate the support from all the people who have attended our shows. A lot of people wonder if a city the size of Fargo can support a club like the Aquarium and frankly sometimes I wonder myself. But we have so far and I continue to be grateful for all the times I am pleasantly suprised by the turnouts." With live music seven nights per week, you will never run out of new music to see. The Aquarium aims to draw you in and keep you happy. With a variety of bands coming through, there is sure to be one that will satisfy everyone's musical tastes.
Gabe Haney- Best local photographer
Haney's studio has been a family-owned business providing quality photography since 1977. The young twins, Gabe and Greg (and brother Zeb) have worked together to continue the legacy that their father, James, began. The studio has built a reputation for getting candid, high-quality shots that always enhance their subjects. Haney's photos are featured in a variety of publications and the studio has gained acclaim for shooting high-profile personalities from local celebrities to politicians.
FM Derby Girls- Best kept secret
The resurgence of roller derby has taken many by surprise. Those same people may not realize that we have our own teams right here in Fargo-Moorhead. There are three, The Fighting Suzies, Monkey Wenches, and Travel Team (All-Stars), and they will have you out of your seat and cheering loud. Having started only this year, one could have never foreseen the success of their opening night and consecutive shows, selling out the Civic perhaps more than any other event or show. Moreover, this is all done with local athletes. We at the HPR also commend them for having turned locals into superstars and portraying strong women as role models for young people.
Plains Art Museum- Best art gallery In the past year, the Plains Art has noticeably stepped out of the box with such exhibits as Plains Inside Out, Individual to Icon and Beatles Meets the Plains. With a rotating line of exhibitions the Plains Art Museum has something for everyone. According to the Director and CEO, Colleen Sheehy, Ph.D., "We want to present some of the innovative directions that art is moving. Art can help us think about our current situations, whether as individuals, as a community, as a nation, or just as humans." In 2003, the Plains Art became the only museum in North Dakota to be accredited by the American Association of Museums. How special is that accomplishment? Consider this tidbit listed on the museum's website: of the nearly 16,000 museums in the nation there are only roughly 750 museums that have earned this recognition.
Sleeping in Gethsemane- Best local album
Sleeping in Gethsemane is an instrumental trio with a hard-edged sound. They recently announced a European tour with the legendary Aussitôt Mort of France, and continue Fargo's legacy of producing great nationally and internationally recognized talent. A great album like "The Great White North" was a tough act to follow, but these gents got the job done. HPR's own Brady Bredell described "Burrows" as Sleeping in Gethsemane's "best work yet." It's going to be months before we see them again, but when they get back, head on over to Orange Records and get your tickets well in advance, because they will surely sell out.
The Taco Shop- Best taco
If you love good, fast tacos, then this is the place to go. In business since the 1960s, the Taco Shop serves up great tacos and grinders at a great price. Be prepared to walk away happy from the place that also won best tacos in 2009. Their tacos have just the right crunch, which is hard to find. People don't talk much about the hot sauce, but it is perfect, a slow burn and not too tomato-y and the only thing better than the hot sauce is the extra-hot sauce. We admit to going there just to make off with some sauce, but that was when we were in high school and also into shoplifting.
Acapulco- Best Mexican
This year's top pick for Mexican food is Acapulco. Speaking with Teresa, who works there, she said "The food is more authentic. More spicy, like Mexico." To get an idea of what they offer visit www.allmenus.com. Great job and congratulations. We would crawl for kilometers over broken glass and not as a pilgrimage to visit Our Lady of Guadalupe, although you can find her at the entrance of the restaurant. No, it would only be to delight in their huevos rancheros eaten slowly, bite by bite until we are stuffed and not share them with anybody, no, all for us us us.
JL Beers- Best burgers, beer selection, new restaurant, new business
When asked why she enjoys her job, co-manager Andrea Williams kept it simple. "I really like beer and I like to educate people about it." The concepts behind JL Beers are simplicity and quick service. Burgers arrive in roughly three minutes. Keep that in mind and follow Andrea's best advice, "concentrate on your drink choice." JL Beers has 32 beers on tap, 50 bottles to choose from as well as water, pop, or coffee. Congrats everyone. Visit their website www.jlbeers.com to see what they have in store for you. The secret of English pubs, what makes them more "bar" than other bars, is that they're crowded. We don't know why, and like everybody else, we curse when we have to navigate elbows and butts to get to the bathroom, but it helps the atmosphere. The buzz of conversation is cheerier. We admit it, we're gone on JL Beers. And Andrea, we need an education, please teach us one beer at a time.
Wasabi- Best sushi
Tucked in the back of the Drunken Noodle downtown on NP Avenue sits Wasabi, sushi restaurant and Asian Grill. The restaurant is another venture for Thamrong Dechawuth (Keng) and Dave Scheer, who also owns other Asian restaurants in the area. The difference with Wasabi when compared to other sushi restaurants, says Keng, is "the freshness of the fish from places like Hawaii and Seattle." It may also be chef Mike's unique approach to sushi. His love of food as an art form has kept him constantly pushing new food ideas that give us in the F-M area the gourmet experience of eating in a big metropolis. It's one of our favorite treats when we've been working really hard and think we're deserving.
Green Market- Best place for vegetarian meal
For a good meal that is made from scratch and uses local food the Green Market is the place to go. The restaurant is co-owned by Steve Heiland, Peter Kelly, and 2009 Best Bet Chef Andrea Baumgardner. The menu changes nightly and they have received glowing reviews from the Fargo Forum and HPR. When asked what he liked best about Green Market, Peter said, "I like running a restaurant." What do we like best? Everything! That means variety and uniqueness and locally owned and sincerely, not just professionally, friendly. We hope they settle down and don't go somewhere else and we're going to help them do that.
Zandbroz Variety- Best gift shop
If you ever need a present for someone but are not sure what to buy then swing by Zandbroz Variety. You will certainly find it when you get there. Store employee Bobbie drawled that it is "The best place to get a present for anyone." Zanbroz is the grandaddy of the downtown Fargo renaissance. In business for eighteen years, the store is a mixture of books, weird and unique items, assorted curios and pretty stuff. Another specialty is the book readings by local authors and, on occasion, nationally known authors. You know something else? There are exotically attractive, mysterious people in and around Fargo-Moorhead. How do we know? Because they all hang out at Zandbroz.
Marguerite's- Best music equipment store
Started in 1960s in Jamestown and then moving to Moorhead in the 1970s, this store is a musician's dream. Stocking everything from amps to instruments to accessories, Marguerite's will help you find what you need. And if you need repairs, their service shop can assist you. Give them a call or stop by and ask, they will steer you in the right direction. Sadly, founder and owner of the business, Marguerite, passed on this month. We know few people were as influential in the lives of hundreds, if not thousands, of Fargo-Moorhead bands. But we are glad to see that Marguerite's legacy continues to nurture young artist into the fray.
Orange Records- Best record store
In 2008 Orange Records was named best new store. Now, with the hard work and dedication of owner Matt Oland, the store has earned the title of "best record store." The store is always packed, though it has only been open a few years. The variety of merchandise is wide so stop by and begin your search. They are located on the corner of First Avenue and Roberts Street. And that ain't all, it's also the best place to buy tickets to shows at the Red Raven and sports one of the largest local music collections for sale. You can even find discs and vinyl (yes really!) from bands that have long disappeared. So what, you say? Shut up! So everything! It's one of the best browses downtown with new things constantly coming in and learned indwelling wraiths to impart precious knowledge.
Y-94/Megan -Best radio personality
The lone female on the Y-94 morning show, Megan holds her own. Inevitably she will say something to make you laugh as you get ready for work. She also plays host at Big D's on Wednesday nights from six to eight. We like everything about her: her wise quotes, for instance, are wiser than most. She says everybody knows her but she doesn't know THAT many people. All lies! She's a big part of the glue that holds this town together; in the words of Elvis, we're stuck on her. Felicidades, Megan! See you at the party in the Empire's parking lot!
Best Breakfast
Frying Pan
Best Bike Shop
Great Northern Bicycle Co.
Best TV Station
KVLY
Best Emerging Visual Artist
MacKenzie Kouba
Best Local Sports Team
FM RedHawks
Best Original Band
Johnson Family Band
Best Bar
Dempsey's
Best After-bar Meal
Drunken Noodle
Best Gift Shop
Zandbroz Variety
Best Local TV Personality
Robin Huebner - KVLY
Best Established Visual Artist
Jon Offutt
Best Gym
YMCA
Best Established Solo Musician
Blind Joe
Best Place to Dance
The Aquarium
Best Meal for under $10
Drunken Noodle
Best Bookstore
Barnes & Noble
Best Radio Station
KNDS
Best Writer
John Lamb
Best Golf Course
Edgewood
Best Cover Band
Betty Does
Best Happy Hour
Dempsey's

Best Lunch
Grand Junction

Best Boutique
One World

Best Local Radio Personality
Megan @ Y94

Best Local Celebrity
Just N Tyme

Best Performance DJ
DJ Joyride

Best Place to take a date
HoDo Restaurant
Best Fine Dining
HoDo Restaurant
Best Mens Clothing Store
Straus / AKA
Best Community Activist
Prairie Rose
Best Local Album or CD
Sleeping in Gethsemane - Burrows
Best Karaoke
Divas & Rockstars
Hottest Waitstaff
Buffalo Wild Wings
Best Womens Clothing Store Herberger's
Best Tattoo Parlor
Addictions

Best Emerging Solo Musician
Eden Parker
Best Open Mic
Side Street
Best Taco
The Taco Shop
Best Salon
Salon Why?
Best Tattoo Artist
Trent Balvitsch @ Addictions
Best Live Music Venue
The Aquarium

Best Bartender Female
Amber Severson @ HoDo Lounge
Best Italian
Johnny Carino's
Best Hair Stylist
Kristen Bee Rheault

Best Piercist
Chuck Kesler @ Dead Rockstar
Best Performance Theatre
Trollwood

Best Bartender Male
Jeff Fonder @ Dempsey's
Best Mexican
Acapulco
Best New Business
J.L. Beers
Best Kept Secret
FM Derby Girls
Best Art Gallery
Plains Art Museum
Best Hangout
Dempsey's

Best Burger
J.L. Beers

Best Health Food Shop
Tochi Products

Best Photographer
Gabe Haney

Best Movie Theatre
Fargo Theatre

Best Asian Restaurant
Thai Orchid

Best Liquor Store
Happy Harry's Bottle Shop




Best Photography Studio
Haney's Photography

Best Local Event
Downtown Fargo Street Fair

Best Wine List
The Winery

Best Music Equipment Store
Marguerite's Music

Best Drag King
BJ Armani

Best Bakery/ Pastry
Nichole's Fine Pastry

Best Thrift Store
Dakota Boys and Girls Ranch

Best Drag Queen
Just N Tyme

Best Beer Selection
J.L. Beers

Best Record Store
Orange Records
Best Regional Festival
10KLF

Best Pizza
Duane's House of Pizza

Best Antique Store
Funky Junque

Best Restaurant for Vegetarians
Green Market Kitchen

Best Sushi
Wasabi

Best Salad Bar
Ruby Tuesdays

Best Sandwich
Grand Junction


Restaurant with Best Chef
HoDo Restaurant

Best Coffee Shop
Atomic Coffee



Best New Restaurant
J.L. Beers

Best Established Restaurant
HoDo Restaurant