​Camping Dining 101
by Granville Wood | .(JavaScript must be enabled to view this email address) | Culture | May 29th, 2019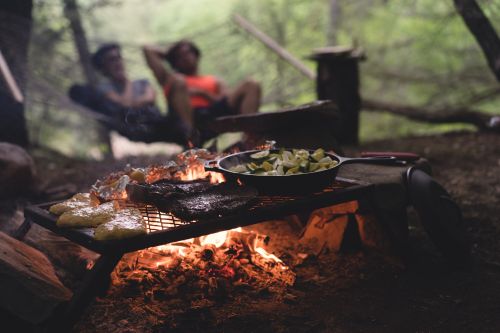 As a boy scout the phrase "Be Prepared" was hammered home at every turn. Guess what? It worked.
Now I tout to anyone who will listen "Preparation is the Key to Success," and guess what? That works too. Coming from an avid camping family I learned early in life to enjoy being out in the woods and to appreciate the old adage, "everything tastes better outside." I think that is true because you are hungry as hell after hauling all that gear to the campsite and getting everything set-up.
So, with years of camping experience in my backpack, after high school I set out hitchhiking across Canada and down through California and back up to Banff National Park where I pitched my tent for a while. All-in-all I lived in a tent for about a year and a half before the first snows forced me off the mountain and into town.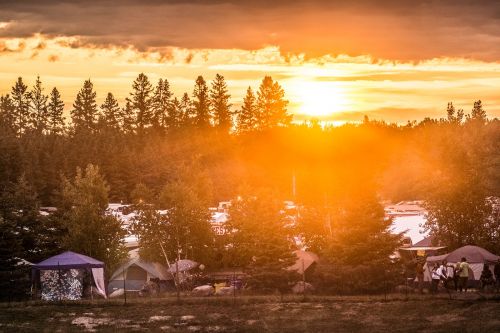 And during that whole time, I never had a bad meal. I transitioned from cooking over a wood fire to my trusty Coleman stove when I bought a car and along with the stove came a cast iron fry pan, a big one, big enough to hold a meal and a proper grill grate. The key to a successful and enjoyable camping outing is say it with me... preparation. You bet as you eat that can of cold baked beans out of the can, preparation can make a weekend so much more fun and frankly you a hero, a camping God.
The second step is an equipment checklist, OK it sounds nerdy, but you don't want to forget the can opener for those baked beans, slamming the can against a rock won't get it open and put that pen knife away unless you are camping near a 24-Hour Urgent Care. Why second you ask, because you have to plan the menus first, savvy? Whatever you plan to cook will determine what you will need to get it cooked. As a rule, I always pack some pre-made sandwiches for something to munch on at arrival at the campsite. Nobody likes a grumpy husband / wife or heaven forbid children while setting up the tent. Please note there has not been a mention of those mobile units called "campers", no this article is for serious campers those of us who like the pitter-pat of rain drops on their tent.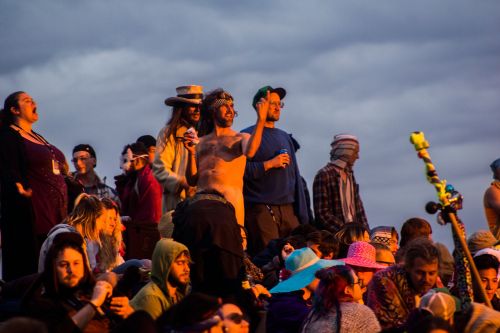 Just because you are in the woods doesn't mean you cannot "dine" well. Your personal tastes will drive what you eat. To make the whole experience enjoyable plan and prep accordingly. I love to grill shish kabobs over a wood fire so I will make them up on the skewers before leaving home, same with chicken breasts, I will season them and put them in zip lock bags. What can be done ahead of time and brought along makes life a lot easier and you don't have to drag along every seasoning in your kitchen cabinet, just don't forget the salt. Pancakes in the morning no problem make up the batter and put it in a plastic container with a screw on top (and don't forget the Maple Syrup). If you are not the fishing type bring along some trout or salmon steaks and give them a turnover the fire, keep in mind they are highly perishable so unless you have a Yeti cooler put them on the menu early in the trip.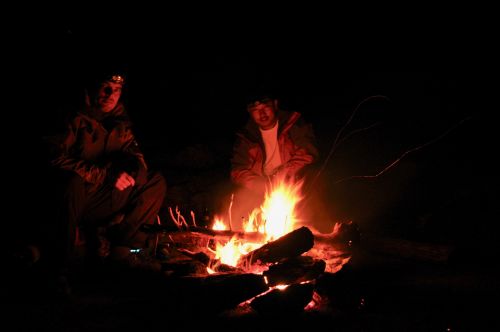 My aforementioned big cast iron pan is great for a pan grilled chicken dinner with peppers, onions, garlic and cherry tomatoes. Marinate the cut chicken at home, cut the pepper and onions on site or at home either way it's a great one pot dinner. The more adventurous campers can spit that whole chicken leaving it whole and splaying it on the grate right over the fire for that real woodsy flavor.
Grilled cheese sandwiches or quesadillas can be prepped at home and brought along with salsas and other condiments for lunch. If you haven't forgot the can opener bring some soup for chilly evenings or to go with those grilled cheese sandwiches. Now you can start to see how that second step is falling into place, frying pan, tongs, cutting board, knives, paper towels, aluminum foil, kitchen towels, TP, garbage bags, pot soap, sponge, plates, cups, coffee (instant) pot to boil water for the instant coffee and the list goes on. Make a checklist for your menu as well nothing sucks more than forgetting a key ingredient like mustard for the hot dogs or the marshmallows for the s'mores.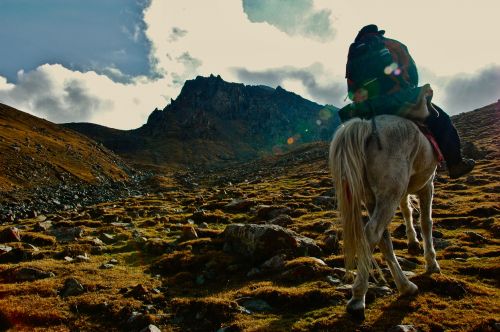 Highly recommended is a tarp or popup tent to cover the eating area in case of inclement weather. Nothing like a snuggle on a rainy afternoon in a tent. Keep your campsite clean unless you like varmints of all sizes and pack your garbage out, leave the site how you would want to find it.
And like Smokey the Bear says, "Only You Can Prevent Forest Fires" and don't forget the kids.