​Center Fest and the science of the center
by Sabrina Hornung | .(JavaScript must be enabled to view this email address) | Culture | August 9th, 2018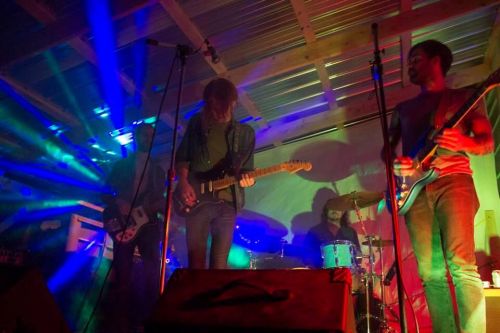 You may or may not have heard about Robinson, North Dakota... referred to by some as the "Paradise City," a bounding oasis in beautiful pothole slough country nestled in the lush prairies of Kidder County and located on scenic Highway 36. Known best as a hunter's or birder's paradise, the town of close to 40 gained notoriety and sparked a bit of controversy when mayor and Hanson's Bar owner Bill Bender and his pals indulged in a bit of bourbon and barstool science, questioning the actual whereabouts of the Geographical Center of North America.
After a bit of doing, Bender secured the lapsed trademark for Geographical Center of North America and sparked a debate that went a heckuva lot further than it's cousin slightly to the north, Rugby, the city that originally held the trademark since 1931 and until it recently let the trademark lapse. In fact Center North Dakota in Oliver county, slightly to the west of Robinson, even perked up its ears as a contender.
The squabble even got people talking on the east coast once the "Wall Street Journal" sent a writer out to Hanson's Bar in Robinson to get the story straight on the issue.
Now that the squawking over the true center has quieted down, Bill's on a science bender with a new project. Hanson's Bar has become home to the International Center for Determining Centers (ICDC). It also provides a damn good excuse to keep hosting the best annual party this side of the Missouri River. Center Fest, a communitywide celebration of roots, rock n' roll, free camping, free admission, and cold beer in one of--or maybe even THEE oldest bar in North Dakota with some of the best company a guy or gal could ask for.
HPR had a chance to chat with Bender about the International Center for Determining Centers, the coveted title of Miss Center Fest, medieval weapons and...potential sacrifice?
High Plains Reader: Does Robinson still hold the trademark for Geographical Center of North America?
Bill Bender: We can talk about it openly, and love to. Hanson's Bar, et al, has released the words "Geographical Center of North America" for use by other parties. These words are useless to us, and to anyone who "owns" them. This isn't about words anymore, this is about science. Pure, sensuous, science.
HPR: It's interesting how Robinson's claim for the Geographical Center of North America caught so much traction not only with ND and SD media outlets it even caught the attention of the WSJ.and the Smithsonian. Did you ever think a simple trademark would spark such a debate or get so much attention?
BB: We were pleasantly surprised, yes, but seeing nowadays what other topics (and people) get attention, maybe it's not so surprising? We're hoping to bring some attention to the scientific aspect of this debate. We love science. We love it long time. We want other people to love science as much as we do. It's time science and facts became the focus of debate, instead of emotion. But in the end, no one should be happier with the attention the trademark debate brought than Rugby. This whole thing brought them more media attention than they've had in decades. Rugby Businesses: please mail a check to Hanson's Bar, Robinson ND.
HPR: How did the International Center for Determining Centers come to be?
BB: The main thing we realized throughout this ordeal is that there wasn't a definitive resource for determining geographical centers. The ICDC fills that void, as the first, only, and definitive organization of this kind. Also, we had so much fun last year, we needed a reason to keep Center Fest going, bigger and better every year.
HPR: What kind of scientific calculations go into determining the centers you seek?
BB: Well, we are an Organization of Science, so calculations will be the major factor in everything we do, from where to hold our quarterly gatherings, to determining centers. We're working with a retired member of the USGS and other geographically educated persons in formulating our calculations, but at this point, all of our calculations are proprietary, so we can't divulge.
HPR: Can you tell us a bit about the Miss Center Fest Pageant? What kind of criteria is used in determining Miss Center Fest? Are there categories? How can aspiring Miss Center Fests sign up?
BB: Oh boy. We didn't have one last year, so this was the first run at it. Man, what a party. We had 10 contestants, all who were NDSU students, and the most interesting, hilarious girls you can imagine. I won't name the winner and runners-up here due to possible stalkers, but they'll be at Center Fest signing autographs and cutting the ribbon for the ICDC. We'll announce the entry process for next year's pageant this winter sometime.
HPR: What can folks anticipate at this year's Center Fest?
BB: Fargo natives and kickass band The Knotties headline Friday night, preceded by Minneapolis rockers Shocktrigger, and the very first Center Fest performer Eric Kerr of Grand Forks is back to open it up. Saturday, Ghost Wagon out of St. Paul headlines, preceded by a heavily talked about and anticipated reunion of a band from the 80'-90's Kirby's/Ralph's era, Teenage Lobotomy. Another kickass band from the Moorhead 90's scene, Slippy McGee, and Fargo's Mr. Meaner, who are truly fantastic and back again. Both days we'll open around 9am and have an open mic on the indoor and outdoor stage. There's a free pancake and coffee feed Saturday morning too.
HPR:What's this I read in the press release about human sacrifices and medieval weapons?
BB: We have a 73mm propane cannon that folks can fire, and we're working on a trebuchet that may only fire once, and once may be enough. We've had several inquiries about being a human sacrifice, but I think only one is serious. We'll see.
IF YOU GO:
Center Fest
August 10-12
Hanson's Bar, 123 Main St, Robinson