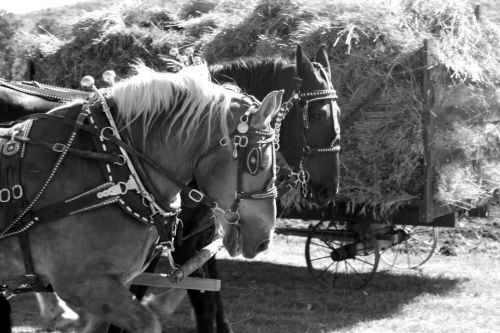 By Jill Finkelson
jsfinkelson99@gmail.com
Who doesn't want to take a horse-drawn wagon through the snow and sip on hot cocoa with the family? Bonus points for holiday sweaters and gingerly wrapping your mittens around steaming hot cocoa. In the interest of full disclosure, I've been watching a lot of holiday movies already and this holiday village just seems on point. If you're looking for a little of that extra holiday magic this year, go west. Bonanzaville's pioneer village will be dressed to the nines this weekend to kick off the holiday season.
They are opening up special for Christmas on the Prairie from 10 am to 5 pm this Saturday. It's a family party so bring friends and the kids--and your friend's kids, to the signature village for cookies, cocoa, elves, and Santa. Bonanzaville is the perfect backdrop to start off the holiday festivities. They bring the past to life during the regular season and this is not an exception. Do you remember when the air was full of carolers and one-horse open sleighs? Personally, I don't so what better way to visit a more simple Christmas time? Fortunately, The Cass County Historical Society does remember and they have all the elements to show us, from model trains to wagon rides.
The party is both fun and educational. You can take in a blacksmith demonstration and make your own Christmas card at the letterpress. There will be lots of treats, new and old. You can get creative at a caramel apple bar or decorate cookies and watch them bake in a wood-fired oven. After admission, $12 for adults, $10 for seniors/college kids and $6 for kiddos, everything is included except for lunch and shopping. The Bonanza Belles will be open for lunch. The J2K craft and vendor show takes over Dawson hall. They'll have over 70 booths to browse so you can find something unique for everyone on the list.
The craft fair will be full of local crafts and specialty items you can't find elsewhere. No Christmas excursion is complete without a trip to the North Pole. Call the elves and visit the big man, Santa Claus for a traditional photo op. There will also be an open fire for toasting s' mores and, presumably, for warming up.
We may curse the snow as we dig cars out of what is just the beginning of winter here in Fargo so make sure to look up and enjoy the fact that we live in a snowy Christmas postcard. Christmas on the Prairie promises to bring that postcard to life. Winter is long but the holiday season is short so it's good to get out and enjoy it while we can. Fortunately, there's no shortage of parties, events, concerts and Santa viewings here in town. This one isn't even at the mall, which is a plus. Thus, I encourage you to head west and visit the prairie to get your season started.
IF YOU GO:
Christmas on the Prairie
Saturday, December 7, 10 a.m.-5 p.m.
Bonanzaville, 1351 Main Ave West, West Fargo