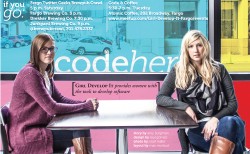 Girl Develop It provides women with the tools to develop software
Shannon Luney and Megan Beck are the co-leaders of the Fargo chapter of Girl Develop It, a national nonprofit that focuses on empowering women to learn how to code computers and develop software. Its launch party last October was the first event of its kind in the FM area. There are 45 chapters in cities throughout the U.S. and it continues to grow. The organization was enacted in 2010 and hopes to reach international status soon. New York founders Vanessa Hurst and Sara Chipps both work in the industry and wanted to see more women thriving in IT positions. Their mission is to provide affordable and accessible programs that teach web and software development to women, through mentorship and hands-on experience.
Career paths in web developing and programming have an obvious lack of women working within those positions, and Girl Develop It strives to provide a comfortable and educational opportunity for women to get into those fields.
Luney and Beck are providing a major service for women 18 and older and of all backgrounds in the area. They promote all Girl Develop It events on Facebook and Twitter but to sign up for events, participants must register at www.meetup.com/Girl-Develop-It-Fargo . Some classes are free, but most range from $10 to $12 an hour. They recently hosted an Intro to HTML/CSS class, which was $92 for an 8-hour course. That's an incredibly affordable route in comparison to undertaking an entire bachelor program for web developing or a related field.
"There really aren't any colleges in the area that offer an extensive major option for web developing or programming," noted Beck. "There's computer science, but that's so broad. A lot of companies just look at skill sets now and not where someone went to school."
Girl Develop It courses can act as a catalyst to get women more informed on tech specialties that are out there. If they want to further pursue those careers, then extended training at a Dev Bootcamp, an intensive nine-week coding camp, or a university may be necessary.
Luney and Beck believe that Girl Develop It is instrumental in achieving equality for women.
"Women still only make 77 cents to every male dollar in the workforce, and it's especially apparent in the tech industry with the sparse presence of women," said Beck. "There's no reason why that should happen, because women are just as talented."
"If not more talented," added Luney.
Luney referred to a recent NPR article by Steve Henn that considered the mid-1980s phenomenon when there were many more women in the tech industry than there are now. In 1984, 35 percent of computer science majors were women; the numbers leveled and plummeted over the decades and now women only comprise 12 percent of those majors. Henn speculated that the number of females in the tech industry plunged due to the increase of male-centric advertising in the '80s that targeted men for the sales of personal computers.
"It was all labeled 'boy toy' type of stuff," agreed Luney and Beck. "There's that stigma of the nerd, the geeky boy; we want to see that be less prominent and help people realize that it's not nerdy, it's cool and women are doing it too."
The group is hosting a free Code & Coffee event from 5:30-7 p.m. Tuesday, Dec. 9 at Atomic Coffee in downtown Fargo. The event will be an opportunity for women to share their work and ideas with fellow tech enthusiasts, or just to socialize. The event is open to anyone (including guys!) interested in learning more about the organization and an RSVP is encouraged at www.meetup.com/Girl-Develop-It-Fargo . They intend to have meet and greet events once a month to keep the momentum going, and classes will resume after the New Year.
Recently, Luney and Beck attended a Chapter Leadership Summit in New York for all Girl Develop It leaders from around the country, and they were able to share ideas, frustrations and stories with an array of talented women.
"Even just learning about what some of the women's jobs were – it just gives me chills talking about it – just amazing women. A lot of women don't feel comfortable talking about their accomplishments, but this event just encouraged everyone to brag and be proud of their achievements and it was really cool."
That feeling of pride translates into the work that Luney and Beck want to do with the Fargo chapter. They want people to leave their classes feeling more confident and proud of their abilities in the career world. For women not interested in the tech industry, the leaders plan to host events that focus on making women feel more confident in any work environment and be proud of what they can do. "Empowering women is our number one goal," the two agreed.
They acknowledged that everyone has been really supportive of their efforts, and the whole start-up community has been behind them every step of the way.
"Every start-up in Fargo is trying to make it, so we all help each other out and it makes a big difference," Luney said.
For example, Fargo Brewing Company is helping the organization by hosting a Pub Crawl on Saturday, Dec. 6 that will hit up the three breweries in the area, starting at Fargo Brewing Company at 5 p.m., then Drekker Brewing Company at 7:30 p.m. and Junkyard Brewing Company at 9 p.m. Part of Fargo Brewing Company and Drekker's proceeds will go toward the expansion of Girl Develop It. Luney and Beck are entirely grateful for their interest and support. They also receive sponsorships from local businesses to promote events and advertising. Because Girl Develop It is nonprofit, all the profits from class fees pay the teachers and help sustain the program.
Luney and Beck are eager to get classes rolling again after the New Year. So far, attendance has been great with 23 people at the Intro to HTML/CSS course and 16 on the waiting list. They are also looking for teachers and assistants that are willing to lead upcoming classes. If anyone is interested, they should email fargo@girldevelopit.com, or go to the Code & Coffee event on Dec. 9.
Luney and Beck both work full time for Todaymade, a web developing company out of Bismarck, and Luney is even planning her wedding right now. All the while, they are harnessing their potential and providing a great opportunity for women to enhance their lives and careers with the vehicle that is Girl Develop It.
For more information visit girldevelopit.com, www.facebook.com/GDIFAR or Twitter @gdifar
If you go:
Fargo Twitter Geeks Brewpub Crawl
5 p.m. Saturday
Fargo Brewing Co. 5 p.m., Drekker Brewing Co. 7:30 p.m., Junkyard Brewing Co. 9 p.m.
@brewpubcrawl, 701.478.2337
Code & Coffee
5:30-7 p.m. Tuesday
Atomic Coffee, 202 Broadway, Fargo