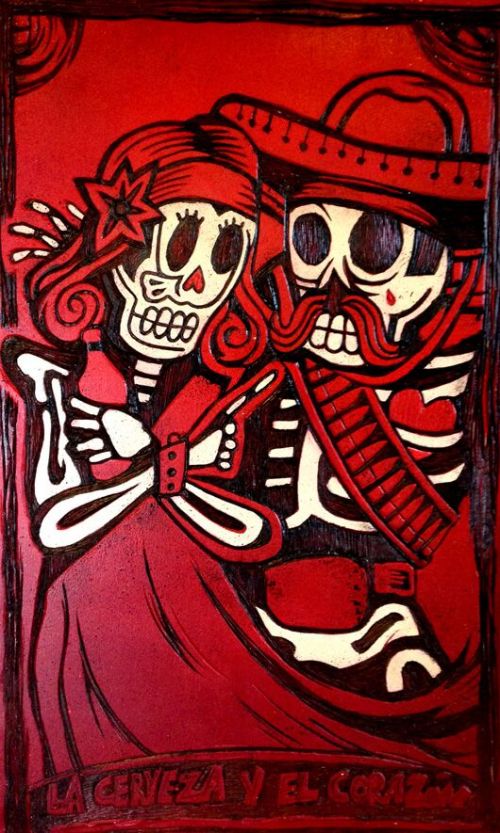 There's more to Halloween than blood and guts and screaming your way through a haunted house. From painting monsters and crafting wizarding wands to investigating the paranormal, outsmarting zombies and diving into virtual reality (plus some not-so-creepy Halloween experiences for the whole family), these regional attractions go beyond the scare for a range of Halloween experiences.
Creepy Crafts
Whimsy Hollow Wand Workshop
October 26
1 – 4 p.m.
Spirit Room
Fargo
spiritroom.com
Channel your inner wizard or witch when you crate your own custom wand. The $15 fee includes all materials. All ages welcome. Cash and credit card accepted on the day of the workshop.
Paint a Pumpkin
October 26
10 a.m. – 1 p.m.
Fargo Air Museum
Fargo
fargoairmuseum.com
Wear your costume, do a little trick-or-treating and decorate your pumpkin, then check out the exhibits. One free pumpkin per family with discounted event admission of $5 per person, while supplies last.
Adult Metalsmithing Workshop: Halloween Pendants
October 27
1-4 p.m.
North Dakota Museum of Art
Grand Forks
ndmoa.com
Adults 18+ will create autumn-themed pendants out of nickel, brass and copper. No experience is necessary and all materials are provided. The cost is $50 for members, $65 for non-members. Pre-registration is required.
Bad Art Night – Monsters
October 28
5:30-7 p.m.
Grand Forks Public Library
Grand Forks
gflibrary.com
Add monsters to forgotten artwork! No, seriously – this class includes everything you need to insert creepy creatures into previously uninspired scenes. All skill levels are welcome, ages 13+. The class is free, but limited to 20 participants.
Magic School Painting
October 29
7-9 p.m.
Creatively Uncorked
West Fargo
creativelyuncorked.com
Paint your own ominous building silhouetted against an orange sky. No artistic talent is required and the class is open to ages 6+. Beer, wine and snacks are available for purchase. The $36 ticket includes supplies and an apron.
Mad Scientist Terrariums
October 31
5:30-6:30 p.m. or 7-8 p.m.
Baker Garden & Gift
Fargo
bakernursery.com
Let your inner mad scientist run wild when you create and decorate a terrarium inside a beaker. Pay only for the moss, plants, crystals, rocks and fairy garden accents that you think your creation needs.
Spooky Spots and Haunted History
Paranormal Investigations
October 25
8 - 11:30 p.m.
Bonanzaville Cass County Historical Society
West Fargo
bonanzavilleusa.org
See if you can detect paranormal activity in the historic buildings during a 90-minute team investigation. EMF detectors and voice boxes will be provided. Investigators can also bring in their own approved equipment.
Zombie Escape Room
October 26
9:30 a.m. – 4:30 p.m.
Grand Forks Public Library
Grand Forks
gflibrary.com
Your group of up to 8 people has just 60 minutes to solve a series of puzzles before the zombies attack. The event is free, but advance registration is required. It's recommended for ages 16+, based on the difficulty of the puzzles.
1883 Haunted Courthouse
October 31
5-8 p.m.
1883 Stutsman County Courthouse
Jamestown
701-252-1170
Stop by for Halloween treats, hot cocoa, cookies and self-guided tours of the historic courthouse, including the spooky haunted cellar. Kids under 16 must bring a parent. A donation of $5 per family is suggested, but not required
Haunted Manor Walk-Through
October 31
1 p.m. – 9 p.m.
Grand Forks Virtual Reality Arcade LLC
Grand Forks
facebook.com/GFVRArcade/
Explore a haunted house in super creepy virtual reality. There are two routes and four possible endings. Try it for 15 minutes for $5.
Fun for the little ones
Pumpkin Decorating
October 23-24
4-5 p.m.
Fargo Public Library locations
Fargo
fargond.gov/city-government/departments/library
Kids 3 and up and their parents can stop by the Northport Fargo Public Library branch on October 23 or the Dr. James Carlson Library on October 24 to paint a pumpkin and drink apple cider. The event is free. No pre-registration is required.
Boo at the Zoo
October 26
10 a.m. – 5 p.m.
Red River Zoo
Fargo
redriverzoo.org
Bring the kiddos in costume for trick-or-treating and fall-themed craft and zoo activities. Admission is free for members. Regular admission rates apply for non-members.
Halloween Pop-Up Play
October 26
10 a.m. – 2 p.m.
West Acres
Fargo
westacres.com
Interactive, Halloween-themed stations are scattered all over the mall, so kids can attend story time, touch and play musical instruments, play games, do a mall scavenger hunt and leave with balloon animals. Costumes are encouraged.
Spooktacular Halloween Party
October 27
2 – 4 p.m.
Veterans Memorial Arena
West Fargo
wfparks.org
Kids of all ages can check out the haunted maze, decorate cookies and meet the friendly witches. Costumes are encouraged. The event is free for all.
Boo at NDSU
October 29
5:30 – 8 p.m.
North Dakota State University
Fargo
ndsu.edu/reslife/rha/boo_at_ndsu/
This free, public event features a children's carnival in Cater Hall and trick-or-treating in residence halls. Families can purchase dinner at NDSU dining centers for $10 for adults, $4 for kids 4-10 and free for little ones.
Haunted Mall
October 31
5 – 7 p.m.
Moorhead Center Mall
Moorhead
moorheadcentermall.com
Get the family dressed up for indoor trick-or-treating, haunted (but not so scary spaces) and kid-friendly games and activities.
BOO-tiful Night: Trick-or-treating event
October 31
5:30-7:30 p.m.
West Acres
Fargo
westacres.com
Kids of all ages line the mall corridors for trick-or-treating, balloon animals and free family photos. Donate a non-perishable food item for a shot at a $50 mall gift card.
[Editor's note: Alicia Underlee Nelson is a freelance writer and photographer who covers craft beer, travel, art, entertainment, history and breaking news for Thomson Reuters, Food Network, USA Today,Delta Sky Magazine, AAA Living, Midwest Living, Beer Advocate, trivago magazine, Matador Network, KFGO-AM, craftbeer.com and numerous other publications.]