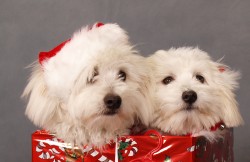 On Nov. 8, starting at 7 p.m., the Holiday Inn in Fargo will host the 6th Annual Silent Auction and Gala benefitting the canines of 4 Luv of Dog Rescue. This event will feature a cash bar, complimentary hors d'oeuvres and DJ B-Rock from Renegade Sound & Light.
This year's gala coordinator is Jill Nona, who serves on 4 Luv of Dog Rescue's Board of Directors. She's also a paralegal at Vogel Law Firm, a member of the Red River Valley Paralegal Association, and an alum of Minnesota State University Moorhead.
Auction items will include 86x86-inch quilts handcrafted by Maggie Heinle of Tower City Quilters, a small, dedicated group based in the rural community of Tower City, N.D. Accepted means of payment are cash, check and PayPal. Participants do not need to be present to win. If a winner leaves before the 10 p.m. drawing, they'll be able to claim their prize on a later date.
Admission to this event is a free will donation, as 4 Luv of Dog Rescue is a volunteer-run, nonprofit organization that relies on grants, fundraising and generous contributions. In addition to money, donated items such as dog food, crates, beds, collars and leashes would be appreciated.
Though they have no shelter facility, this organization has rescued and rehomed hundreds of dogs and established a network of foster homes and boarding facilities where they can await adoption. 4 Luv of Dog Rescue does not discriminate based on breed, age or special needs.
For more information on this event or volunteer opportunities head to their website at www.4luvofdog.org.
IF YOU GO
4 Luv of Dog Rescue Gala
Sat, Nov. 8, 7-11 p.m.
Holiday Inn, Fargo
4luvofdog.org