​DogIDs, for our furry friends
Culture | June 5th, 2014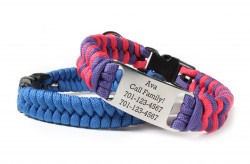 By Rick Abbott
DogIDs' south Fargo office is pretty different than other offices. A huge, bounding Great Dane named Cyrus quickly makes his way through the building, with River, a yellow Lab, closely in tow.
The business, which sells personalized, engraved dog tags and a slew of other accessories, was started by Clint and Lori Howitz in 2005. What started as hobby turned into a full-fledged business in 2010, when Clint quit his former job to jump in "with both feet." That year, the operation moved from the Howitz's basement to the current office in south Fargo. There are now 10 employees.
"I'm not good at working for anybody but myself. I tried to juggle a day job and this at the same time but it got to the point where I couldn't handle everything. One had to go," Clint Howitz said. "I wanted to build something and have it be my own."
DogIDs sells its products online through dogIDs.com, but employees wouldn't hesitate to help customers pick out the perfect leash, collar or tag at its Fargo office.
The flagship products are the personalized dog tags, engraved with a high-powered fiber optic laser that vaporizes the metal. Howitz said the engraving should last forever.
Another top product is a patented collar design that holds the tag on the back of the dog's neck, allowing someone finding the dog to identify them without risking a bite by reaching under the dog's mouth.
Those collars also hold the metal tag differently than traditional collars, so there isn't any annoying jingling of multiple tags, that's something merchandising manager Ashley Farkas finds helpful.
"All our dogs wear these just because we don't want to hear them jingling around at three o'clock in the morning," Farkas said.
The company's success hasn't been without its challenges. Howitz said there aren't people in the area with enough experience in online business and that bringing experienced workers in is difficult.
"When you're a startup, importing people from other parts of the country is tough, unless they're really driven to be in Fargo," Howitz said.
"There's not a lot of e-commerce here. They don't teach this stuff in school, so it's hard to find highly-qualified employees that want to live here or are already here," Farkas said.
Another hurdle has been working against shoppers' desire for instant gratification. Rather than wait for a high quality and long-lasting tag to be made, some people would rather grab a pre-made option off the shelf.
"The industry has been the same for so long. Everybody knows you can go to Walmart and buy a pet tag out of a machine, but we're doing things a little differently," Howitz said.
"Our big thing is the quality of our products. We really stand behind them, we guarantee everything and we preach that. But nobody wants to wait. Plus they don't get to look at it, touch it, feel it, so that's a barrier for us that we're all online," Farkas said.
Howitz said they've spent quite a bit on SEO, or search engine optimization, which can help move a company's listing on a search engine closer to the top. But Farkas said frequent updates by Google, for example, have complicated the process and require updating the entire dogIDs website.
Even with those issues, the long-term future of dogIDs seems to be secure, with different opportunities to expand. Howitz said they're at a "fork in the road" with expansion, having to decide now whether to pursue a franchise model, a wholesale business, staying an online business or figuring out a mix of all three options.
There could be dogIDs products in vet clinics, boarding kennels or dog spas in the future, Farkas said. As always, the focus is on quality.
"We want people in the dog world to associate us with the go-to, top brand," Farkas said.
As Cyrus and River started to howl for their dinner, Howitz zeroed in on the bottom line: What's most important for him and other dogIDs employees is keeping dogs safe, with quality tags and leashes.
But they also want to raise the bar and innovate on the tried-and-true dog products.
It doesn't hurt to look good, either.
"(Customers) want their dogs to look better than everybody in their neighborhood," Howitz said.
IF YOU GO:
dogIDs
5522 36th St S, Fargo
(701) 277-4939
dogids.com