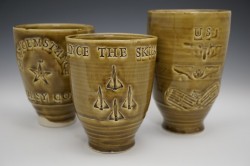 photo by Ginny Pick
Project Unpack: Telling Stories, Creating Community is wrapping up its one-year program with a retrospective exhibit at the Rourke Art Museum. Project Unpack is funded by the National Endowment for the Humanities (NEH) as a project to initiate dialogues in the Fargo-Moorhead and North Dakota communities about the legacies of American wars. It is a collaborative project between NDSU, North Dakota Veterans Affairs, and multiple community partners.
According to Dr. Christina D. Weber, Associate Professor of Sociology at NDSU and Project Leader, "North Dakota, although a small state, is home to nearly 58,000 veterans of war," which makes this project particularly relevant. Dr. Weber asserts that all of the stories are important: "They are not all the same, they do not fit stereotypes. Many of them face emotional, financial and family hardships. Some may seem to move forward easily with their families and communities, but they all live with a legacy and we want them to have a voice for that."
The exhibit opened on Saturday, December 16 and runs through January 15, 2017 at the Rourke Art Museum. The stories displayed in the exhibit are an important part of veterans' individual histories that are often not shared with others.
According to the event description, the Project Unpack exhibit "brings together the varied and multifaceted stories of veterans and their families that the project has collected over the past year, highlighting important moments in history that might otherwise be lost."
Dr. Weber explains, "The project is important because it provides space for people to share their stories with one another – a space to listen, contemplate, and try to find a way to talk about things that can be hard to talk about."
The exhibit features heirloom cups created by veterans and their families at workshops that were led by Professor Michael Strand, NDSU Head of Visual Arts, and veteran artist Josh Zeis, an NDSU alumnus with a degree in Visual Arts. These cups are personalized and include mementos such as rings and medals to imprint on the cups. They will be given back to the veterans and family members after the exhibit.
It also highlights oral history excerpts from military personnel, veterans, and their families; masks that were created by veterans at the Fargo VA Hospital; a short documentary film of Josh Zeis's visual art project, "Return," and art and poetry from local veterans. At the opening, Fargo musician and veteran Ray Green provided music.
The Project Unpack events this year have included lectures from authors Tim O'Brien and Tom Bissell, literary and ceramics workshops, and an oral history workshop. Josh Zeis was also the center of a public reception in June where he included his journey with a rucksack carved out of ice – a journey that mirrored and commemorated the day he learned of his impending deployment to Iraq.
The work of Project Unpack has been a team effort, including contributions from Dr. Angela Smith, Michael Strand, Dr. Alison Graham-Bertolini and Josh Zeis. Dr. Weber describes the work with the team as "one of the most energizing, productive, and inspiring experiences I have ever had."
Moreover, Project Unpack also established an oral history archive for our area after collecting stories from local veterans at several workshops in July. This is a collaborative project between Prairie Public Radio and NDSU.
According to Dr. Weber, the people behind Project Unpack hope to continue work in the community and expand beyond the Fargo-Moorhead area. The funding for the grant ends December 31, but Dr. Weber says a team is working on submitting a proposal for a new grant to bring the work to other areas of North Dakota, and that they also hope to take the exhibit on the road.
Dr. Weber reflects on the year-long project's impact: "Over the past year, I have been able to witness the value of telling and listening to stories – stories that sometimes challenge me to think about the world differently; stories that make me simultaneously laugh and cry; stories that remind me that I am not alone in my experiences; stories that touch my heart; stories that teach me something that I didn't know before."
YOU SHOULD KNOW
Project Unpack: A Retrospective
December 16, 2016 through January 15, 2017
Rourke Art Museum, 521 Main Ave., Moorhead
This exhibit is free and open to the public.