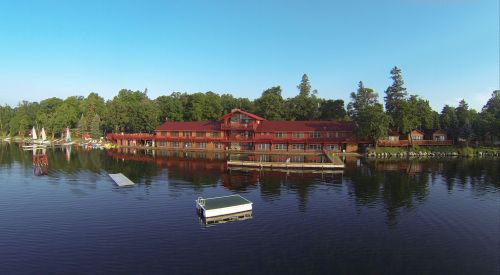 by Olivia Meline
ocmeline@gmail.com
Located on the shores of Pelican Lake in Detroit Lakes, MN, Fair Hills Resort offers their guests a retreat that boasts modern luxury while bringing them back to simpler times. Opening their doors in 1906 and family-owned since 1926, this resort has been dedicated to creating a welcoming, comfortable and fun atmosphere to their guests, returning and new. While Fair Hills is known for its unique, week-long family season vacations, the resort also hosts a variety of events, including hosting Sandman Structural Engineers and their families during the company's two-day retreat.
Sandman Structural Engineers is a structural engineering consulting firm based out of Moorhead, MN. They began coming to Fair Hills Resort in 2015 for what started as a conveniently located corporate retreat for employees to celebrate their 10-year anniversary. Originally a staff of 15 people, Sandman Structural Engineers has tripled that number and group attendance to their Fair Hills retreat is approximately 90 people, when including their families. Sandman guests now range in age from newborns to late sixties and they continue to come back because they feel Fair Hills has something to offer to everyone.
Kent Heimark, Business Manager at Sandman Structural Engineers, says the "intrinsic value" of what employees gain from the retreat keeps people motivated and inspired at work.
"It has definitely increased morale," Heimark said. "People look forward to going back."
Fair Hills Resort is located on the northern shore of Pelican Lake, just 20 minutes south of Detroit Lakes, MN, and 45 minutes east of Fargo, ND. With 108 units varying in size, the resort can accommodate many different styles of groups, all while maintaining the "up-north," cozy cabin atmosphere.
Fair Hills Resort's amenities are all-inclusive and the staff strives to accommodate the needs of their guests with an attitude of, what Heimark described as, "What do you want? We'll do our best to make it happen." Customer service and hospitality are at the forefront of their employees' training.
While the resort prides itself on being a family-friendly resort, the types of vacation packages can vary depending on the group making the reservation. Outside of Fair Hills' family season, the resort allows for groups like Sandman Structural Engineers to determine what kind of experience they want for both business and family. With numerous lakeside spaces available for meeting reservations, Sandman Structural Engineers have the ability to choose the locations they want designated for work and which they want dedicated for play.
During their retreat in the summer of 2019, Sandman Structural Engineers took advantage of Fair Hills' newly offered team building opportunities. In addition to the resort's regularly offered
amenities of the waterslide, volleyball, tennis and golf, they now offer options for groups to take part in games and experiences with the idea of group bonding in mind. While Sandman Structural Engineers chose to take part in the Minute-to-Win-It activity, Fair Hills also offers rides on their 55-foot Big Pelican pontoon, a Hootenanny performance, campfires, bingo, beer and wine tastings or whatever a group chooses to create on their own.
Fair Hills Resort offers a variety of ideas for group activities while still encouraging groups to put their own spin on their vacation. Taking offered activities such as Frisbee golf, shuffleboard and basketball, Sandman Structural Engineers designed their own "decathlon" style tournament for their employees and families. They also held a company golf scramble on the nine-hole executive course attached to the resort.
The most important thing to Fair Hills Resort is their emphasis on hospitality and making vacations a true getaway for their guests. The resort provides high quality (or, as Kent says, "delicious") meals that can be served plated or buffet style, all while accommodating dietary needs and readily staffing common areas to provide guests with an answer to any question they may have. Fair Hills strives to make vacations special for each group on the grounds.
Heimark looks forward to this annual corporate retreat, only made better by the resort's beautiful and convenient location. Highlighting the customer service aspect of this all-inclusive resort, Heimark acknowledges his retreat as a true vacation.
"I love it," Heimark said. "We don't have to cook or clean-up; we just show up and relax."