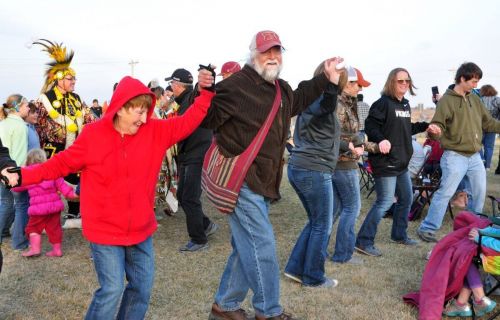 By Kristin Gruber
perriex1@gmail.com
Amongst the many charms of autumn in Valley City, North Dakota, at the top of a huge hill, in a serene, semi-secluded area, you'll find Medicine Wheel Park.
The park offers 30 acres of scenic trails, 12 burial mounds between 500 and 2,000 years old, a 3,000 square foot flower garden, a distance-scaled solar system and more. Its centerpiece is the Medicine Wheel.
Measuring 213 ft around and built with fieldstones, the Medicine Wheel, inspired by the Big Horn Medicine Wheel in Wyoming, was built in 1992 by Professor Joe Stickler of Valley City State University, and his astronomy students. Wes Anderson, curator and director of the Barnes County Historical Society Museum, told High Plains Reader that the wheel is a replica of a Native American Solar Calendar, and that it "shows the season by the rising and setting of the sun at various points along the wheel's horizon, with a focus on the Equinoxes and Solstices." There are 28 spokes radiating from the center, which represent the number of days in the lunar cycle. Six spokes extending beyond the Wheel are aligned to positions of sunrises and sunsets on the first days of fall, winter, spring and summer, respectively.
Medicine Wheels are considered "sacred circles" by Native Americans, and give focus to the natural healing of the earth itself. The autumnal equinox, when the sun aligns perfectly over the equator, and day and night are the same length, is a time for honor and reflection.
The annual Fall Equinox celebration at Medicine Wheel Park, supported by funds from the Valley City Convention and Visitors Bureau and Friends of the Medicine Wheel, is free and open to the public. Performing for the event this year are the singers and drummers that make up the Buffalo River Singers and Dancers.
"The Buffalo River Singers and Dancers come for another great performance . . . it is always an honor to have them come participate in the event," Anderson said.
The Buffalo River Singers and Dancers represent tribes of the Dakota, Ojibwe, Hidasta, Delaware, Sac and Fox, Creek, Shawnee and Choctaw.
The celebration works around the setting sun, so Anderson says the start time will likely be around 7:15 p.m.
They will pause for sunset, and resume the event after that. He adds, "We had it once where we started the performance at 7:30 and it was DARK by 8 p.m., so it shows how fast the tilt of the earth is changing at this time of year."
In case of bad weather the event will move inside to either Froemke or Vangstead auditorium on VCSU's campus.
For more information contact Wes Anderson at (701) 845-0966, or visit the VCSU Planetarium's facebook page.
IF YOU GO:
Fall Equinox at Medicine Wheel Park
Monday, Sept. 23 7-10 p.m.
205 Winter Show Road SE.
Valley City, North Dakota