Fargo anime convention unites artists and fans
by HPR Contributor | .(JavaScript must be enabled to view this email address) | Culture | September 26th, 2018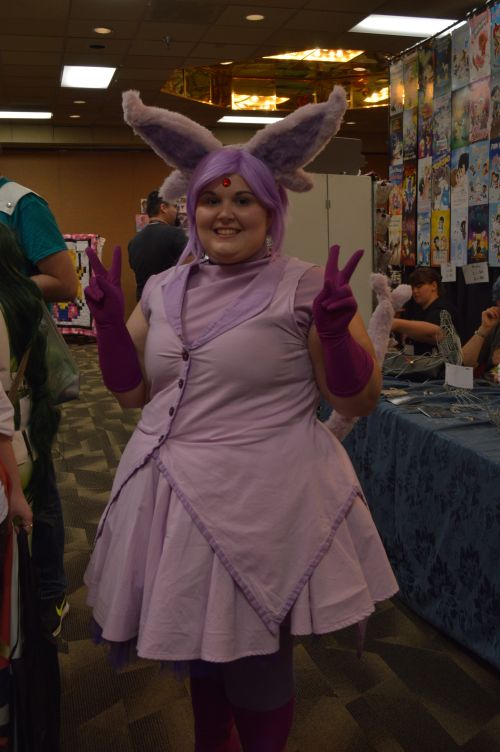 by Melissa Gonzalez
gonzalezme@mnstate.edu
Anime fans from near and far came to Fargo to enjoy animation, community and to have fun.
Anime Fargo rang in its fourth year in 2018, with its theme this year being "Galactic Adventures." This year the convention was held from September 21 until September 23.
Chris Roezler, the Programs Chair for the convention, was most excited about the guests for this years line up. Among his favorites was Tiffany Grant, a voice actress who voiced the character Asuka Langley Soryu from the classic series "Neon Genesis Evangelion."
Because of the variety of anime genres and titles, and the amount of subculture found in the anime convention and fandom realm, Roezler assures that anime is not only for a certain type of people.
"There's so much variety. There's something for everyone," he said.
The convention offers something to do for everyone as well. The event featured visiting artists and guests, panels, gaming rooms and a cosplay contest.
Among the guests lined up for the weekend was Briana Lawrence, who came to share her talent in writing and cosplaying.
Lawrence lives in St. Paul, Minnesota with her partner, Jessica Walsh, and came to Anime Fargo upon invitation.
Online, her name is Brichibi Cosplay. She and Walsh, whose online name is Snow Cosplays, work together to design modified character costume designs. The two often wear ball gowns inspired by Disney, comic book or anime characters.
Cosplay is a term shortened from costume-play and is a common activity that anime and other convention goers engage in. Cosplayers dress as their favorite characters and hand make their costumes, commission them from others or buy pre-made costumes.
On Saturday, Lawrence wore a modified Mario outfit, the main character from the Nintendo game franchise. Her blue dress with a red shirt underneath was a simple but cute feminine design applied to the usually masculine character.
She is full of creative drive and a desire for storytelling. She started cosplaying in 2004 and has been writing since she was nine. She released her first book in 2013.
Lawrence dresses up not only for her own pleasure, but also for something deeper. She enjoys anime and cosplaying, but didn't often see characters on the screen that looked like her.
"I tried to find a character who looked like me and I couldn't because there's not a lot of representation for like, you know, plus-size black women in geek-dom," she said, "So finally I just decided that I'm going to dress up as characters that I like."
Representation matters to Lawrence and wants others to feel represented when they see her, whether they are plus size, a person of color or part of the LGBT community.
"My characters are all queer women of color, so the representation is there and all the kids are like "oh my god I've been wanting this type of representation for ever and it's here now!"" she said.
Lawrence released a visual novel called "Magnifique Noir," the first installment of a four part series. The story is part of the 'magical girl' genre that includes titles like "Sailor Moon" and "Puella Magi Madoka Magica." The book, following the lives of four queer black women, started as a casual, fun endeavor but became a way for Lawrence to address issues that women face like sexism and violence.
Lawrence shares her work on social media as "Brichibi Cosplays" and has more information on her website, magnifiquenoir.com.
Katherine Briggs was another visiting fan and came to Fargo from Waseka, Minnesota. It was her first time at Anime Fargo and she went to enjoy the atmosphere that conventions bring.
"It just seems that everyone is a friend and I like that a lot," she said. "There's a lot of cool people. When you come in you don't know what you're going to get."
She went to the convention on Saturday dressed as the pokémon Espeon and had a jewel glued to her forehead and sported long purple ears to help represent the character.
Briggs has cosplayed for the last three to four years and says she loves people's reactions to her cosplays.
She comes to conventions for a happy place. The only thing she does for herself, outside of her responsibilities.
Pocky Amara lives in Jamestown, North Dakota and has attended Anime Fargo for three years and loves it because she thinks it's amazing and loves coming to the convention.
"The people here are just incredible and the staff are amazing here," she said.
Amara was dressed as a character from the game "Yandare Simulator"
Aside from the time and energy spent on cosplay design, Amara cosplays because she feels empowered by it.
"I feel more confident in myself and I feel more powerful. I feel like I can be anyone, do anything and nobody can put me down," she said. "And that's what cosplay is about its about being happy and loving yourself."
Amara shares her cosplay adventures with her online name "RabbitRebelCosplay" and is on multiple social media platforms.
These artists were among many who walked the halls of the Ramada Inn in Fargo. The convention is growing every year and with passionate fans motivated by creativity and having fun, the convention will only continue to grow.