Center for LGBT wellness
Culture | May 22nd, 2014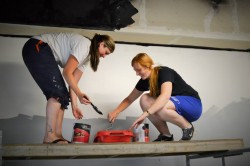 Pride Collective and Community Center moving downtown; help needed
Fargo-Moorhead has its very own Pride Collective and Community Center. It's been around for more than a decade, serving hundreds of LGBT community members and allies throughout the years. Yet still not many know of the establishment. Why?
Location. The center was located in a town site building in Moorhead and didn't even have a front entrance. Now that's all about to change.
The Pride Center is relocating to First Avenue South in Fargo, near downtown. This new spot will have a front entrance, more visibility, better space, extended services hours and, eventually, increased programing and resources. It's expected to open early this summer.
The new site does have higher rent as well as renovation and furnishing needs. So much help is needed from our LGBT supportive community.
"It's bones, studs and concrete tile that has been left behind. And it's more money, which we don't have much money to begin with," said Mara Morken, Pride Collective's secretary.
However, Morken said she's willing to put her faith in community members' generosity to help keep the center alive. The center is particularly looking for monthly sustaining donors, one-time donors and volunteers who want to help grow and nurture the center.
One major goal is to get 100 $10-per-month sustaining donors.
Pride Collective's Facebook page asserts: "Q: What do a trip to Starbucks, a twelve pack of toilet paper and becoming a monthly sustaining donor for the Pride Center have in common? A: They all cost about $10. But, only one of them makes you a hero!"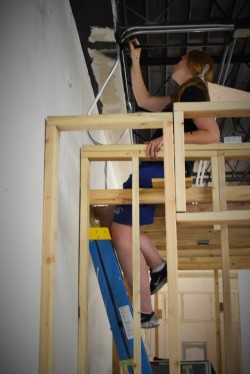 So far, the collective has reached 31 percent of its goal. Those interested can visit pridecollective.com
So what is the purpose of the Pride Collective and Community Center? Essentially, it helps support the physical and social wellness of local LGBT persons and allies.
"We are just trying to embrace everybody together. We are just trying to establish a presence in the community and just let everybody know we are here and we are just like you guys," said Joe Moran, Pride Collective's president.
Moran said he knows the importance of having support, having gone from struggling with accepting his sexuality in the past to now fully "owning" it.
"If somebody wants to talk confidentially, we have those things available. We have a center phone. Give us a call. If there is something we can help with, we absolutely will," Moran said.
The collective is striving to get to the point where it can be open every day with trained staff on hand, ready to assist any person who walks through the door.
"Maybe you are a low-income individual and you want to use our computer," Morken said. "Or let's say that you are a young person whose family isn't necessarily accepting or open to who you are. Maybe you need to do research on who you are and you can do that on your home computer and you certainly can't do that on your school computer."
The Pride Collective is also responsible for hosting numerous LGBT-friendly events around town, such as drag brunches, bowling nights and discussion groups. The organization also supports the F-M Gay Men's Chorus, Kaleidoscope (for LGBTQIA teens), We Are Family, Tristate Transgender and FM Pride. More information on these groups can be found at pridecollective.com.
"We are just about being — just being people who are OK with themselves," Moran said. "And not afraid to show it."
IF YOU GO:
Pride Collective and Community Center
1105 1st Ave. S., Fargo (opening soon)
pridecollective.com