Fire!
by Ryan Janke | .(JavaScript must be enabled to view this email address) | Culture | June 12th, 2019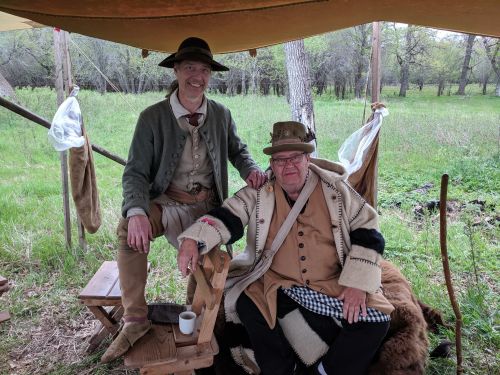 In a remote area along the Sheyenne River just southeast of Sheldon, North Dakota lies a sleepy patch of land that comes to life this week as the High Plains Regional Rendezvous kicks off this Saturday.
The rendezvous is a week-long event in which participants re-enact the life and times of the fur trader era, which spanned from 1610 to 1840. The week will be filled with many different activities that are true to the time period and give participants of what life was really like during that time.
Dave Zaeske and his wife Jan attend several rendezvous per year and will be at the High Plains Regional Rendezvous this week. They have been members of the Plainsmen Black Powder Club since the early 1980s.
"A friend of ours decided they would come over trick or drinking for Halloween," Dave said. "Then, he started talking about, 'I've got this new black powder gun and I'm going to go shoot. Do you want to go with us?'"
Dave thought it might be fun, so he decided to give it a try.
"Then, he said, 'there's another shoot in Minnesota, do you want to go with on that?'" Dave said. "I think it was in '83 when we started. The Fall of '83. We were married in the Spring of '83."
After that there was no turning back. Dave and Jan were hooked.
In the early days, Dave was part of a different club, but found the Plainsmen Black Powder Club more family friendly. He said some of the other clubs are not welcoming to kids, but the Black Powder Club and the High Plains Regional Rendezvous encourage children to attend and participate. Dave said it's a great way for them to learn many different skills and instills character.
At the event, participants will be able to try their hand at shooting guns of the fur trader era, archery, as well as hawk and knife throws. There are different ranges with targets set up around the camp, including metal silhouettes of animals.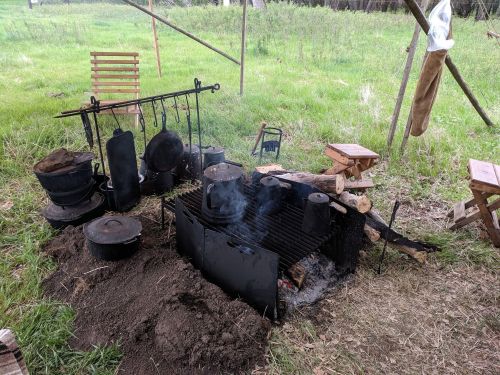 There will also be different traders who will be selling different items from the time period, such as clothing, cookware, and other items from the fur trader era.
"Silversmiths, seamstresses, leather workers, furriers, you name it," Dave said. "They all have to be properly dressed and all that. It's all historically correct crafts and everything."
There will also be seminars during the week where people will be able to learn different crafts such as making knives, quill work, bead work, basket making, and button making.
Since he first got involved with the Plainsmen Black Powder Club, Dave said he has made many friends and looks forward to the camaraderie and good times that come with rendezvous.
"The biggest thing about it is that it's a large family," Dave said. "You have your ins and outs with everybody. You don't always get along with everybody."
Dave said he trusts the people he's met in the club so much that he has leaned on them in the past to look after his and Jan's children. When their son went to Bowman, Montana for college, Dave called on a club friend out there to keep an eye on his son. When their daughter went to college in Iowa, Dave did a similar thing. He came up with checkpoints for her where other people in the club lived in case she ran into issues.
Dave remembers the first experience with the group that would eventually become his black powder family.
"The first one I went to was called Drippy Nose," Dave said.
Drippy Nose is a rendezvous held in the Winter, which is how it got its name because everyone's noses run while they spend the cold weekend outdoors.
"We had a range south of Fargo, just off of (Highway) 46," Dave said. "We were out in the middle of this field and I come rolling in and looking at these people. They're shooting and there's this campfire. There's a Number 10 can of baked beans and an empty can of baked beans with water and hotdogs in it. They're just happier than heck. Sitting out there going, 'ain't it a great day?' freezing their tails off. I'm going, 'I think I could get to like this group.'"
Rendezvous take place all over the country all year long. Some are open to the public and some are open to members only.
The High Plains Regional Rendezvous will be open to the public to come and see what the event is all about. However, Friday will be the only day open to anyone who is not properly dressed. Starting Saturday, only people dressed in fur trader era clothing will be allowed in.
Dave said the Plainsmen Black Powder Club is always looking for more members and encourages anyone interested to come and check the rendezvous out. For more information on the event, visit www.plainsmennd.wixsite.com.
YOU SHOULD KNOW:
2019 High Plains Rendezvous
June 16-22
Sheldon, ND