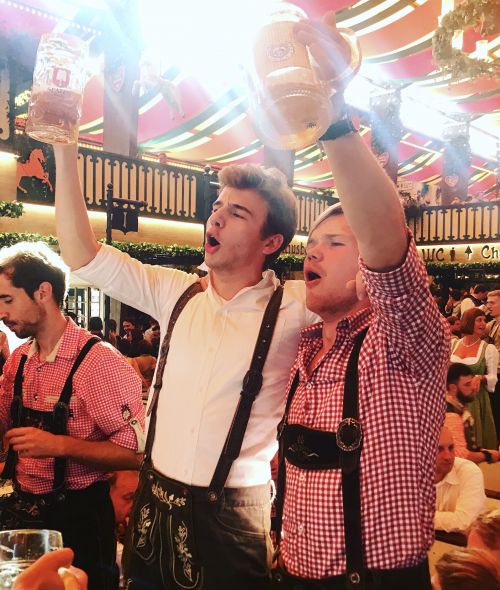 It's prime Oktoberfest season, both in Germany and here in the upper Midwest. I visited a biergarten and a beer tent at Oktoberfest in Munich (the place where the party started way back in 1810), then bellied up to a communal table at Cannstatter Volksfest in Stuttgart to hoist a beer stein and learn how the Germans celebrate.
I came away with five tips for enjoying Oktoberfest to the fullest, whether you're in Germany or the Midwest. Try them yourself at one (or five!) of the Oktoberfest celebrations coming up in North Dakota and Minnesota.
1. Dress up
Do you have to wear a dirndl or lederhosen to have a blast at Oktoberfest? No. But does it make it more fun? Absolutely.
In Germany, younger party-goers have made traditional German folk costumes cool again. You'll see guys rocking lederhosen (short leather breeches) that have been handed down through the generations. Those without Germany ancestry – or with bigger bones than granddad -- can purchase costumes at virtually any train station in Munich or Stuttgart, at shops lining on the way to the festival grounds and even in grocery stores.
Those of us in the States can purchase a costume online, in a Halloween shop (the timing is perfect), or piece together an outfit from a thrift shop or our own closets. Guys will need cropped pants, suspenders, a checkered shirt and an alpine hat. Ladies should look for an off-the-shoulder blouse, a corset top or dress with a full skirt and a half apron.
2. Pace yourself
When you ask for ein maß (pronounced "eye-n mahs") in Germany, your server will bring you a liter of beer. That's a little more than double what the average beer mug contains in the U.S., so don't chug it unless you want to join the ranks of die bierleichen ("beer corpses") who've nodded off at the table. If you don't have the willpower to sip, order non-alcoholic beer or soda occasionally. (Don't forget to say bitte – that means "please.")
In the Midwest, Oktoberfest festivities often feature craft beer tastings or pub crawls, so you need to be mindful of your alcohol intake here as well. Craft beer can have a high alcohol content, so ask about its ABV (alcohol by volume). Anything higher than 4.2% (the ABV of an average domestic lager) might throw your off your game. And all those sample cups add up quickly if you're not paying attention.
And whatever you do, hydrate by alternating water and beer. Your body will thank you.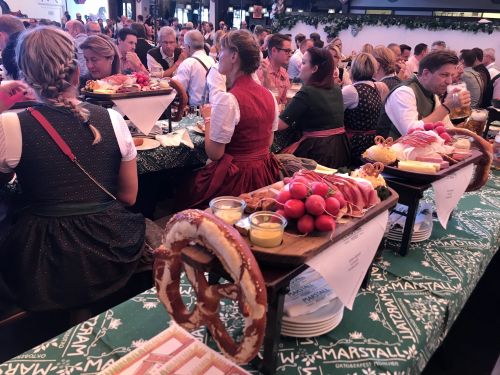 3. Don't be shy
There are no wallflowers at Oktoberfest. In Munich, they were dancing on the tables in the Marstall tent by 1:00 p.m. You're seated on benches at long, communal tables, so strangers become drinking buddies in minutes.
If you're actually in Germany, there will be drinking songs like Ein Prosit.
that you'll somehow learn through osmosis, even if your German is terrible like mine, and lots of traditional music. Midwestern festivities often include polka bands and lots of toasts. So raise your glass, utter a hearty prost (cheers!)and dance.
4. Eat – a lot
Beer fills you up, so you probably won't feel hungry. But you should schedule time to eat anyway.
German celebrations feature hearty fare like schnitzel, bratwurst and roasted chicken (by far the most popular dish) to soak up all that alcohol. You can purchase food at stalls or have it delivered right to your table in the beer tent to circumvent your own beer-induced laziness.
Midwestern celebrations are often hosted by German communities, which offer traditional German dishes and other regional specialties, so attend the dinner, if one is scheduled. Or get food from vendors before you sit down and start drinking. Most places will at least have some pretzels to keep you going in a pinch.
5. Designate a driver
Every European I've ever met thinks it's baffling that Americans drive to drinking events in the first place. So learn from their example and take public transportation, or spring for a taxi, Uber or Lyft. Nobody wants this Oktoberfest celebration to be your last.
Keep the party going with weeks of Oktoberfest celebrations in the region:
September 28
Oktoberfest Mandan
Mandan, ND
Pack your lederhosen and dirndl and head to this beloved family-friendly celebration inDykshoorn Park. Looks for lots of German and American food, craft beer tasting, kids games and live music starting at 11:30 a.m. mandanprogress.org
October 4-5, and October 11-12
Oktoberfest
New Ulm, MN
This two-weekend event is consistently voted the coolest Oktoberfest celebration in Minnesota and one of the best in the nation. The entire city celebrates with food, drinks, shopping, a parade and free live music. newulm.com/oktoberfest
October 4
Napoleon Oktoberfest
Napoleon, ND
The White Maid Restaurant and Bar offers free snacks, Oktoberfest beer, the high-energy accordion stylings of Viktor Wald at 8 p.m., and a stein holding contest at midnight. Anyone in traditional German attire scores a free beer. (701) 754-2777
October 5
Ashley Chamber Fifth Annual Oktoberfest and German-RussianDay
Ashley, ND
Celebrate in the heart of small town German-Russian country with authentic German food, beer tastings, activities for the kiddos and a whole lot of bingo. The old-fashioned dance is a highlight. facebook.com/pg/AshleyChamberofcommerce
October 5
Gull Lake Oktoberfest
Nisswa, MN
This pub crawl joins forces with Grand View Lodge's Golftoberfest, which offers live music in a heated tent. $25 gets you a mug, shuttle transportation between seven different watering holes and a beer sample at each location. gulllakeevents.com
[Editor's note: Alicia Underlee Nelson is a freelance writer and photographer. She co-hosts a podcast called "Travel Tomorrow," available at TravelTomorrowPod.com and wherever you find your podcasts.Her first book, titled "North Dakota Beer: A Heady History," was published in 2017. Follow her adventures at prairiestylefile.com.]