​Fixing it forward
by Ryan Janke | .(JavaScript must be enabled to view this email address) | Culture | April 3rd, 2019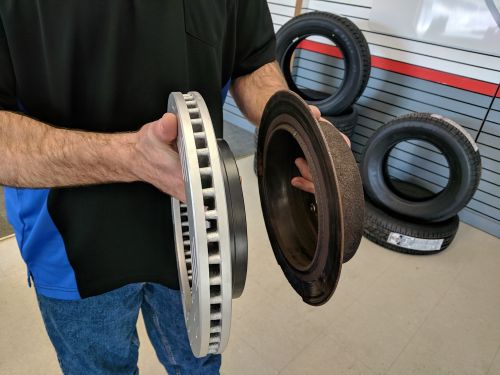 It was an, "aha," moment, said Jeremy Jensen. A woman had her vehicle towed into the Fix It Forward Auto Care shop in Moorhead. Jensen and fellow Fix It Forward Auto Care co-founder Matt Carlson had the vehicle on a hoist trying to diagnose what they thought was going to be a simple repair.
"[She] was a single mom," Jensen recalled. "She said it was leaking brake fluid. We're like, 'It's a brake line. No big deal.' We got it up there, [but] couldn't figure out where it was leaking. We pulled off the front tires and we both kind of did a double-take and looked at each other… 'When did they stop making one-piece rotors?'"
That's when Jensen said they began to realize the severity not only of the state of the vehicle, but of the entire situation. The woman couldn't afford to fix her vehicle, and so she drove it until it began to literally fall apart.
"She had burned all the way through the back-side of the rotor and then popped the pistons out, and that's where the fluid was leaking from. It was kind of that story of, what are they going to do? Are they going to fix the car or feed their kids? We want to make sure they can feed their kids. We'll take care of [the repair]."
That is the mission of Fix It Forward Ministry – to fix vehicles for people who are unable to take care of the repairs on their own. They also fix donated cars and give them away to people who are in need of reliable transportation.
One of the major hurdles for many people who find themselves down on their luck and trying to get back on their feet is transportation. Whether it is to drive to appointments, get the kids to school, make it to work to put food on the table, or just have that sense of independence, having a reliable form of transportation is something that can be the difference between prosperity and despair.
Carlson and Jensen created Fix It Forward Ministry, a Christian nonprofit organization, four years ago. At that time, it was called Higher Power Automotive.
"We were running it out of a privately-owned shop on a farm," Carlson said. "We didn't have enough space to store any cars. We didn't have enough space for people to work at. The shop space was just too small. We could fit four cars, but it wasn't big enough. We really outgrew our resources."
The ministry had spacing issues, both inside for repairs and outside for storage, but they also had several other problems. They couldn't get properly insured where they were working, and raising money to add more equipment was an issue as well. They needed a solution.
That was when they formed Fix It Forward Auto Care – a for profit repair shop that serves as a perfect partner for Fix It Forward Ministry. The for-profit shop opened in April of 2018.
"We started Fix It Forward Auto Care with the sole purpose of enabling our nonprofit to have a better place to work," Jensen said.
By operating Fix It Forward Auto Care, many of the problems Carlson and Jensen were running into with the nonprofit ministry were taken care of by the business. They were able to pay for rent, electricity, heat, and the shop equipment. They nearly quadrupled their shop space and gained a fenced-in yard for storing donated cars. The ministry was able to be insured under the for-profit business.
In January of this year, Carlson and Jensen renamed and rebranded Higher Power Automotive to Fix It Forward Ministry to better fit with Fix It Forward Auto Care.
Fix It Forward Ministry only works with case-management organizations in the area to help those in need. If someone needs a vehicle, or needs one repaired, the organization refers them to Fix It Forward Ministry.
"It's twofold," Jensen said of why they only work with organizations. "One, we don't want to reinvent the wheel and, two, we want to fix cars. We don't want to necessarily fix people. The best way we found to do that was partner with people who already have the case workers who are already working with these people, who know their background financially and who know their life story and where they're going. We just kind of send the requirements out to them – if you're going to refer them, they've got to be someone who's truly in need, and actively trying to better themselves. We want to be really good stewards with the resources and gifts that we're given in the ministry and get those to the people that this is going to be life-changing for."
Fix It Forward Ministry also does not take walk-in customers. All repairs must be scheduled because the need is so great, and they are already backed up several weeks with repairs because of the limited time they run the ministry, which is several days a month after repair shop hours.
The people who receive a car, or have their cars fixed by Fix It Forward Ministry come from all walks of life, but where they come from isn't what is important to Carlson and Jensen. What is important is where those people are going and how their ministry can help get them there.
"Our whole motivation is to help others," Carlson said as a woman was leaving with a car she had just received from Fix It Forward Ministry. "We have no requirements of anybody coming in. We don't ask anybody's religion when they come in here, but when we gave away that car."
Carlson motioned in the direction of the woman who just left.
"In the front seat of the car was a little wrapped gift," he said. "It was a Bible and a gas card. Just to get people to maybe open their eyes to Christianity. That's the motivation behind it. We find that when you're helping people, they're just a little bit more open. A lot of people have kind of a negative connotation about Christianity – that they're just handing out the offering plate, or whatever. We've never asked for anything and we don't take anything from any of our recipients. If we give them a car, we don't ask a penny for it. If we fix their car, we don't ask for anything from them."
"No strings attached," Jensen said.
Anyone interested in supporting Fix It Forward Ministry can do so financially, by volunteering, by donating vehicles, or by having their vehicle serviced at Fix It Forward Auto Care.