FM Area offers plenty of winter fun
by HPR Contributor | .(JavaScript must be enabled to view this email address) | Culture | November 14th, 2018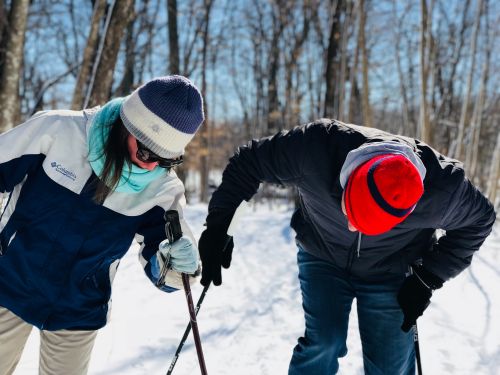 by Ryan Janke
ryanjanke@hpr1.com
As we transition from Fall to Winter in Fargo, it can be easy to sit around the house and say, "there's nothing to do." It is easy to fall into that type of thinking, especially when we just had a mild fall that gave us an opportunity to get out and enjoy the fresh air. Now, with temperatures in the teens and fresh snow on the ground as I write this, it would seem that our time spent outside is on the shelf until late March – if we're lucky. Goodbye S'mores by the fire pit and pick-up games of basketball, hello Fortnite spiral-eyes and 30 days of Hallmark Christmas, right?
Not so fast, my friend. Don't let Old Man Winter drag you down just yet. There are a lot of activities available right here in the Fargo-Moorhead area that you can do to keep the entire family active and enjoying the outdoors. Here is a list of five outdoor winter activities less than 20 minutes away from your living room –
Cross-country skiing – If you've never been cross-country skiing, it is a wonderful way to stay in shape while enjoying some time outside. You can either ski in the classical stride cross-country style, or you can ski in a side-to-side skating style, both using poles to help you along. Either way, Fargo and Moorhead each have a wealth of cross-country ski trails designed for both the classical and skate styles.
If you've never been cross-country skiing before, that's okay! There are trails around the metro for you too. Some of the parks offer ski rental and trails designed for beginners. In Fargo, the trails range in length from less than 1K all the way up to 6.2K at Lindenwood Park. Another nice thing about the trails is that many are lighted, so even if you can't make it until after supper-time, you can still get some skiing in.
For a neat experience, check out candle light skiing at Buffalo River State Park. They offer cross-country ski and snowshoe rentals. Anyone 16 and over must have a park pass to ski there.
Ice skating – Many of the schools in the metro have ice skating rinks anyone can use. Whether you want to practice your hockey skills, work on your figure skating routine, or just slide around on the ice, these rinks are open until thaw. Some even have warming houses open specific hours for you to shake off that winter chill.
Using the rinks is free and open to the public. Once the temperatures are consistently below freezing, they will be filled with water and ready to go in a couple days.
Ice fishing – Anyone who has ever been ice fishing (or seen Grumpy Old Men) knows it can be a great time with friends and family to go outside, have fun, and relax. Even though ice fishing spots can be a little tricky to find less than 20 minutes from your living room, it is not impossible. One spot right here in Fargo is Woodhaven Pond located on 49th Avenue S., just west of 42nd Street. Many people ice fish on the Red River, but I would recommend against doing that unless you are experienced and know exactly what you are doing. If you have even the slightest doubt, stay off any river in the area.
It is best to go ice fishing with someone who has experience. This is because, unlike fishing when the water is open, there is more to it than just tossing your line in. You will need equipment, like an auger to open a hole to fish in, and ice fishing can be dangerous if you are not careful. If you do not know anyone with ice fishing experience, don't fret over it. I would suggest seeking out the fishing department of local sporting goods stores and asking the staff any questions you might have. They are more than willing to help.
Sledding – This is one of my favorite winter activities, and a great workout as well! Even though we live in one of the flattest areas around, there are actually hills in town to go sledding on. Edgewood Chalet and Michelson Field, both in north Fargo, offer a fun experience with sled rentals and warming houses. They generally open for sledding in December and remain open through February. This is dependent on snow cover, of course.
There are also some other spots to sled on that your friends and neighbors can probably point out to you, but they are not maintained or run by any city or parks departments, so do not expect the amenities found by official sledding hills.
Snowmobiling – There are several snowmobile trails around the area. The East Central Valley Trail in Cass and Richland counties offers nearly 200 trail miles and connects with other trails in North Dakota and Minnesota. Visit www.snowmobilend.org to keep up on trail maps and conditions.
Other winter fun – There are many special events and experiences that come up through the winter and holiday season that offer fun for everyone. Keep your eyes open for sleigh riding opportunities. The Hjemkomst Center in Moorhead usually offers rides in early January. There is also the Lindenwood Holiday Lights parade.
Of course, there is also fun right outside your living room as well. Snow forts, snowball fights, and snow angels are all right outside your front door. You can also take some spray bottles, fill them with water and food coloring and turn your yard into a giant painting canvas.
Winter in the Fargo-Moorhead area doesn't have to be spent longing for warmer days. As you can see, there are plenty of activities right here in the metro that you can do for free or a small fee that will help remedy the winter blues and cabin fever.