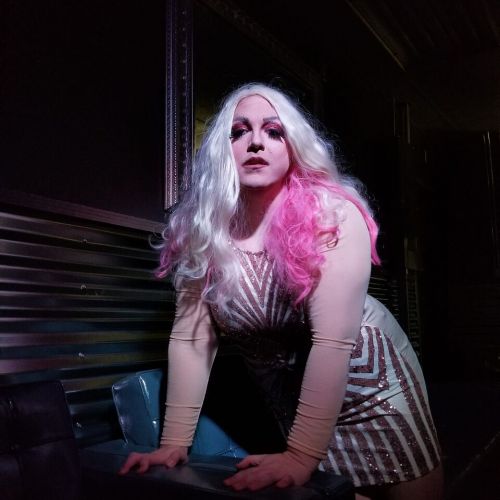 "The adrenaline that you get when you first perform is just crazy. I was just shaking the whole night. I couldn't even make a joke I was so nervous," Kyle Anderson, also known by his drag persona Tequila Mockingbird, said. Anderson is also the producer of Fargo Moorhead's newest drag troupe, The Hot Mess Harlots.
Anderson's foray into drag started two years ago at a show in Grand Forks. Since then he's followed the wisdom and guidance of FM drag veterans Mia Starr and Raven Knight.
Anderson was always intrigued by the stage but anxiety got the best of him in his younger years. "I loved it but couldn't get past my own head when I was that young so I didn't do it a lot. I appreciated it but couldn't get past my own head when I was that young. As I got older I said screw it. I'm going to do my thing and I'm going to try it and from there I ventured out to do more theatre in college and then went to drag."
"I was sitting down with Raven Knight at his house in Belcourt one night before Tequila even saw the light of day. I wanted a party girl aesthetic, as a lot of queens think they want when they first start. Tequila is famous for making your clothes come off and making bad life choices," Anderson continued, "Then Raven's genius little brain suggested Mockingbird. I'm a writer too, so the literary aspect made sense mixed with this confident and sassy name of Tequila."
The Hot Mess Harlots had their first show in January. "We're working on building up our own umbrella troupe. We didn't want to have the same performers for every show --we wanted to keep things fresh. Now we're kind of rethinking that and having more of a set troupe with guests coming in under our name." They plan to pull talent from Minneapolis, Bismarck and Minot.
"We want to cultivate more North Dakota queens because Minneapolis queens get a lot of bookings." He went on to say, "We love them but we want more North Dakota!" Anderson's vision for Hot Mess Harlots is to pull talent in from not only across the state but to pull from the colleges and to even try to coax some of those who rarely perform out of retirement.
"The thing with our troupe is, we embrace imperfection. We embrace the weirdos, we embrace the ones that aren't perfect because that's what makes them unique--the imperfections. We aren't about being polished, we don't care about having a crown, or about any of that stuff. We're happy to perform and do our thing." He said.
Earlier this month the Harlots had a drag show for kids booked at the Red Raven. The Libertarian website "The Minuteman Blog" caught wind of the event and came out with a post titled, "Sexploitation: Kids Drag Show Planned in Fargo."
After Anderson saw the post he immediately got ahold of Cody Severson of FM Rainbow families a community minded organization that provides programming for LGBT families in the area wondering if the show should still go on.
"That article made a lot of the kids pull out of the show. The moms got scared and there was only one kid that would be able to perform. There's no show with one kid." The mothers' fear that Anderson mentions wasn't the fear of glittery high heeled drag queens. It was based on the sensationalism of the post and ill-informed comments on the article's initial social media post.
"We weren't going to put the kids in full body or even bras, it was literally little boys in dresses from Goodwill and using makeup provided by us and give them a show in the middle of the show," Anderson said. "Nothing sexual.
"I was just grossed out that they would go to that place. The sexualized place. I was like, 'Who are you to do that?' This is an outlet for the kids. They can get their aggression out in a healthy safe environment."
Anderson notes that when he was a kid he didn't play with tools and trucks, he'd raid his mother's closet and sashay away.
"Theatre in general is gender bending. It's so sickening that in 2018 that we have those gender roles so ingrained in our brains that they can't get around that. What's it going to hurt to put lipstick on a boy? It's not going to hurt him and maybe you'll help someone come out earlier so they don't have to deal with that bullsh*t in high school."
IF YOU GO:
Drag Wars!
Saturday, April 20, 9pm
The Sanctuary Bar and Bistro, 9816 21st St. N, Moorhead