Get your groove on at the Plains Art Museum Spring Gala
by HPR Contributor | .(JavaScript must be enabled to view this email address) | Culture | April 27th, 2016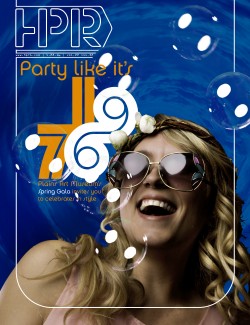 Alicia Underlee Nelson
In 1976, a gallon of gas cost 59 cents, The Wings hit "Silly Love Songs" topped the Billboard music charts, Gerald Ford was in the White House and the Plains Art Museum burst on to the Fargo-Moorhead art scene. Now, 40 years later, the museum is celebrating with a throwback party of epic proportions.
The annual Plains Art Museum Spring Gala is always one of the hottest parties of the season, a glittering gathering of artists, art lovers and party people who take over all three levels of the museum for a night of art, drinks, food and music. This year's theme -- "1976" -- honors the museum's past while looking to the future.
Some of the revelers who will arrive at this year's Spring Gala on Saturday, May 7 weren't even born in 1976, but that won't stop them from embracing the theme and donning leisure suits and platform shoes or playing with a little disco sparkle and Studio 54-era glam. More casual ensembles and modern cocktail attire are always appropriate too, but the Spring Gala is an event where attendees can be as wild and creative as they want to be.
"While museums are often thought of as serious places, the Spring Gala is all about fun," said Andy J. Maus, Plains Art Museum Director and CEO. "The Gala is enormous, full of a variety of people -- young and old, conservative and liberal, black and white, singles and couples. It's a really great party where everyone can feel welcome and our audiences definitely reflect that."
"The event is always a great time," agreed Moorhead artist Karman Rheault. "Lots of people dress to the theme, which adds to the fun and creative atmosphere. The dance floor is always packed, the food is fantastic and the wine tasting is a great way to sample some great wines."
The savory spread catered by Mosaic Foods and the tempting array of decadent desserts from Nichole's Fine Pastry are crowd favorites, while the popular wine and beer tasting conducted by Happy Harry's Bottle Shops keeps the place buzzing – in more ways than one.
"This year's atmosphere will be celebratory in recognition of our 40th anniversary, but will have a nostalgic, vintage feel," said Maus. The fête will feature live music from R&B, jazz, funk, neo-soul, pop, blues and reggae band Heart & Soul, as well as a '70s photo booth and a light show by Livewire, the same production company that produced installations for Alley Fair and TEDx Fargo.
But the Spring Gala is more than just a great party. It also packs a serious fundraising punch. The silent art auction at the event makes the Spring Gala the museum's biggest fundraiser of the year.
This year, patrons will bid on original art from 67 regional artists. In most cases, 50% of the proceeds will go to the artist and 50% will benefit the museum's educational programs, although some artists do elect to donate more. For the artists, the silent auction is about so much more than a simple sale.
"It's a great place for artists to debut some of our new work and to see what other artists have been creating," said Rheault, who will have a steel and copper wall sculpture in the auction this year. "It's always exciting to watch the bidding and to meet and mingle with the patrons. I love using my artwork as a way of giving back to our community."
Smart phone bidding is available and guests will be able to start bidding on their favorites immediately. (Don't let the artistic camaraderie and fancy outfits fool you – the bidding can get playfully competitive as people get emotionally invested in their favorite pieces.)
Unlike in 1976, there are no paper tickets issued for the Spring Gala, so when patrons get theirs online at plainsart.org/spring-gala-1976/, they'll automatically be entered to bid. The museum will also have iPads available for those without smart phones and people on hand to answer questions about the bidding process.
As artists and patrons get to know each other, the art auction takes on the chatty, freewheeling vibe of a gallery opening, just on a much larger scale. Fostering that connection between art creators and art consumers in the community is a goal of both the Spring Gala and the Plains Art Museum.
"This area is particularly blessed with really great artists," said Maus. "I think it's a really important year to celebrate our 40th, thinking about our roots as an artist-friendly museum."
The theme of this year's Spring Gala may be "1976", but the staff at the Plains Art Museum is looking toward the future. "The theme of this year prompts questions about our history -- where we came from and, of course, where we are heading," Maus said. "With support from the community, we're looking forward to our next 40 years."
Spring Gala "1976"
Saturday, May 7
Plains Art Museum
plainsart.org/spring-gala-1976/