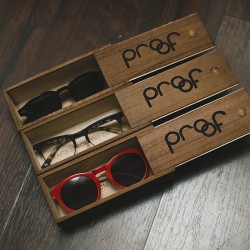 By Lauren Beek
It's that time of year again – the time when thoughts of presents, mega sales and sugarplums dance through your head. The hustle and bustle of finding the perfect gift seems to start sooner every year. So during this season of buying, consider an option that captures what the holidays are all about. Give a gift that gives back.
A well-known example of a charitable gift is TOMS. You know, the cute slipper-like shoes that come in a variety of colors and styles? Well, for each pair of shoes they sell, TOMS will donate a pair of shoes to a child in need. But in case you don't have just shoe lovers on your holiday list, below is a compilation of similar gifts for all tastes and styles.
Krochet Kids International
With their slogan being "Buy a hat. Change a life." it's clear that Krochet Kids International (KKi) is doing some good with all the hats they're selling these days. With each product that you buy, you help create sustainable development programs that support individuals and communities within developing nations. Basically, you're helping KKi employ women in Uganda and Peru, who are then able to provide for their families. Aside from hip winter hats, KKi also offers clothing and a new kid's line. www.krochetkids.org
Proof Eyewear
For the trendsetting folks on your list, how about giving them wooden sunglasses? Not only does Proof Eyewear have some of coolest eco-friendly shades out there, they also donate part of the proceeds to an eye-clinic in India that performs much-needed eye surgeries. www.iwantproof.com
Baby Teresa
If you have a lot of babies on your list this year, you should definitely check out Baby Teresa. All of their products are made with super-soft, 100% organic cotton and the company works in the same way TOMS does. For each baby outfit they sell, they donate an outfit to a child in need. For each accessory item sold, a portion of the sales goes toward purchasing formula for babies who need it. www.baby-teresa.com
Carson Glore Foundation
This charitable gift option is a good one because you can buy their items locally; a Fargo native started the Carson Glore Foundation. Nathan Nerland's determination to help others and keep his best friend's legacy alive has allowed him to make a big impact on many people. And their model is working - the Foundation just opened the Carson Glore School in Kenya. The best part? You can purchase coffee accessories, clothes and backpacks at Moxie Java and 100% of the proceeds go to the school. www.carsonglore.org
Red Earth Trading Company
Looking for a unique piece of jewelry for the fashionista on your list? Look no further. Red Earth Trading Company has an awesome selection of handcrafted necklaces, earrings and other items created by artisans from Kenya, Uganda and Nepal. You can also delight in the fact that 100% of the profit supports the work of local nonprofits in East Africa. www.redearthtradingco.com
FIGS
For the tie collectors on your list, you've found your gift! Through their Threads for Threads initiative, FIGS gives kids an opportunity to receive an education. Many children in developing nations won't attend school without a proper uniform. So for every trendy tie sold, FIGS partners with local weavers and tailors to make uniforms for their communities. www.wearfigs.com
Oxfam
A great gift idea for someone who "doesn't need anything" this holiday season, is an item off Oxfam America's gift list. This international relief and development organization does amazing good all over the world. With the help of donors, Oxfam creates sustainable solutions to poverty, hunger and injustice. For the carpenter on your list, you can spend $25 to donate building tools in their name. For the green thumb, you can donate a vegetable garden. And for your friend with a sense of humor, you can even donate a pile of manure (for fertilizing purposes). The list goes on! For very reasonable prices, you can change lives with cows, pigs, bicycles and fruit trees. www.oxfamamericaunwrapped.com
Smile Squared
Need a good stocking stuffer? What better way to stuff that stocking than to give fresh breath, times two! Smile Squared's toothbrushes are 100% sustainable and the purchase of one allows the organization to give a toothbrush to a child who needs it. Plus, with all the mistletoe in your future, it may not be a bad idea to pick one up for yourself. www.smilesquared.com
Community Supported Agriculture
For the foodie on your list, consider giving them a share of a local CSA. Not only does this gift of fresh, nutritional produce last through the growing season, but it also supports local farmers and their sustainable efforts. An easy way to find a CSA near you or your loved one is to use Local Harvest's search tool. Just enter the location and the website will connect you with a handful of CSAs in the area. Some groups in the Fargo-Moorhead area include Ancient Roots Organic Garden, Kragnes Family Farms and Bluebird Gardens. www.localharvest.org
Charity Navigator's Good Card
Lastly, for the person on your list who has everything – give them the gift of giving (say that three times fast). With Charity Navigator's Good Card, your loved one can use this unique gift card to donate the amount to a charity of their choice. www.charitynavigator.org
So here's to a holiday season filled with loved ones, good food, bright lights and thoughtful giving.