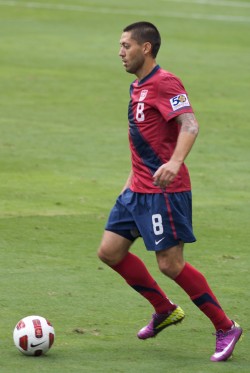 Thirty seconds into our ninth World Cup appearance "Captain America" Clint Dempsey slid past his Ghanaian defender and put the ball through the net, off the right post.
The twitter-sphere blew up and American fans across the nation were celebrating. They were in disbelief that they finally believed. But what should have been a tone-setting goal became anything but. It became an anomaly. A random act of individual brilliance in an otherwise poor team performance. The next 70 minutes must have reminded the casual sports fan why they didn't regularly watch soccer.
The United States was being outclassed in every aspect of the game, besides the scoreboard. This is one of the many reasons the sport hasn't captured the attention of Americans. A team's collective dominance isn't rewarded with a victory as commonly in soccer as it is in the four major sports of the U.S.
We still led with 20 minutes to play, but you can only test your luck for so long. That luck ended in the 82ndminute of the game, when Ghana finally put the ball past keeper Tim Howard for the equalizer.
Just like that, the three points awarded for a victory that we desperately needed in our group, was gone. And then, it wasn't.
John Anthony Brooks had very little international experience when his number was called for a late substitution, but it didn't matter. Brooks was on the receiving end of a well hit Graham Zusi corner kick and he didn't waste his opportunity. With four minutes remaining, he headed the ball off the ground and past the keeper for the win.
Brooks ran up the field in disbelief, shaking his head, before he finally dropped to his knees and laid on the ground.
Soccer fans across the country weren't as subtle with their celebrations. Fans, gathered in places like Bethlehem, Pennsylvania and Chicago's Grant Park, celebrated the goal wildly and collectively.
Never have we as a nation been so proud of our soccer team. This group, maybe more so than any representatives of U.S. athletics, best represents the ideals we as a nation strive for.
Tough, diverse and honest are all adjectives that apply to this team. Adjectives we as a nation take pride in applying to ourselves.
Dempsey was quite literally kicked in the face and finished the game with a broken nose. And when most teams would buckle under the pressure of a late equalizer, in a must win game no less, we struck back.
Of course then, with a nation as diverse as ours, the "American," putting the ball in the net isn't without a hyphen. German-American best describes Brooks. Brooks shares dual citizenship with Germany, like four of his teammates, including midfielder Jermaine Jones.
Diverse and tough, this group of players also doesn't try to influence the referees. Going against some of the examples set by high achieving European teams, the Americans don't go down with light contact. They fight through, soldier on and play the honest way, though that doesn't always produce the best results.
It's a group that is literally living the "American Dream." After the Ghana game, Brooks revealed to members of the media that he dreamed of scoring a game-winning goal in the World Cup nights before he did just that.
But, of course, nothing seems to come easy for this team.
Late in its second game, against Portugal with a win guaranteeing a U.S. spot in the knockout rounds, Dempsey repeated the magic of Brooks with a volley off his chest and into the Portuguese net. Leading 2-1, a win, and a spot in the final 16, was within reach. And then, it wasn't.
Cristiano Ronaldo, one of the two best players in the world, sent a cross into the box that was headed past Howard for the equalizer. The last play of the game.
Such is life, such is soccer and such is America. It was the best opportunity for us to advance. Facing World Cup contenders Germany will be a tough task, but maybe we've already won.
This was a team that wasn't supposed to be in the position to advance. We're a nation with a poor soccer history and an inexperienced club. We aren't very deep, and injuries are running our team rather thin.
We've lost our best striker in Jozy Altidore, and defender Matt Besler has been dealing with a hamstring injury sustained in the Ghana game.
Even our German manager Jurgen Klinsmann has voiced his opinion that we can't win the World Cup with this roster.
Nonetheless, we're improving and this may be the best team we've ever sent to the World Cup. With support of team USA at an all-time high (reports show the Portugal game was the most watched soccer game ever in the U.S.), it seems soccer is finally on our national radar.
More young athletes, athletes that otherwise would be cranking homers or tossing touchdowns, are watching U.S. soccer. This interest will pay dividends in 10 to 15 years when those young players begin putting on the U.S. kit.
This team, and these players, will never win a World Cup. But, like the popular U.S. soccer fans' chant goes, I believe that we will win … eventually.