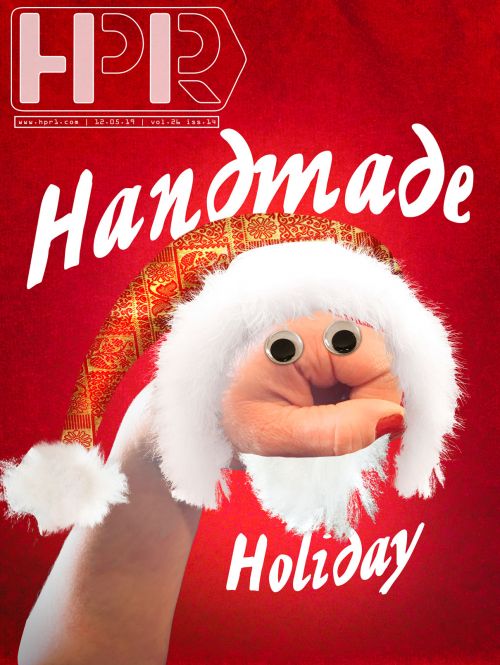 What do you buy the person who has everything? Nothing – you make something. From cocktail bitters to chainmaille, succulent gardens to personalized poetry, local experts can help you create something totally unique for everybody on your list. As an added bonus, you get to relax, unplug and enjoy the process of creation.
Every class and workshop on this list provides all the materials and instruction you need to get crafty. Unless otherwise indicated, they're all appropriate for beginners. Just make sure to reserve well in advance to secure your spot.
Customized Art
Personalized Poems
December 5, 7-8, 12, 14-15,19, 21-22
Thursdays 5 p.m.
Saturdays-Sundays 1 p.m.
Aptitude inside West Acres in Fargo
Give poet Emily Vieweg a few prompts and a free will donation, and she'll create collaborative poem on her typewriter. The result is suitable for framing. theartspartnership.net/aptitude
Adult Metalsmithing Workshop: Chains and Chainmaille
December 7
9 a.m.
Hughes Fine Arts Center Grand Forks
Artist and professor Marissa Kuznicki teaches basic techniques using copper wire. No experience necessary, ages 18+. Register in advance. ndmoa.com/adult-classes
Scandinavian Gnomes
December 7 at 2 p.m. Carlson Library
December 10 at 6:30 p.m. Northport Library
Craft a cute, rice-filled Scandinavian gnome from felt. Workshop is recommended for adults. Register at 701-241-1492 or bit.ly/registerFPL
Mini Succulent Gardens
December 8
1 p.m.
Bakers Garden & Gift in Fargo
Plant a low-maintenance mini garden. Registration includes everything you need to grow three succulents in a terra cotta pot. Children under 12 must be accompanied by an adult. bakernursery.com
Winter Canvas Painting
December 7-8
11 a.m., 2 p.m., and 5 p.m. Saturday
11 a.m. and 2 p.m. Sunday
Art 'n Joy in Grand Forks
Paint a winter scene on your choice of canvas. (Two sizes are available.) Seating is limited. Call or text 623-606-0895 to reserve in advance.
Flow Art
December 10
7 p.m.
Creatively Uncorked in West Fargo
Let colorful acrylic paint flow over two canvases, or mix it up by painting one canvas and one wood cutout. Reservations required. Ages 6+. creativelyuncorked.com
Paws, Paint and Pints
December 16
6:30 p.m.
Wild Terra Cider in Fargo
Email a photo of your pet in advance, then paint their likeness in class. Reservations required. Recommended for artists with previous painting experience. facebook.com/StarlingArtistry/
Printing in Pairs – Snowflake Pillowcase
December 20
6:30 p.m.
Plains Art Museum
Learn printmaking techniques with a partner in an easygoing atmosphere. Registration fee is for two people. Each will take a project home. plainsart.org
Fun For Foodies
Gifts from the Kitchen
December 10
6 p.m.
Square One Rental Kitchen and Events in Fargo
Prepare meringues, chocolate buttercrunch, mulling spices, scented sugars and a nut and pretzel mix perfect for gift giving. squareonekitchens.com/cooking-classes-2
Copper Pour Over Coffee Bar
December 10
6 p.m.
Thunder Coffee in West Fargo
Construct a copper pipe pour over coffee bar, complete with funnel and five Chemex filters. Registration is required and includes a cup of coffee. The class is appropriate for older teens and adults. ungluedmarket.com/events/
Candy Making Class
December 15
3 p.m.
Victorian Charm in Valley City
Make four different varieties of candy, and leave with a dozen of each kind, perfect for gifting. Message or text Natalie at 701-840-2788 to reserve a spot.
Make Your Own Bier Stein
December 16
6:30 p.m.
Fargo Brewing Company
Livin' the Dream Pottery's Hayden Swanson helps you choose glaze colors and create your own stein from clay. Class fee includes a free beer. plainsart.org
Daytime Popping Fun
December 17
10 a.m. and 1 p.m.
Tupperware Studio in Fargo
Make four different flavored popcorn varieties, from savory to sweet, and take it home in Tupperware. Call or text to register by December 12. 701-212-2956
Late Night Craft Party: Foodie Edition
December 19
7 p.m.
Unglued in Fargo
Create a wood burned cheese board, a giftable bottle of cocktail bitters and truffles with Sugarplum. The registration fee includes each craft, a Proof cocktail and Yeobo Sweet Shop cupcake. ungluedmarket.com/events/
Holiday Decorations
Ceramic Ornaments
December 8
2 p.m.
Unglued in Fargo
Jen from Jenny Sue teaches you to draw or scratch into the surface of clay to create four unique ornaments. Registration required, ages 15+. ungluedmarket.com/events/
Acrylic Pour Tree Ornaments
December 8, 14
2 p.m.
Bunny's Creative Edge in Fargo
The swirling colors of an acrylic pour ornament really pop on a tree. The class is appropriate for ages 11 and older and includes three holiday ornaments. Register in advance at 701-238-8257 or bunny-paints.com.
Wreath Workshop
December 10
6 p.m.
Gathered. Boutique Rentals and Events in Moorhead
Your registration fee includes everything you need to make a 14-inch wreath. Wine, snacks and non-alcoholic drinks are available. Reserve in advance. facebook.com/gatheredrentalsandevents/
Wreath Workshop with Floret + Foliage
December 11
6 p.m.
City Brew Hall in Wahpeton
Allison of Floret + Foliage shows you how to make your own indoor or outdoor wreath. Your prepaid reservation includes your choice of a 12-inch or 14-inch wreath and a $5 drink token. facebook.com/citybrewhall/
Ceramic Truck Container
December 12
7 p.m.
Creativity Uncorked in West Fargo
This vintage-inspired 13.5-inch ceramic container is an unexpected gift. Ages 6 and up are welcome. Drinks and snacks are available. creativelyuncorked.com
Late Night Craft Party: Holiday Quillin' and Chillin'
December 13
6 p.m.
Unglued in Fargo
Sip wine and enjoy a cupcake (both included in the admission fee) while Christina from See Lang Design teaches the art of paper quilling. You'll leave with your own Christmas tree or ornament design. ungluedmarket.com/events/
Ceramic Lighted Tree
December 14
7 p.m.
Creatively Uncorked in West Fargo
Conjure up those vintage vibes when you paint and add lighted bulbs to your own ceramic, retro-inspired Christmas tree. Registration ends a week before the event. Step-by-step instruction is provided. creativelyuncorked.com
Kid Creations
Kids' Make It Club: Scrunchies and Stickers
December 7
10:30 a.m.
Unglued in Fargo
Kids in kindergarten through 6th grade can make scrunchies and stickers at this drop-off event. Register in advance. ungluedmarket.com/events/
Kid Quest: Wondrous Wire Weaving
December 7
1 p.m.
Center for Creativity at Plains Art Museum
Kids can create their own wire weaving project in the studio during this free, drop-in, family-friendly event. plainsart.org
Family Paint: Snowmen at Santa's Village
December 10
6 p.m.
Rheault Farm
Kids 5+ (accompanied by an adult) can paint their own snowman. The instructor will distribute individual sketches to use as a template. creativelyuncorked.com
Adult + Child Workshop: Printastic Holiday Cards
December 14
11 a.m.
Center for Creativity at Plains Art Museum
Choose holiday designs to print eight cards (with envelopes) to take home. The class is overseen by printmaker Amanda Heidt is appropriate for kids over four and an adult companion. Register to reserve a space. plainsart.org
Alicia Underlee Nelson is a freelance writer and photographer. She co-hosts a podcast called "Travel Tomorrow," available at TravelTomorrowPod.com and wherever you find your podcasts.Her first book, titled "North Dakota Beer: A Heady History," was published in 2017. Follow her adventures at PrairieStyleFile.com.