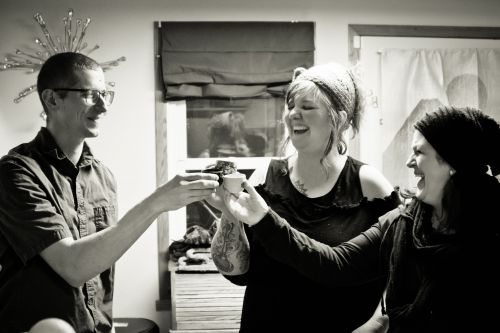 By Kris Gruber
perriex1@gmail.com
Graduating from Sister Rosalind Gefre Massage and Wellness Center, Amy Wasvick has spent 10 years practicing Healing Arts. Her areas of expertise include Essential Oil, Cupping, Swedish, hydrotherapy, structural analysis, Reiki and energy balancing therapies. She is the owner of The Healing Arts Revolution in Moorhead. The center will provide meditation, yoga, massage, energy work, and holistic therapies. Amy says the community can look forward to exciting classes for youth and adults.
The Healing Arts Mission states that they are "dedicated to providing healing art services that promote physical, emotional, nutritional and spiritual well-being."
Amy uses the words "healing," "connection," and "education" while discussing the company's vision. The Healing Arts Revolution seeks to "bring community members together regardless of gender identity, gender expression, orientation, race or religion." The educators seek to nurture the LGBTQ+ community and celebrate and welcome uniqueness and originality.
I asked Amy about her motivation behind founding the center, and how our community can help.
My inspiration for creating the center comes from being a proud Mama Bear and ally for the LGTBQ+ community. As a parent, I was terrified and consumed by the extremely high suicide rates among Transgender kids. These worries were overwhelming for me and I realized I needed to channel it. I felt a burst of excitement as I realized that I could build the kind of support I wanted to see for my family.


I immediately called my friends and asked if they would like to collaborate on ideas of how we could create it. I couldn't think of a better way to start building this support with my favorite people. This experience has definitely brought us closer together and we keep each other motivated to cultivate new ideas for support. Our foundation is unbreakable and is filled with people who advocate for others in our community.

One of the most exciting parts is networking with other LGBTQ+ support [systems] that are in place. It's important for us to know what others offer, so we can get people connected to their resources right here in our community.

I've been collaborating with artists and educators to meet a diverse population of community needs. We will have youth groups, Art Therapy, meditation, cooking parties, journaling, photography, yoga, jewelry making and studio rental for education or events. It can be challenging to step out into the workforce, so next summer we will have externships and job shadowing for selected youth to enhance leadership skills. We are also open to ideas and educators who want to share their knowledge and support.

There are some great ways for the community to help generate scholarships for classes; by spreading the word, taking classes, and supporting our GoFundme linked to our website. The center uses the money from our GoFundme for scholarships and donated studio space for youth groups and youth-run initiatives. I have been a Licensed Massage Therapist for over 10 years and this is how I will keep the studio supported, so stop in, call or schedule online with the free Mindbody app for our services.


We believe that everyone deserves equality and accessibility to resources, this is why we are so thrilled to bring this to Moorhead. We are looking forward to showing our support to the LGBTQ+ and ally community. Our opening dates will be in mid-December -- in the meantime, you can stay up to date on our Facebook page. We are adding more educators and services to our website as we speak -- you will find all our contact information there.
IF YOU GO:
Healing Arts Revolution
814 Center Ave
Moorhead, MN