​Heart to heart conversation
by HPR Contributor | .(JavaScript must be enabled to view this email address) | Culture | January 30th, 2019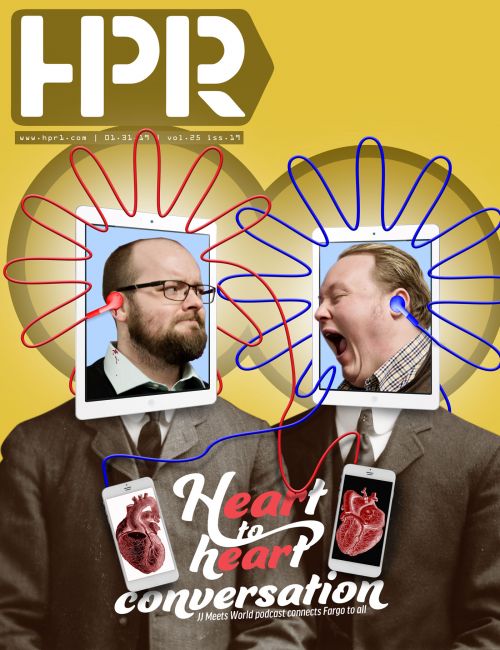 By Gabrielle Hersch
gabby gabbyhersch@gmail.com
It was about a year ago when I turned to my friend and said, "Dude, we should start a podcast."
"Okay," he said. "What do I have to pretend to be an expert in?"
But podcasts – especially the more recent ones in the ever-evolving and growing world of podcasting – aren't all like the structured interviews of old. JJ Meets World, a local podcast hosted by JJ Gordon and produced by Tucker Lucas, is a show premised in what JJ calls "the art of conversation."
"When the decision was made to start a podcast, which is obviously a realm that's pretty popular right now – and also very saturated – we thought, 'What's this podcast going to be? Is it going to be us talking about movies? Bringing people's interesting stories to the forefront? Talking about politics? What we ended up on was, 'Let's just enjoy conversation – the art of conversation,' which is great because there's very little prep that has to go into it, and everything happens organically," JJ explained.
In the saturated medium of podcasts, many people find themselves willing to delve into them, but unsure of where to start and who to listen to. While there's plenty of amazing podcasts out there, why not mix in a local voice with a shared experience that you can relate to?
But a shared experience is by no means the only thing that makes JJ Meets World an entertaining listen. JJ Gordon is a local radio personality and improv aficionado who exudes a theatrical, fun, yet down-to-earth and easy going energy. Complimented by his producer and longtime buddy Tucker Lucas, a producer with multiple short films, documentaries, and a poker TV series under his belt, the pair's conversations are hilarious and fruitful. Despite (or perhaps because of) their long-standing friendship, Tucker and JJ don't always agree, and some of the funniest moments on JJ Meets World are when the two get into debates, whether it be about movies, starbursts, or condiments.
While JJ Meets World's guests have included experts in various fields and mediums – photographers, designers, writers, a city council member, a storyboard writer, a sports radio personality, other podcasters, even an undertaker (the list goes on) – Tucker and JJ don't just stop at the who, what, and when. JJ Meets World is the opposite of a dull interview where they ask, say, a printmaker to merely explain their craft.
"Oh I'd be interested to have a printmaker on," Tucker said. "But when we talk to that printmaker, we're not just going, 'What kind of wood pulp do you prefer?' We're also like, 'What'd you have for breakfast today?' You know, we mix an interview with having coffee with friends."
"It's almost like eavesdropping on a conversation with our podcast in particular," JJ mused. "I think one of the reasons we latched on to the art of conversation with ours is that it sounds natural."
In less than a minute of listening to JJ Meets World, it becomes apparent that JJ and Tucker have developed into true conversation artists. While one might not think of casual conversations as riveting, I find immense trouble in turning the podcast off. Part of this can be attributed to the natural flow of conversations which JJ and Tucker have found a way to ignite.
"We have now, without speaking to each other, figured out how to break somebody down so that they stop being 'on,' so to speak," JJ said. "You can tell that exact minute mark," he explained,
"When [a guest] finally drops their guard and realizes, 'Oh, I don't need to be 'on' for you guys, I can answer honestly.' And you want that honesty."
JJ says one of the best things about JJ Meets World is that "There are no stakes for this person. They get to just be themselves, and who doesn't love just being themselves?"
Tucker, whose background is in video production, loves the fact that the podcast is audio only.
"There's something about being able to ask someone to show up at 8 a.m. on a Saturday and say, 'You can just show up as you are, don't worry about dressing in the right clothes or getting your hair right for the camera.' Because a camera, for a lot of people, is like someone just staring right at you the whole time, and that puts people in a different state of mind," he said.
"We don't have people wear headphones either, so it's meant to be very very comfortable," JJ added.
One year and 86 episodes (and counting) later, JJ and Tucker – already well connected in the community to other film buffs, actors, comedians, creatives, artists of many other mediums, and coincidentally, a handful of librarians – have become an incredible source of connectivity in Fargo's arts community through JJ Meets World. One thing that they've noticed, Tucker points out, is that the show has become a great networking tool.
"With every new guest, that person kind of brings their own little audience of people who would tune in because it's that person, whether it's just their friends and family or someone in their field. So every time we have a new guest on, we're exposed to a new group of people," Tucker said.
"We've hit a wonderful point," JJ said. "In the beginning, we were asking a lot of people to come on to be guests, and now people are approaching us with guest ideas, or people who would like to be on the podcast themselves. So now, it's kind of a beast of its own design. It's been a real joy to share peoples' individual stories and to go on some of the tangents we go on."
Despite perhaps being a "beast of its own design," a podcast does not create itself. Now local podcast experts, JJ and Tucker recently taught a podcasting class at the Fargo Public Library, which attests to the growing interest in our community in making podcasts and sharing stories. But JJ and Tucker didn't start out as podcast experts – in fact, Tucker learned how to produce the episodes as they went along.
And that's one of the awesome things about podcasting. Sure, with the rise of technology, there's more access to content creation than ever before. But sometimes it seems overwhelming to start doing it yourself. Cameras are expensive. Editing software can be intimidating. But podcasting is a great, accessible way to share a story and make your voice heard.
"Podcasting, I think, of all multimedia has the lowest barrier of entry, for anyone. You can start doing it for free if you have a smartphone right now and be uploading for free. It's a low data rate because it's just audio, so it doesn't take advanced computers. And it's direct to an audience, so there's no middle-person," Tucker said.
With experience in multiple jobs developing creative content for other people like many creatives do, Tucker and JJ enjoy making JJ Meets World so much because it's a creative outlet without a gatekeeper.
Tucker explained, "You know if you're a journalist at a newspaper, you have an editor that you have to go through. There are times that they'll say, 'We're not printing that,' or 'We're printing this.' With this format, there's no one telling us that we can or cannot do or say that thing."
The duo's passion and hard work are evident: in only about a year, they've produced almost 100 episodes – and they haven't missed one release date.
"Our 100th episode is going to be a live show, which we're very excited about," JJ revealed.
With weekly episode releases and featured guests, this kind of constant production can be difficult. In fact, one of JJ's favorite episodes was an improvisation when a guest had to cancel. Instead of calling it quits, JJ and Tucker used the resources they had present – which in this case happened to be a copy of The Nutty Professor on JJ's laptop – and they recorded a commentary over one of Eddie Murphy's finest, Oscar-worthy performances (in JJ's opinion).
In addition to nearing their 100th episode, JJ Meets World is in the process of landing its first sponsorship. Currently, their podcast is funded by donations, which can be contributed to via patreon.com/jjmeetsworld.
JJ Meets World has a killer, yet low-maintenance set up in a studio space at The Arts Partnership's APT 225 building. APT, which The Arts Partnership calls "a creative incubator," is a building with multiple rooms, studio spaces, gallery walls, and rental areas for artists of any medium to rent. Spaces like these are like the soil that allows our local art scene to grow.
And local creativity and our artistic community has indeed grown and continues to grow, a fact often forgotten by so many young creatives who bounce the popsicle stand that is Fargo straight out of high school or college, thinking that the "big city" is the only place they'll make it. Sometimes it seems like Fargo isn't as conducive to artistic careers as much as larger cities, and I myself am guilty of forgetting that an amazing, talented artistic community really exists here.
In Tucker's opinion, people leave this place, he says, "Because they think, 'Out there on the coast, that's where this will happen for me,' And they find out very quickly that there's no place where it will happen for you – it happens wherever you decide to make it. Whether you're in Fargo, or in Los Angeles, or in Kandahar, only you can rise to the level of your creative ability."
And despite having no skyscrapers or subway trains, Fargo is home to several liberal arts colleges, people with artistic talents, and companies who want (need) a creative team. So whatever that thing is that you want to do, whether it's podcasting, photography, improv, graphic design, painting, wherever you are, just start doing it. You don't need to wait, and you don't need to move.
"I think this area is full of people who make it happen for themselves, and those people have formed a community. APT, this building that we're in, is a testament to that. There's all these artists that are in here, and they're saying, 'I'm doing this because I can't help but want to do it, so I'm doing it,' right?" Tucker said.
JJ Meets World is a wonderful podcast that not only excels in the art of natural conversation, but stands as a playground for ideas, a networking tool for our community, and a testament to the creative abilities of our little corner of the world here in Fargo. You can listen to JJ Meets World on iTunes, Spotify, Stitcher, and online at jjmeetsworld.com.