Here comes SantaCon
by HPR Contributor | .(JavaScript must be enabled to view this email address) | Culture | December 10th, 2014
By Brittney Goodman

If you are in downtown Fargo on Saturday, Dec. 13, do not be alarmed if you see a horde of Santas on Broadway or a Santa lifting his beard to drink a pint at your favorite bar. SantaCon is once again coming to Fargo (and to approximately 130 other cities around the world). In Fargo, this pub crawl is not only about having a jolly good time at downtown pubs; it also raises money and gathers donated items for the Gladys Ray Shelter and Veteran's Drop-In Center. The Fargo SantaCon, in its fifth year, is a grassroots, locally planned event. The event is not sponsored by any company, does not advertise for any businesses and makes no profit. Because it is a pub crawl, only those 21 years of age and older can participate. Besides, we would not want to confuse young children.
SantaCon is in its 20th year worldwide. The first SantaCon, a flash mob of people in Santa costumes, was in San Francisco in 1994. Typically, a SantaCon is a gathering of people dressed as Santa, and it usually includes a pub crawl and people dressed in other holiday-themed attire. Fargo's SantaCon has seen snowmen, reindeer, gingerbread men and lots of Santas. There have even been a couple of sightings of Ralphie from "A Christmas Story" in his pink bunny suit and a Krampus, a beast-like creature from Germanic folklore.
A group of six friends brought SantaCon to Fargo, after hearing about events in San Francisco, New York and elsewhere. The friends wanted a very positive, cheerful pub crawl that raised funds for a local charity, and they thought it would be fun to see a bunch of Santas in downtown Fargo. The first Fargo SantaCon was in 2010, with approximately 75 participants, who largely found out about the event via word of mouth and a Facebook post. The event has grown steadily since, with more than 200 participants expected this year.
Through the years, SantaCon has raised funds for the Great Plains Food Bank, Boys and Girls Club/Fargo Youth Commission, and Gladys Ray Shelter and Veteran's Drop-In Center. In 2012, SantaCon organizers met with the shelter's director, Jan Eliassen, to work toward helping this organization. They toured the facility and learned about what they could do to help. What resulted was a successful partnership, and SantaCon continues to support Gladys Ray for the third year.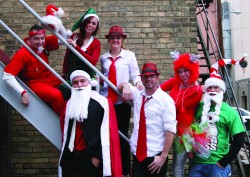 Stacy Lauinger, a yearly participant in SantaCon, has donned a variety of costumes. Lauinger thinks that SantaCon is "a festive time," and she especially appreciates the giving component and that Gladys Ray also serves as a veteran's center. "I get very emotional when it comes to our veterans going without," she says.
Lauinger also loves the costumes: "It is so much fun to see what people come up with and how creative they can be."
You might wonder how a pub crawl raises funds for a charity. For Fargo's SantaCon, they ask for a minimum $5 donation, which includes a chance at several donated door prizes. Also, volunteers collect freewill cash, check and item donations. This year SantaCon is particularly looking for toiletry items (such as toothbrushes, toothpaste and deodorant), as well as ground coffee, powdered coffee creamer and warm gloves for the guests of the Gladys Ray Shelter.
One of SantaCon's tenets is to "be kind," with many Santas doing nice things along the way, including giving out candy or small holiday gifts. You may hear Santas jingling with bells as they walk between pubs, but you won't likely hear growls or calls for "brains!" Typically, no zombie attacks nor spilled fake blood appear during SantaCon, but Santa may leave tinsel and candy canes in his wake. All participants are asked to extend the giving spirit to their bartenders and servers. Tipping appropriately will spread joy, give you better service, and make servers happier to see Santas year after year. Also, please behave responsibly, including securing a safe ride home. Fargo-Moorhead has many taxis and sober ride services available.
The Route:2 pm - Sidestreet Pub3 pm - Pickled Parrot4 pm - Rooter's5 pm - Dempsey's6 pm - Empire Tavern7 pm - Bismarck Tavern8 pm - Downtown Fargo VFW (includes holiday carols and door prizes)
IF YOU GO:
SantaCon
Sat, Dec. 13, 2-9 p.m.
Downtown Fargo
facebook.com/fargosantacon21+